Multiple, Obsessed, and Meaningful: The Web of Contemporary Communications Design Practices
Custom9:00 AM – 5:00 PMJanuary 24 – January 24, 2019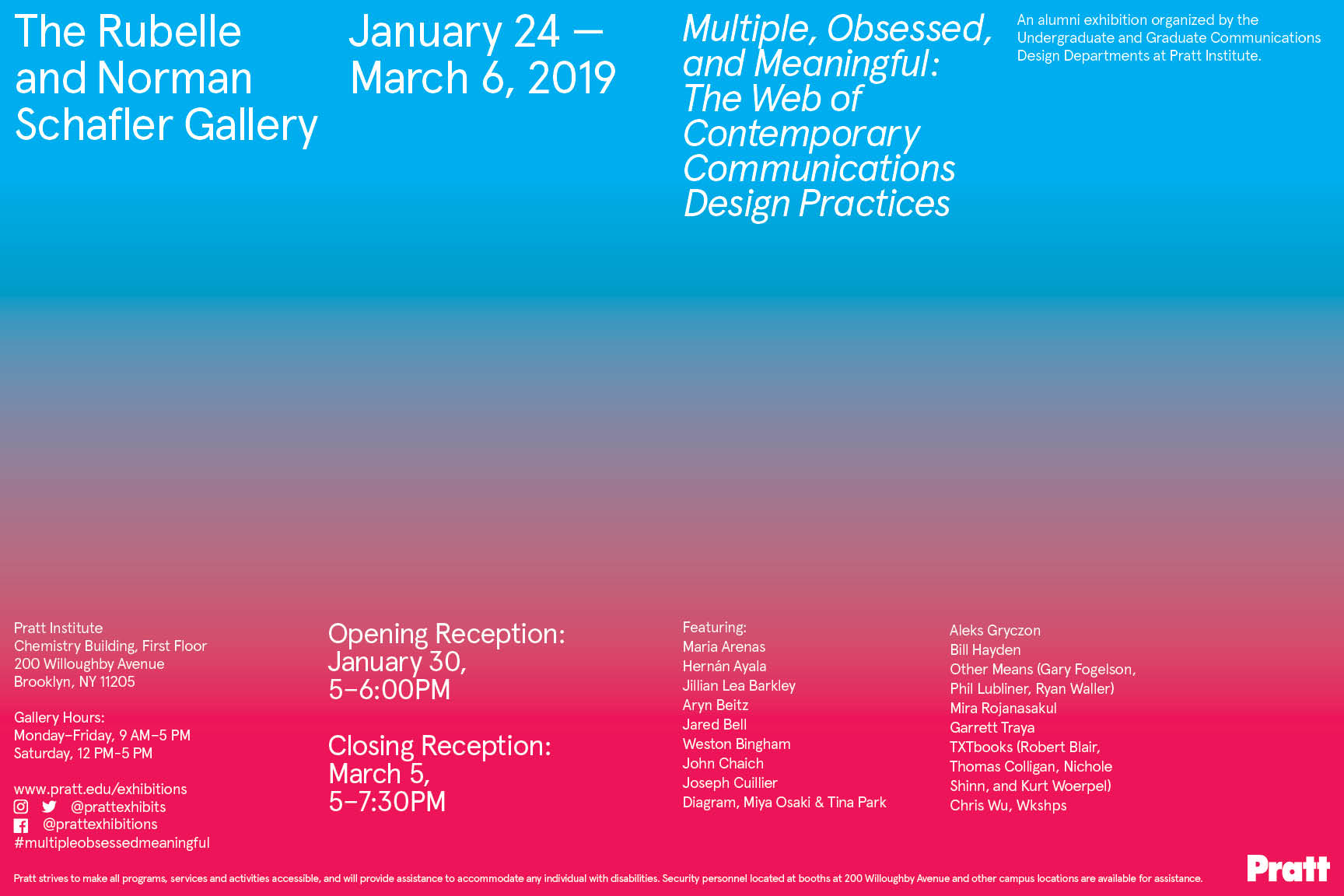 An alumni exhibition organized by the Graduate and Undergraduate Communications Design Departments at Pratt Institute.
January 24–March 6, 2019
Opening reception, January 30, 5–6 PM
Closing reception, March 5, 5–7:30 PM
More Information
As an active, participatory conversation about contemporary communications design, this exhibition explores the breadth of the field and its many possible practices through a selection of alumni contributions from the Undergraduate and Graduate Communications Design programs. Individual projects, open workshops, panel discussions and lectures activate the space and highlight the many forms of current practice.
In-house and independent, practical and speculative, long-term and on-the-fly—for contemporary practitioners, points of connection, infusion, contradiction and separation with the field are acknowledged and embraced. Facilitators, researchers, activists, collaborators, analysts, synthesizers, opportunity seekers, question-posers—communications designers move fluidly between roles using their work to build community in a shifting landscape.
Including alumni:
Maria Arenas
Hernán Ayala
Jillian Lea Barkley
Aryn Beitz
Jared Bell
Weston Bingham
John Chaich
Joseph Cuillier
Diagram, Miya Osaki & Tina Park
Aleks Gryczon
Bill Hayden
Other Means (Gary Fogelson, Phil Lubliner, Ryan Waller)
Mira Rojanasakul
Garrett Traya
TXTbooks (Robert Blair, Thomas Colligan, Nichole Shinn, and Kurt Woerpel)
Chris Wu, Wkshps