Fine Arts Visiting Artists Lecture Series: Elektra KB
October 13, 2020 7:00 PM – 8:30 PM
Online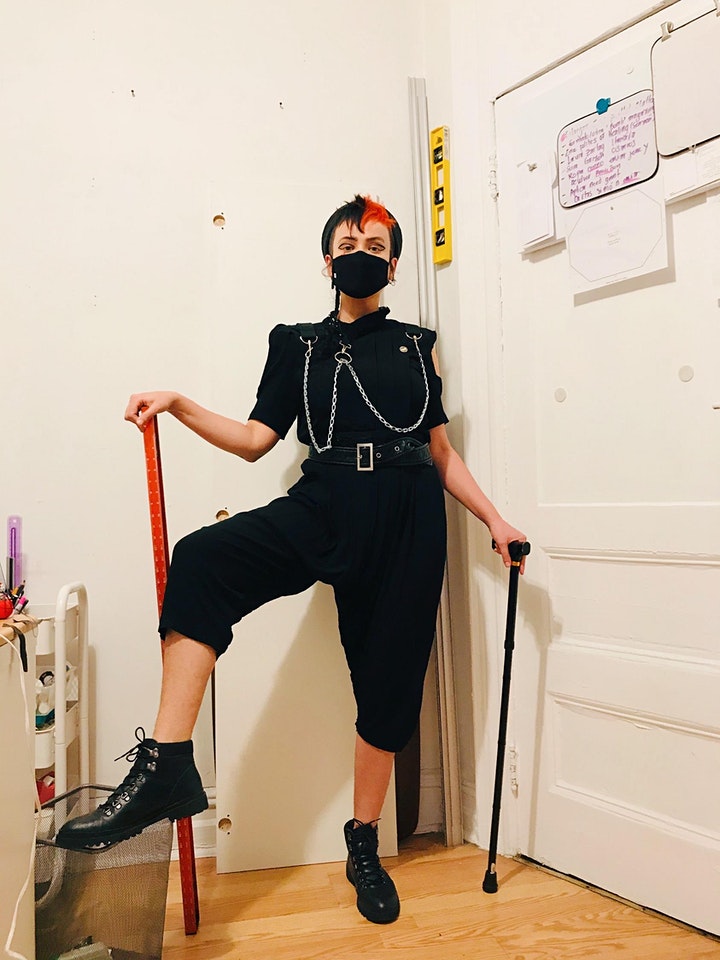 VISITING ARTISTS LECTURE SERIES (VALS) with artist ELEKTRA KB with the Q & A Moderated by Niama Safia Sandy, curator, and Visiting Assistant Professor.
*Links will be live the day of the event
Each year Pratt Fine Arts invites contemporary artists for a public lecture and to conduct studio visits with fine arts graduate students. This Visiting Artists Lecture Series (VALS) is coordinated by graduate student leaders. The aim is to provide our students with exposure to a wide array of artists working in a variety of fields at various stages in their career. Recent visiting artists include: Narcissister, Pradeep Dalal, James Hyde, Jill Magid, Schezerade Garcia, Rochelle Feinstein, Lavar Munroe, Lorna Simpson, Rico Gatson, Anicka Yi, Daniel Heidkamp, Nicole Eisenman, Tom Sachs, Aura Satz, Leigh Ledare, Judith Bernstein, Dan Walsh, Kalup Linzey, Keltie Ferris, LaToya Ruby Frazier, Trenton Doyle Hancock, Diana Al-Hadid, Mary Walling-Blackburn, Michelle Handelman, Phoebe Washburn, Rashaad Newsome, Dora + Maja, Bryan Zanisnik, Nancy Grossman, Guido Van Der Werve, Carrie Schneider, Tamy Ben Tor and Miki Carmi, Peter Saul, Michael Berryhill, Wafaa Bilal, and Catherine Opie.
About our moderator and artists:
Niama Safia Sandy is a New York-based cultural anthropologist, curator, musician and essayist. Niama's curatorial practice delves into the human story – through the application and critical lenses of culture, healing, history, migration, music, race and ritual. She sees her role as that of an agitator – one who endeavors to simultaneously call into question and make sense of the seemingly arbitrary nature of modern life and to celebrate our shared humanity in the process. Sandy is fascinated by the ways in which history, economics, migration and other social forces and constructs have shaped culture and identity. Her aim is to leverage history, the visual, written and performative arts, chiefly those of the Global Black Diaspora, to tell stories we know in ways we have not yet thought to tell them and to lift us all to a higher state of historical, ontological and spiritual wholeness in the process.
Sandy has presented work, and convened panels at the Schomburg Center for Research in Black Culture, the Museum of Contemporary Art, Chicago, Creative Time Summit, Harvard University, Oberlin College, Rhode Island School of Design, Prizm Art Fair, UNTITLED & more. She has written for Artsy, Active Cultures LA, MFON: Women Photographers of the Black Diaspora, NAD NOW, and many other outlets. Niama is currently a Visiting Assistant Professor at Pratt Institute.
Elektra KB is a Latin American immigrant artist, living and working in Brooklyn, NY. KB grew up in a rural hospital in Colombia with an army of nurses, doctors, and cooks, as the result of a Cold War-era Soviet-Colombian union.They graduated with an MFA from Hunter College in 2016 and received a DAAD award, pursued at UDK—Berlin with artist Hito Steyerl. Their work engages corporeal sickness and disability, with utopian possibilities and alternative universes. KB investigates gender, migration, transculturality, and abuse of power. Their work entangles mutual aid, political action, and communication, often with a documentarian-sci-fi-like hybrid approach, exploring utopia and dystopia in juxtaposition with our world. Across: photography, textiles, video, installation, and performance. KB's work has been written about in: Art Forum, Artnews, and The New York Times. Recent shows include: 'Nobody Promised You Tomorrow' at the Brooklyn Museum.