"Adaptation(s)" Exhibition(s)
September 1 – October 29, 2023 11:00 AM – 5:00 PM
Fridays, Saturdays, Sundays ONLY
Governor's Island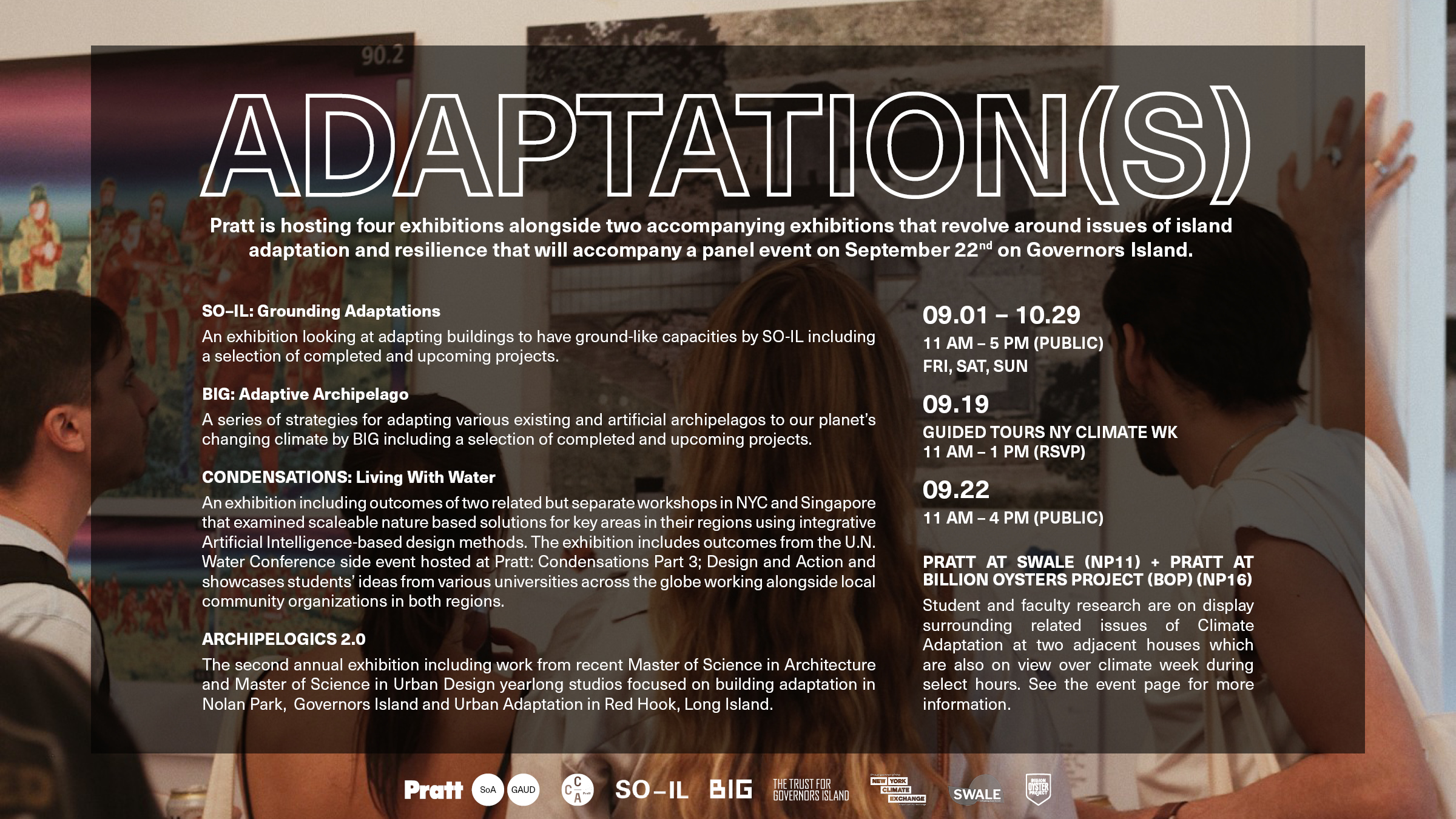 Pratt Institute is hosting four exhibitions that revolve around issues of island adaptation and resilience that will accompany a panel event on September 22nd on Governors Island. The exhibitions are as follows:
SO-IL: Grounding Adaptations – An exhibition looking at adapting buildings to have ground-like capacities by SO-IL including a selection of completed and upcoming projects.
BIG: Adaptive Archipelago – A series of strategies for adapting various existing and artificial archipelagos to our planet's changing climate by BIG including a selection of completed and upcoming projects.
Condensations 1.0/2.0; Living With Water (NYC/SG) – An exhibition including outcomes of two related but separate workshops in NYC and Singapore that examined scaleable nature based solutions for key areas in their regions using integrative Artificial Intelligence-based design methods. The exhibition includes outcomes from the U.N. Water Conference side event hosted at Pratt: Condensations Part 3; Design and Action and showcases students' ideas from various universities across the globe working alongside local community organizations in both regions.
Archipelogics 2.0 – The second annual exhibition including work from recent Master of Science in Architecture and Master of Science in Urban Design yearlong studios at Pratt focused on building adaptation in Nolan Park, Governors Island and Urban Adaptation in Red Hook, Long Island.
Also On View
Swale AND Billion Oysters Houses – Exhibitions in the nearby Swale House and Billion Oysters Project House including work of Pratt Faculty and students are also on display concurrently. See Nolan Park 11 and Nolan Park 16
Details
Access
The exhibitions are open to the public Fridays, Saturdays and Sundays from 11am -5pm at Nolan Park 14 on Governors Island. Please take the Governors Island Ferry departing from Manhattan at the Battery Maritime Building (10 South Street).
Guided Tours
Pratt will be offering specially timed guided tours for NY Climate Week:
Tuesday, September 19, 11:00 am–1:00 pm EDT (by RSVP only)
Friday, September 22, 11:00 am–1:00 pm and 2–4:00 pm.
Registration
RSVP for Guided Tours on Tuesday the 19th.
Panel
The tours Friday September 22nd are in advance of the "Island(ing) Adaptations" panel discussion at the Admiral's House starting 4:30 pm (requires separate registration).