IA: Island(ing) Adaptations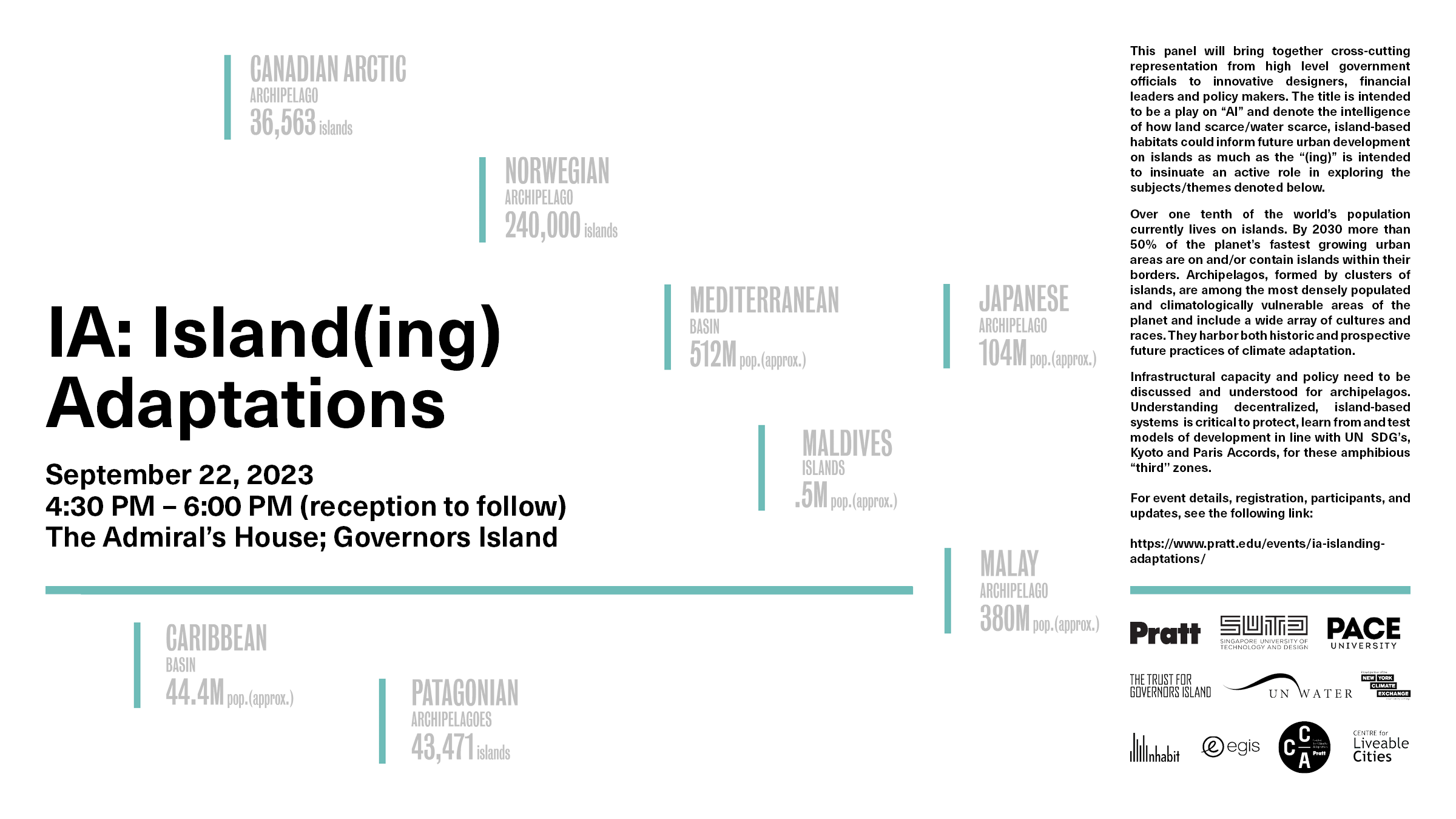 Format
On the occasion of the UN SDG Summit and NY Climate Week, Pratt Institute, its Center for Climate Adaptation and their partners at Pace University and Singapore University of Design and Technology are convening a panel conversation on Governors Island the future home of the NY Climate Exchange for which Pratt and Pace are proud Core Partners. The panel has overlapping themes and will include stakeholders who are directly and indirectly participating in the UN SDG Summit. Several related exhibitions on display will be available for tours on Governors Island including four exhibitions at the Pratt House in Nolan Park.
Entitled "Island(ing) Adaptations," the convening will bring together cross cutting representation from high level government officials to innovative designers, financial leaders and policy makers. The title is intended to be a play on "AI" and denote the intelligence of how land scarce/water scarce, island-based habitats could inform future urban development on islands as much as the "(ing)" is intended to insinuate an active role in exploring the subjects/themes denoted below.
Concept
Over one tenth of the world's population currently lives on islands. By 2030 more than 50% of the planet's fastest growing urban areas are on and/or contain islands within their borders. Archipelagos, formed by clusters of islands, are among the most densely populated and climatologically vulnerable areas of the planet and include a wide array of cultures and races. They harbor both historic and prospective future practices of climate adaptation.
Infrastructural capacity and policy need to be discussed and understood for archipelagos. Understanding decentralized, island-based systems is critical to protect, learn from and test models of development in line with UN SDG's, Kyoto and Paris Accords, for these amphibious "third" zones.
Opening Segment (4:30PM – 4:45PM)
Welcome: Frances Bronet – President Pratt Institute
Opening Remarks:
Clare Newman – President Trust for Governors Island (NYC)
Tai Lee Siang – Fellow, Center for Livable Cities, Ministry of Development (Singapore), Head of Pillar Architecture and Sustainable Design, Singapore University of Technology and Design
Jean Gallagher – Vice President for Strategy and Partnerships, Pace University
Allison Druin – Vice Provost of Research and Strategic Partnerships, Pratt Institute
Moderator: Henk Ovink – Founder Rebuild By Design, Former Special Envoy for Water Kingdom of the Netherlands
Panel Presentations (4:45PM – 5:30PM)
Panelist: Clare Newman – President Trust for Governors Island (NYC)
Panelist: Tai Lee Siang – Fellow, Center for Livable Cities, Ministry of Development (Singapore), Head of Pillar Architecture and Sustainable Design, Singapore University of Technology and Design
Panelist: Kai-Uwe Bergmann – Principal, Bjarke Ingels Group: BIG (Copenhagen/NYC)
Panelist: Sergio Campos – Head of Water and Sanitation Inter-American Development Bank (Washington, D.C.)
Panelist: Jing Liu – Founding Partner, SO–IL (NYC), Academic Coordinator, MSc. Architecture Program, Pratt Institute
Panelist: Leanne Burney – Program Officer, UN Water Technical Advisory Unit (NYC)
Moderated Discussion + QA (5:30PM – 6:00PM)
Reception (6:00PM-7:00PM)
Ferries will be running back to Manhattan every hour on the half hour at 6:30pm, 7:00pm, and 7:30pm to accomodate guests staying for the Reception.
These are not published on the GI Ferry website, but are provided for guests attending IA