Welcome to the Council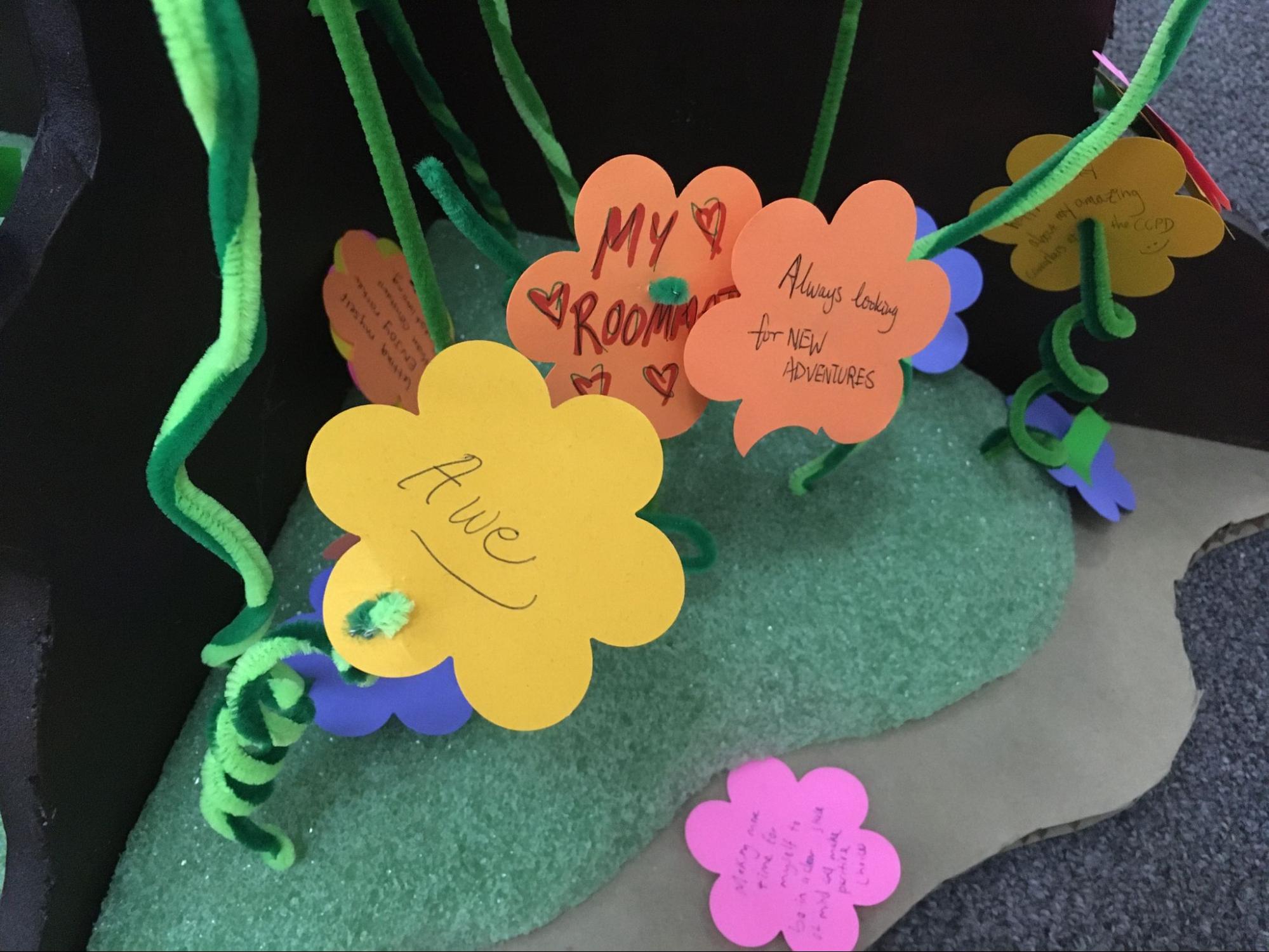 Our Mission
The Resilience, Wellness and Well-Being Council celebrates a holistic approach to education and success by expanding awareness of the pathways, support and opportunities to build and sustain resilience, wellness and well-being for all of Pratt's community members. Through providing resources, tiered support and care, staff, student and faculty training and development, and related initiatives for alumni, the Council advances the work of Pratt's creative community through mindful inquiry and engaged contemplative pedagogy.
Our Vision
The Council supports the pillars of Pratt's strategic plan through resource sharing and development in student and academic affairs, curricular and co-curricular workshops and coursework in flourishing and resilience, research and application of mindful inquiry, and contemplative community dialogues to ensure Pratt's commitment to student success is widely recognized as a significant creative value of a Pratt education, housed in a holistic workplace, alongside an engaged community of practice.
The Council's support and strategic initiatives recognize holistic excellence in life and academics and elevate a wide range of practices. We work to actively expand the resilience, wellness and well-being of Pratt artists, designers, architects, and information scientists to better reflect the diverse world in which we live.
The Council serves as an evolving example and resource for how an engaged community of staff, faculty, students and alumni can impact future generations of Pratt creatives.
What We Value – Our Priorities
Connection • Engagement • Support • Well-being
FY 2023 Goals
Educate the campus on RWW and its concepts/aspirations.
Review JED campus-wide scans of current well-being initiatives and assets and discuss policy and practice steps to recommend to remove barriers to well-being.
Begin to create campus-wide measurements for Key Performance Areas (KPAs): to measure well-being so that it may be embedded into campus culture, across the administration, operations, and academics.
---
Institute Strategic Plan goals
The Council's committees for purposeful action will operationalize the following goals of the pillars of the Institute Strategic plan.
Academic Excellence

Ensure educational equity for all students by creating multiple pathways to academic excellence. We are dedicated to providing all our students the opportunity to attain their maximum creative and academic potential. Read More
Student Success

Become a leader within the Association of Independent Colleges of Art and Design in the percentage of students who are flourishing and exhibiting well-being. We will identify well-being and flourishing as outcomes of a Pratt education, with a timeline for regular assessment, including among alumni.
Promote student personal growth and engagement both inside and outside of the studio and the classroom. Read More

Diversity, Equity, and Inclusion

Creating a welcoming environment. With the recently updated Pratt Community Standards as a guiding framework, we will ensure that all students and faculty feel valued and respected in every Pratt classroom and studio, in a learning environment that supports students, faculty, and staff to facilitate student success. Read More

Global Education

Improve the experience and overall culture for international students at Pratt Institute. We will support teaching, learning, and integration for international students and all faculty, including through cross-departmental engagement that ensures best practices are followed in classroom management. We will provide a seamless, user-friendly software system that facilitates study for global and international students, and address issues around immigration and enrollment. Read More
Civic Engagement

Establish civic literacy as a learning goal and ensure that every student acquires it. We will cultivate Pratt students' knowledge of the fundamental concepts of human rights and governance, their familiarity with key historical developments and social movements, and their ability to think critically about complex matters that have public consequences. Read More
The Resilience Council Current Membership
Council Leadership
Rhonda Schaller
Council Chair | Assistant Vice President for Student Affairs and Visiting Associate Professor
Sam Harvey
Council Coordinator | Assistant Director of Resilience and Well-being Programs in Resilience, Wellness, and Well-being and Vice President of the Staff Council
Jasmine Cuffie
Project Coordinator | Associate Director, Health Promotion and Well-being Specialist in Resilience, Wellness, and Well-being
Council Members
Robert Bracket III
Adjunct Assistant Professor in Undergraduate Architecture
Lexi Christodoulou
Nurse Practitioner in Health Services
Judit Torok
Director in Center for Teaching and Learning
Erich Kuersten
Advisor in Undergraduate Advisement
Joelle Danant
Program Director & Visiting Instructor in School of Continuing and Professional Studies
Michelle Hinebrook
Adjunct Associate Professor in Grad ComD
Timica Roach
Student Financial Services Counselor in Student Financial Services
Kimberlae Saul
Director of Planning, Design + Construction in Facilities
Holly Wilson
Research and Instruction Librarian in Library
Anthony Cocciolo
Dean of The School of Information in School of Information
Joseph Della Monica
Associate Director of Campus Public Safety in Public Safety
Eli Ceballos
Associate Director of Computing Facilities in Academic Computing
Carl Fengler
Associate Director in The Center for Career & Professional Development
Caroline Kasnakian
Director in Counseling Services
Audrey Schultz
Chair of Construction and Facilities Management
Jessica Preston
Health Services Operations Manager in Health Services
Farzam Yazdanseta
Assistant Chair of Undergraduate Architecture in Architecture
David Ringwood
Recreation Coordinator in Athletics and Recreation
Tricia Moore
Senior Benefits Administrator in Human Resources
Heather Shpiro
Associate Director of the Learning Access Center in L/AC
Cindie Kehlet
Acting Chairperson of Department of Math and Science
Natalie Moore
Associate Professor in Foundations
Mackenzie Adriance
Associate Director Work and Life Specialist in The Center for Career & Professional Development