The Mindfulness Collaboratory: Leading by Intention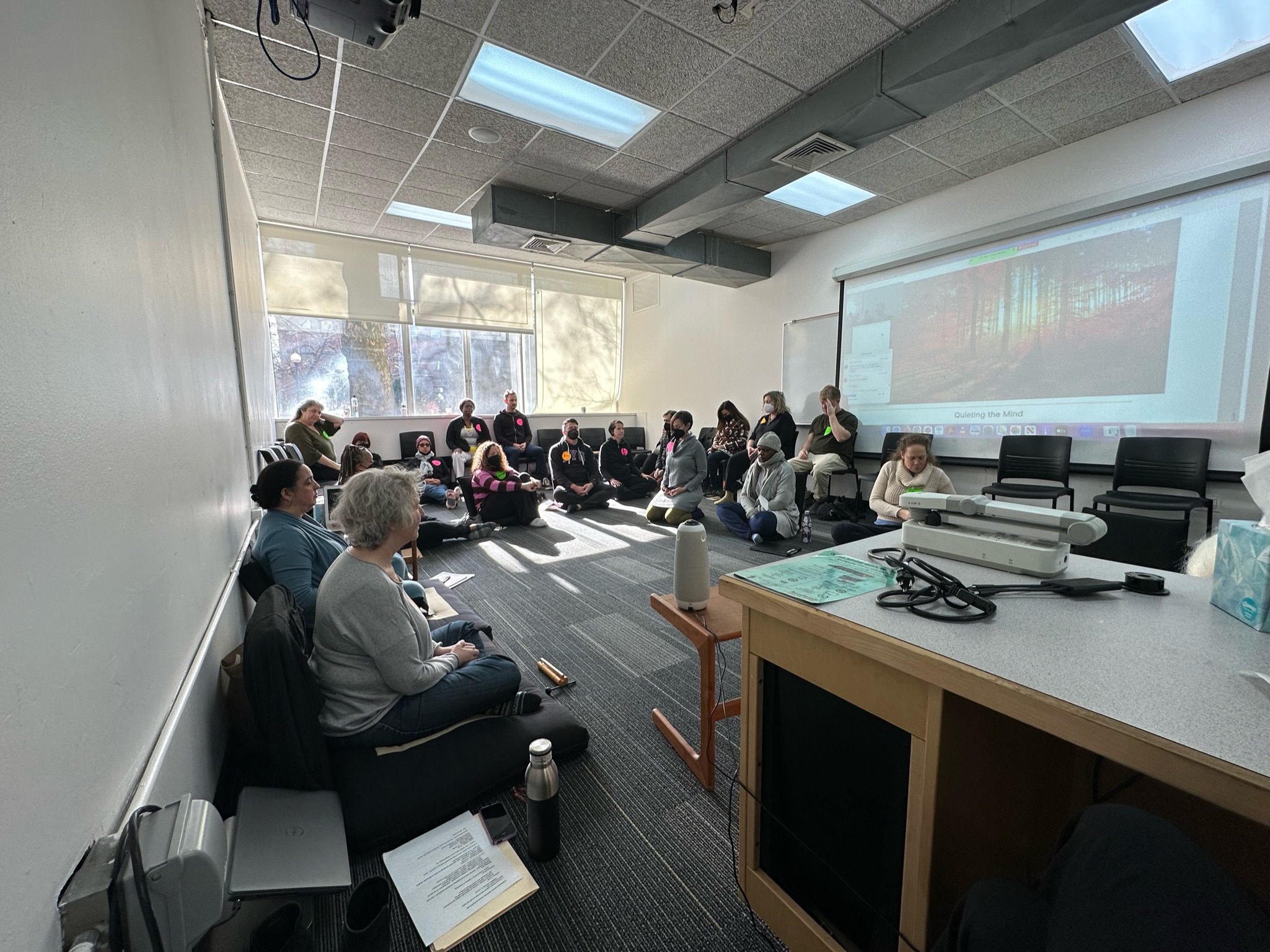 Rhonda Schaller, AVP for Resilience, Wellness and Well-Being; Visiting Associate Professor, School of Continuing and Professional Studies
Esmilda Abreu-Hornbostel, Lecturer; Visiting Instructor, School of Continuing and Professional Studies
Sam Harvey, Assistant Director, Creative Resilience and Well-Being Programs, Resilience, Wellness, and Well-Being Center
Mackenzie Adriance, Associate Director, Work and Life Specialist, Center for Career and Professional Development
---
The Mindfulness Collaboratory: Leading by Intention focuses on contemplative leaders setting intentions to create resilient artistic communities through individual meditation skill share, collective support, and mindful leadership. Participants learn, meditate, discuss, grow, and lead together.
Our goal is to bring artists, cultural leaders, and meditators together with the shared purpose of leading and renewing creative communities and establishing resilience, well-being, and joy. The program begins with meditation and contemplative explorations in virtues and character expressed through VIA strengths, embodied through authentic voice—the individual's song. As we uncover the tapestry of narratives within each participant's vision, they can author their own story, supported by a felt experience and defined further through embodied expression and sensation culminating in a leadership capstone project we call sailing. Throughout the program, participants chart their progress through a visual journal, reflection prompts, meditation invitations, and assignments to scaffold their progress from discovery, to defining, to development, and finally to capstone delivery.
Along with measuring participant flourishing and positivity, we will be looking to see the qualities that make a leader capable of leading a collective group. Throughout the course of training, participants will complete regular self-reflection journaling assignments and surveys to continue to track overall growth throughout the program and the impact on their chosen communities for their capstones.
While we can't change our past, we have the capacity in this moment to remember our deepest intention and seed the future. Intention can become the compass of our heart, guiding and creating our life experience.