Multigenerational Active Streets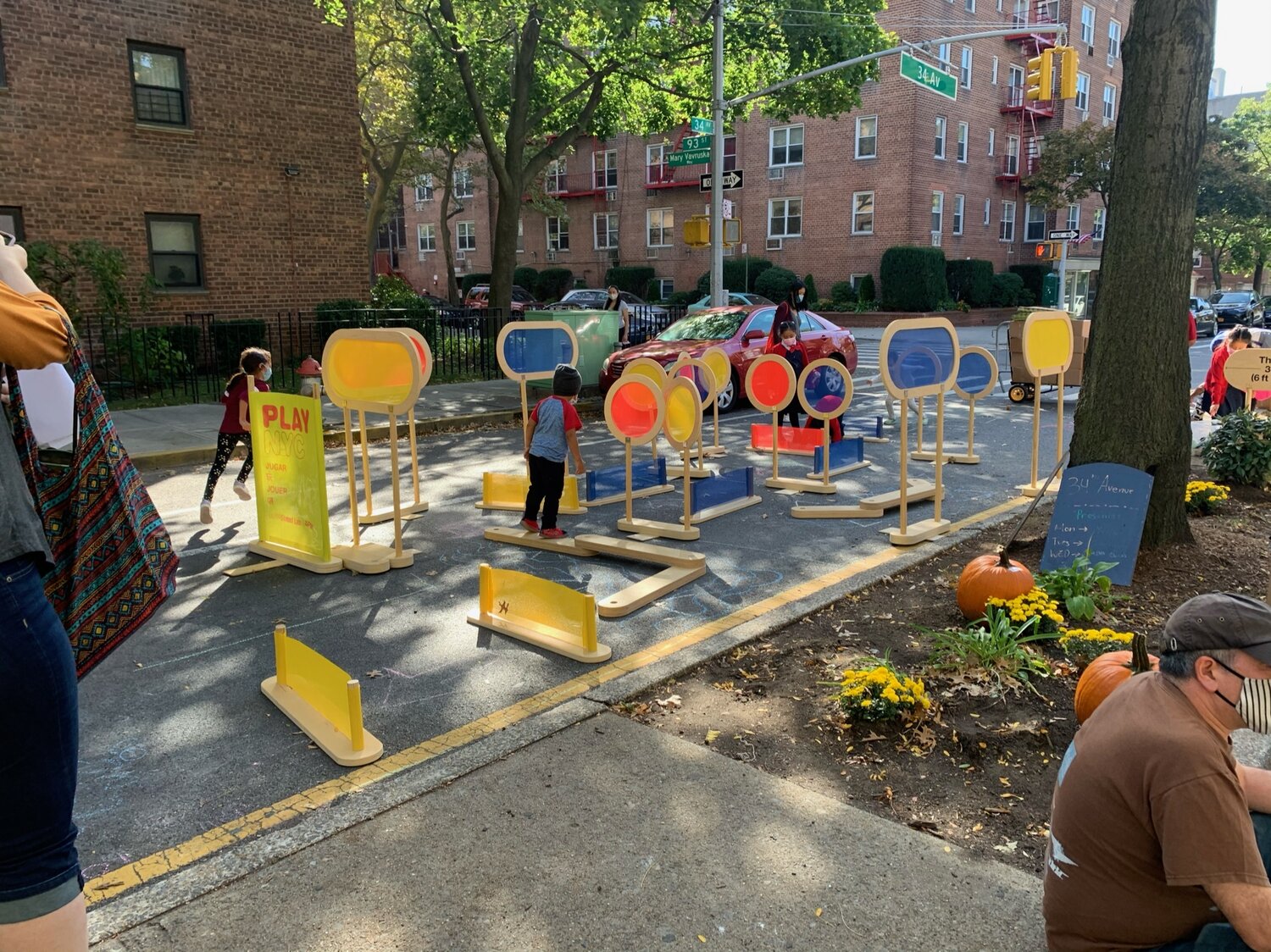 Hannah Berkin-Harper
Anushritha Yernool Sunil, MID '22
School of Design, Industrial Design
Taconic Fellowship
---
Multigenerational Active Streets is in partnership with Street Lab, a non-profit that creates and shares programs for public space across New York City, which in turn works in partnership with hundreds of neighborhood-based community groups and city agencies each year. Since July 2020, Street Lab has been regularly providing its programs on 34th Avenue in Jackson Heights, Queens—one of the most active and longest open streets in NYC, working with the 34th Ave Open Streets Coalition.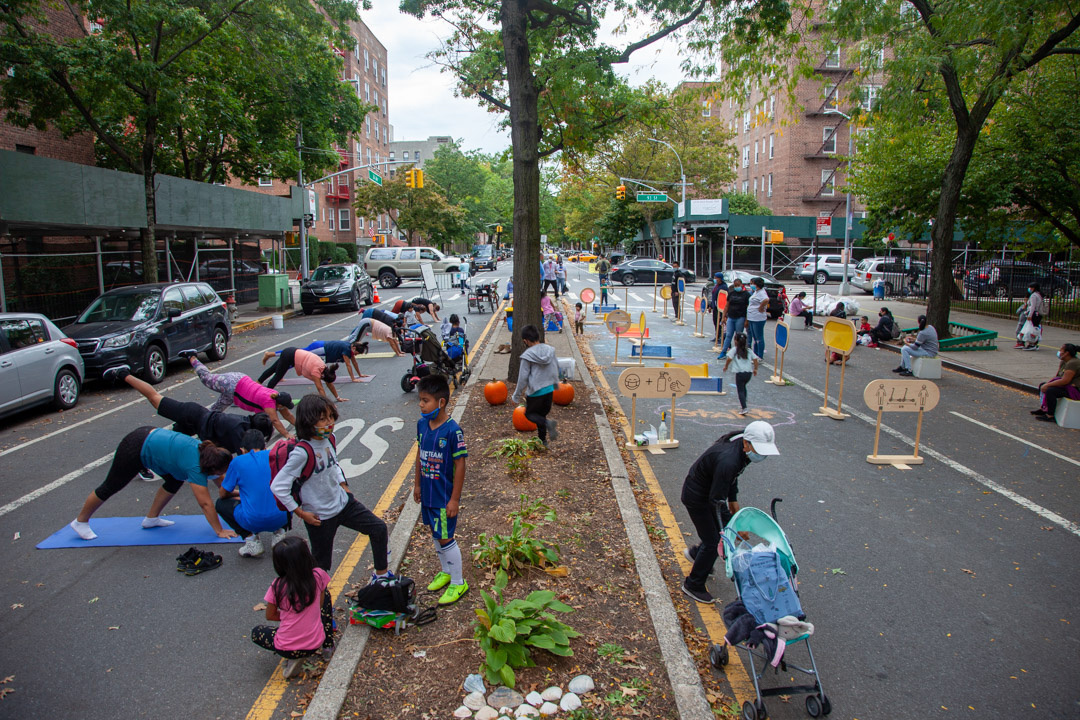 Jackson Heights is home to a large Naturally Occurring Retirement Community (NORC). NORCs are housing communities with a large proportion of residents over sixty, and they provide senior residents with the supportive services they need to continue living in their own homes. Jackson Heights is also one of the most diverse neighborhoods in the United States, with a population of 180,000 people speaking 176 languages. Working with our partner organizations and community members, we wanted to create dynamic street furniture prototypes to help promote multigenerational physical and social activity for this diverse community.
Events that require street closures have unique needs like rapid set up and take down, use of durable materials, and accessibility for community members. Creating beautiful and inviting spaces encourages participation, but often street events are furnished with some folding chairs and pop-up tents at best. The project goal is to create objects that form spaces with opportunities for new active programming for people of all ages.
This fall we visited 34th Avenue numerous times and documented conditions and activities. We conducted secondary research to understand both ergonomic considerations for the populations we are designing for and to study precedents on open streets and public furniture. We also met with community members and participated in Street Lab programming, talking to residents at community events. Additionally, we conducted roundtable discussions with NORC members and their programming manager from Selfhelp, as well as program managers from the Beacon School, which has an after-school program serving both NORC members and children from the school.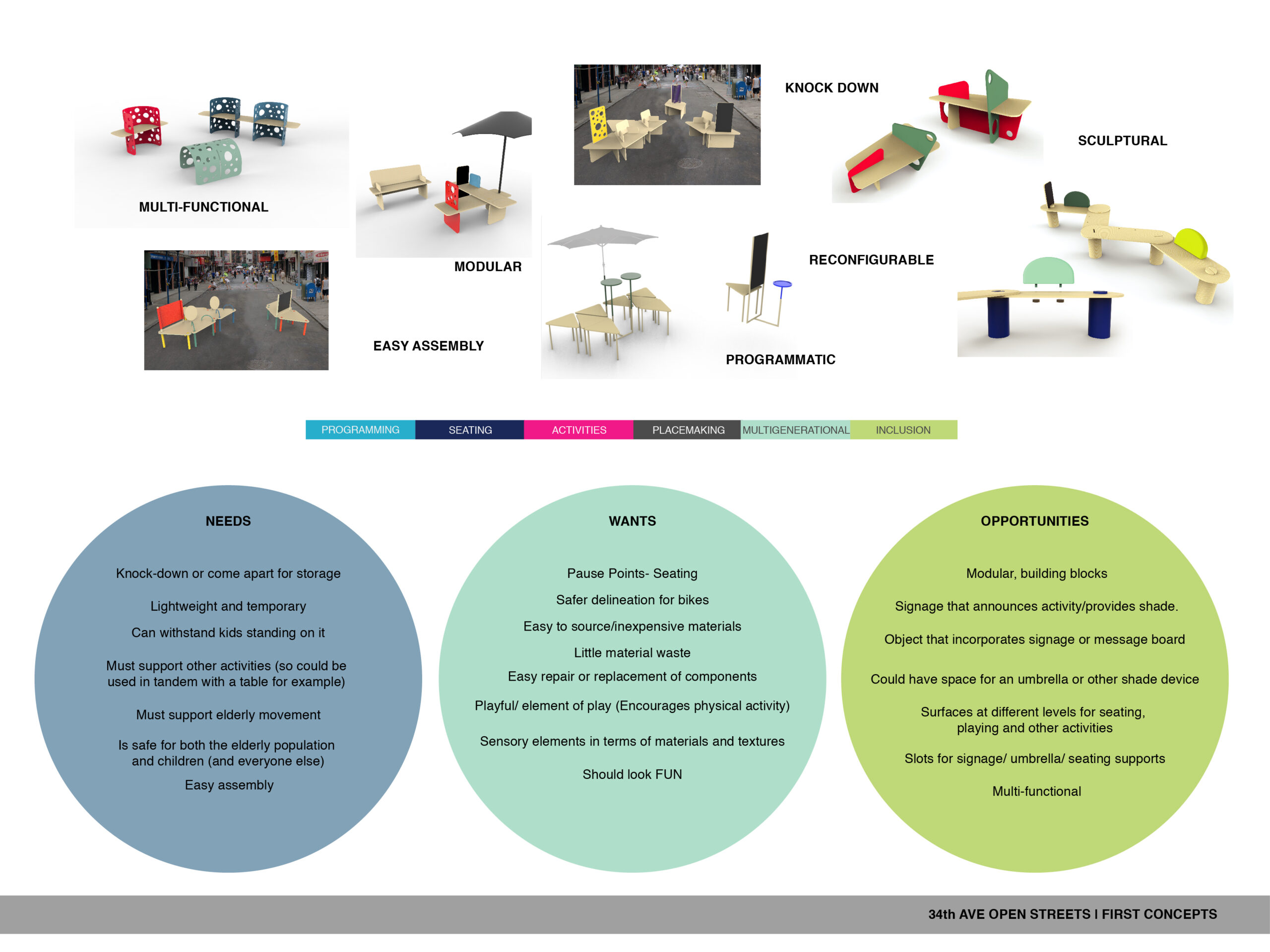 We have completed a first round of ideation sessions and concept generation and have shared several of our most compelling concepts with our non-profit partners to determine what to prototype and show to residents. We will create full-scale testing prototypes and renderings that we can bring to the street for feedback with community members. Once a final direction is determined we will work to refine the design and build one or more final objects with plans for scalability so that Street Lab can replicate what we build both on 34th Avenue and elsewhere.
For more information on Street Lab visit: www.StreetLab.org