Independents Express 2020 Angst in Art
Robert Redding, MFA Painting and Drawing '22
School of Art, Fine Arts
---
As an independent artist, my social practice involves community engagement focusing on gathering feedback resulting from the partisan news treatment of out-group political participants. For independents, this means being able to participate in some states that allow them to identify as third party – Green, Libertarian and beyond.
Some states, however, do not allow people to identify as independent and they must choose between being a Republican or Democrat – a political binary. As a member of the LGBTQ+ community, I see this as an outdated model. This may be why many independents decide not to participate in the aforementioned binary and/or do not vote. This art project was designed to record their feelings as a result of neglect, marginalization, and minimization.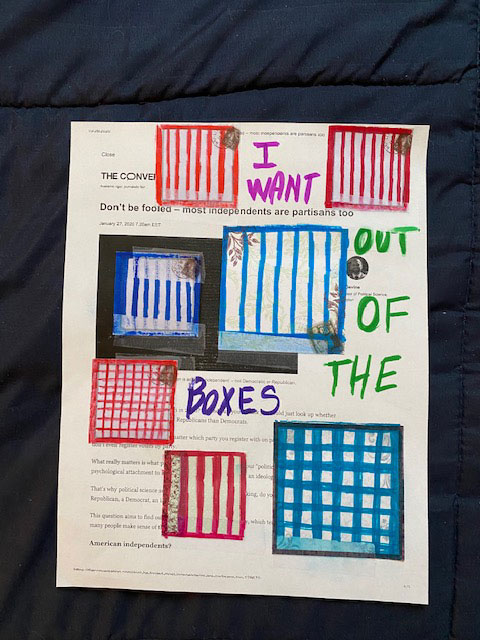 Nearly a dozen participants were asked to do art on top of news coverage about independents. This was an opportunity to voice their view about the political process and utilize art as a cathartic outlet.
The resulting works were curated by Rob Redding, who is a national talk host, known as America's Independent Voice. Redding, who is a '22 MFA candidate, wanted to give voice to fellow independents and accomplished this project within a Social Practice in Art course at Pratt Institute.