HP Studio: East Flatbush Community Preservation, Empowerment & Autonomy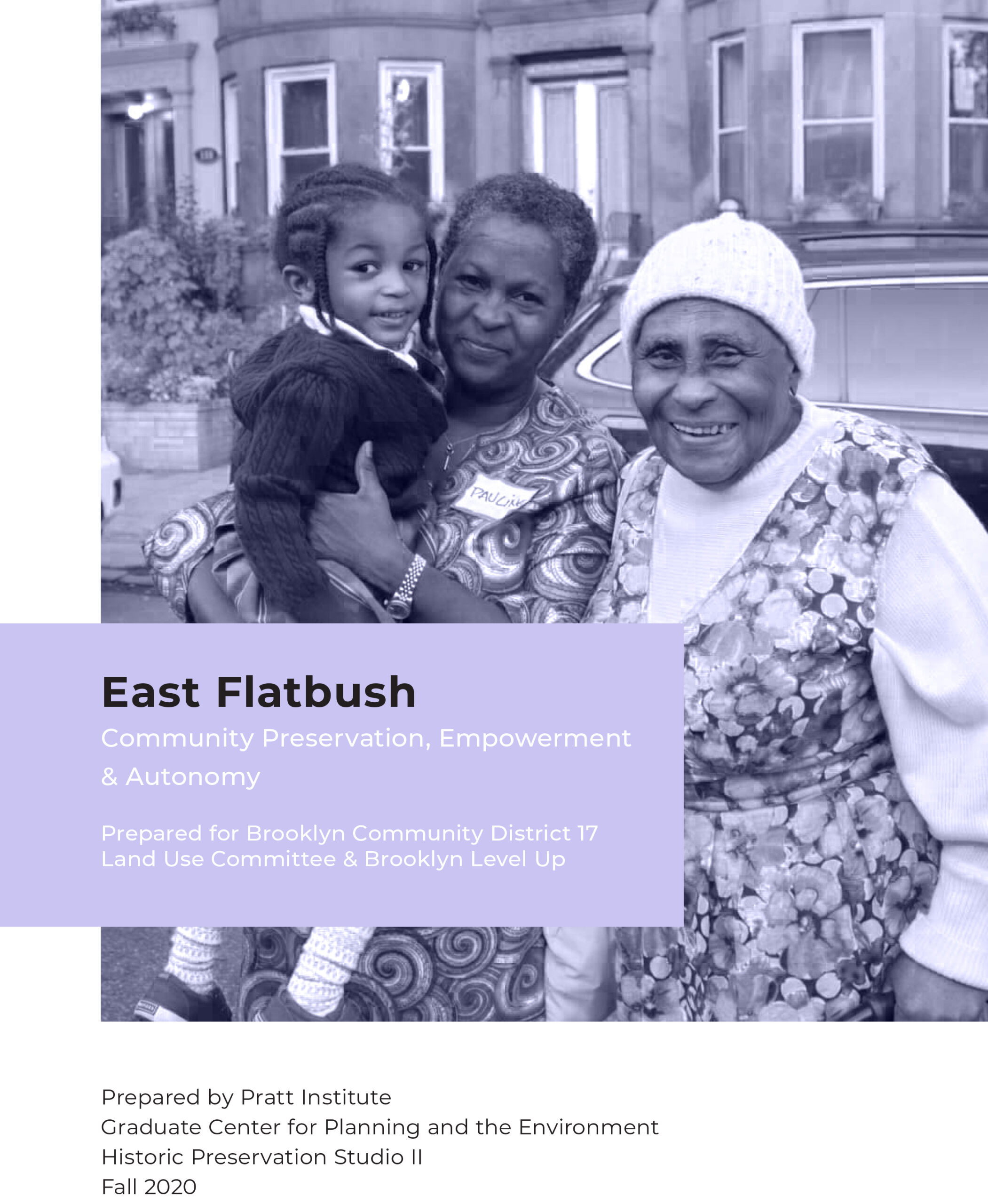 East Flatbush: Community Preservation, Empowerment and Autonomy Pratt Historic Preservation, City & Regional Planning, and Urban Placemaking & Management Joint Studio in partnership with Brooklyn Community Board 17 and Brooklyn Level Up
Abstract 
Through an interdisciplinary studio, Master of Science candidates in city planning, historic preservation, and urban placemaking from the Pratt Institute Graduate Center for Planning and the Environment spent the Fall 2020 semester weaving history, existing conditions, and placemaking techniques with the goal of recommending policy and project opportunities for the vibrant and culturally diverse neighborhood of East Flatbush, Brooklyn, New York.
The studio is fortunate for the opportunity to work alongside clients Brooklyn Community District 17 Land Use Committee and Brooklyn Level Up. Despite Covid-19 limitations, the studio managed to visit the neighborhood during two separate site visits and connect with the community via Zoom conferences and phone calls. The studio heard East Flatbush's concerns, listened to their stories, engaged with its residents, and ultimately provided policy recommendations and strategies so that the community at large can bolster and expand upon their unique home.
The Clients:
The Brooklyn Community Board 17 Land Use Committee of East Flatbush (referred to as CB17 throughout the report) has many goals to make the neighborhood more sustainable and create a better quality of life for its residents. Their goals include creating more open space, create recreation centers representing culture, find ways to create more jobs in the neighborhood, find ways to make healthy food more accessible in the neighborhood, create affordable housing, cater to the aging population while keeping the housing stock affordable, focus on education, economic development of the neighborhood, crime prevention and community based health care. CB17 represents the residents in matters of budget and zoning and is a strong advocate for an extremely vibrant, hard working, pragmatic, discerning, and earnest community.
A second client was also instrumental in the understanding of the community: Brooklyn Level Up. Their mission–to nourish local communities and build wealth through knowledge, health and financial assets–is a people-centered approach to planning, favoring local community residents over large scale development firms. This mission is perfectly aligned with Pratt Studio objectives, which made for a rich collaboration of ideas, theory, and programmatic strategy evaluation. 
The clients addressed the overarching needs for community development within the following areas: economic empowerment, cultural preservation of people and institutions, and open space accessibility. The studio is pleased to present these areas in the following report.
To illustrate the aforementioned community attributes, the studio was divided into three phases as a methodology for analysis. 
---
PHASE ONE consisted of historical and contextual research to examine and understand the history and existing conditions of East Flatbush. This research included looking into both historic and current building types and categories: Demographics and socioeconomic data, public health and mental hygiene, housing, institution and community facilities, green infrastructure, open space and food access, environmental conditions, transportation, land use and zoning, and commercial activity and workforce analysis. 
PHASE TWO examined the historic and existing conditions of the neighborhood. The studio conducted client interviews within both phases and spoke with neighborhood residents from all sectors of the community: 23 interviews overall: auto-shop employees, gardeners, small business owners, homeowners, police officers, pastors and church members, and not for profit directors.
PHASE THREE was a distillation of historical analysis, contextual research, and a determination of larger themes as potential policy recommendations. In this phase, the studio wove its research with overarching projects that were ultimately developed into recommendations for potential policy practice.