Consortium for Research & Robotics (CRR)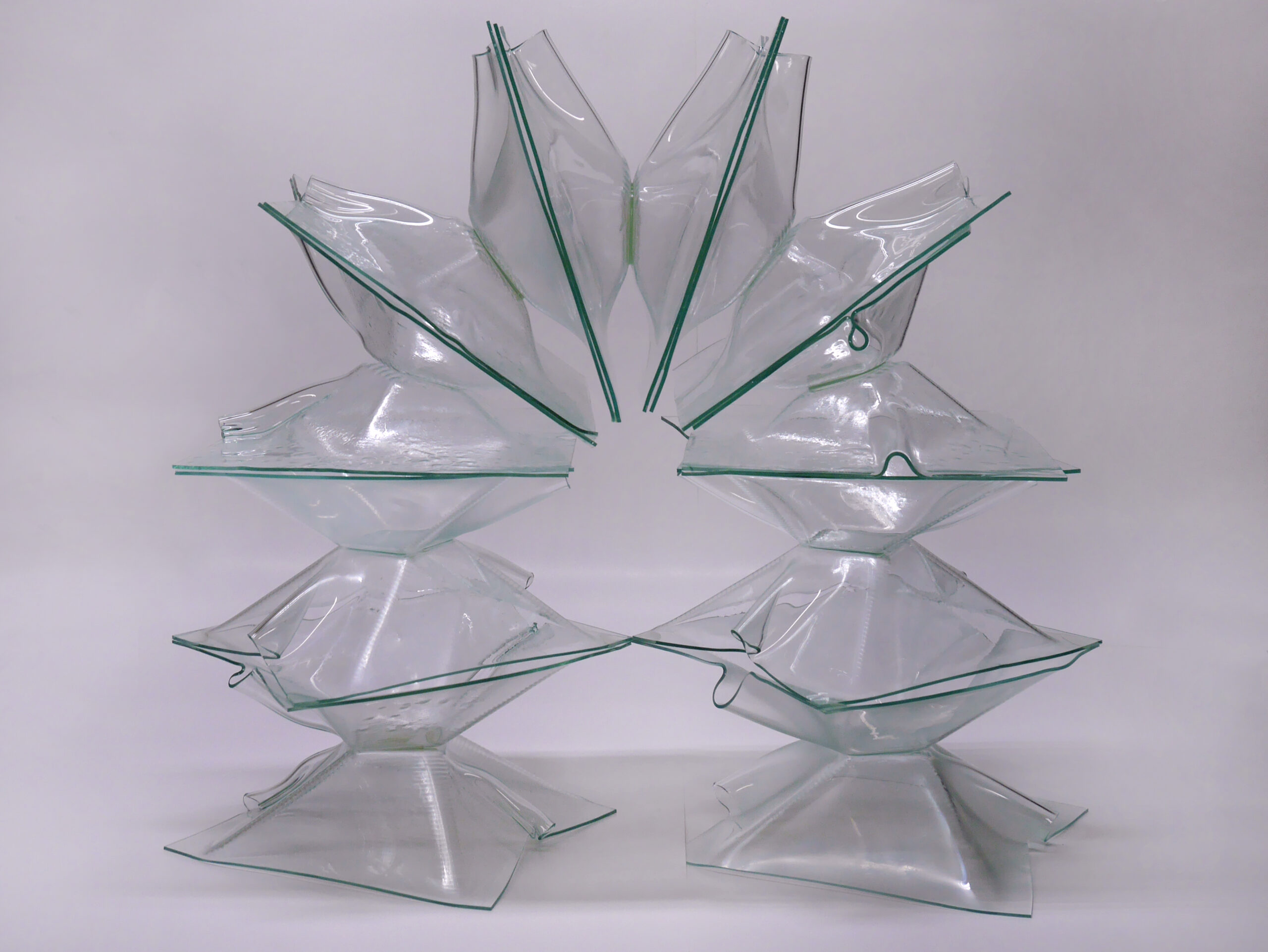 Aaron Beebe, Interim Executive Director
GLASS ASSEMBLIES | ROBOTIC INCREMENTAL METAL FORMING
Gosia Pawlowska, Primary Researcher
Aaron Beebe
Phoebe Degroot, Technical Project Coordinator
James Nanasca, MArch '22
Rob Woods, BFA Film/Video '25
Dharaneesh Reddy Basireddi, MArch '22
"DYNAMIC PROJECTION" | MIXED REALITY AND PROJECTION MAPPING
James Nanasca, Primary Researcher
Aaron Beebe
Phoebe Degroot
Rob Woods, BFA Film/Video '25
Jhanavi Nirmal, BFA Digital Arts '22
ADDITIVE MANUFACTURING FOR FASHION DESIGN
Lilach Porges, Primary Researcher
Aaron Beebe
Phoebe Degroot
Anna Elisse Uy, BArch '22
Seungyeon Kim, BFA Painting '22
Provost
---
As an outward-facing research center of Pratt Institute, the Consortium for Research & Robotics (CRR) engages in innovative design research by using frontier technologies.
Glass Assemblies | Robotic Incremental Metal Forming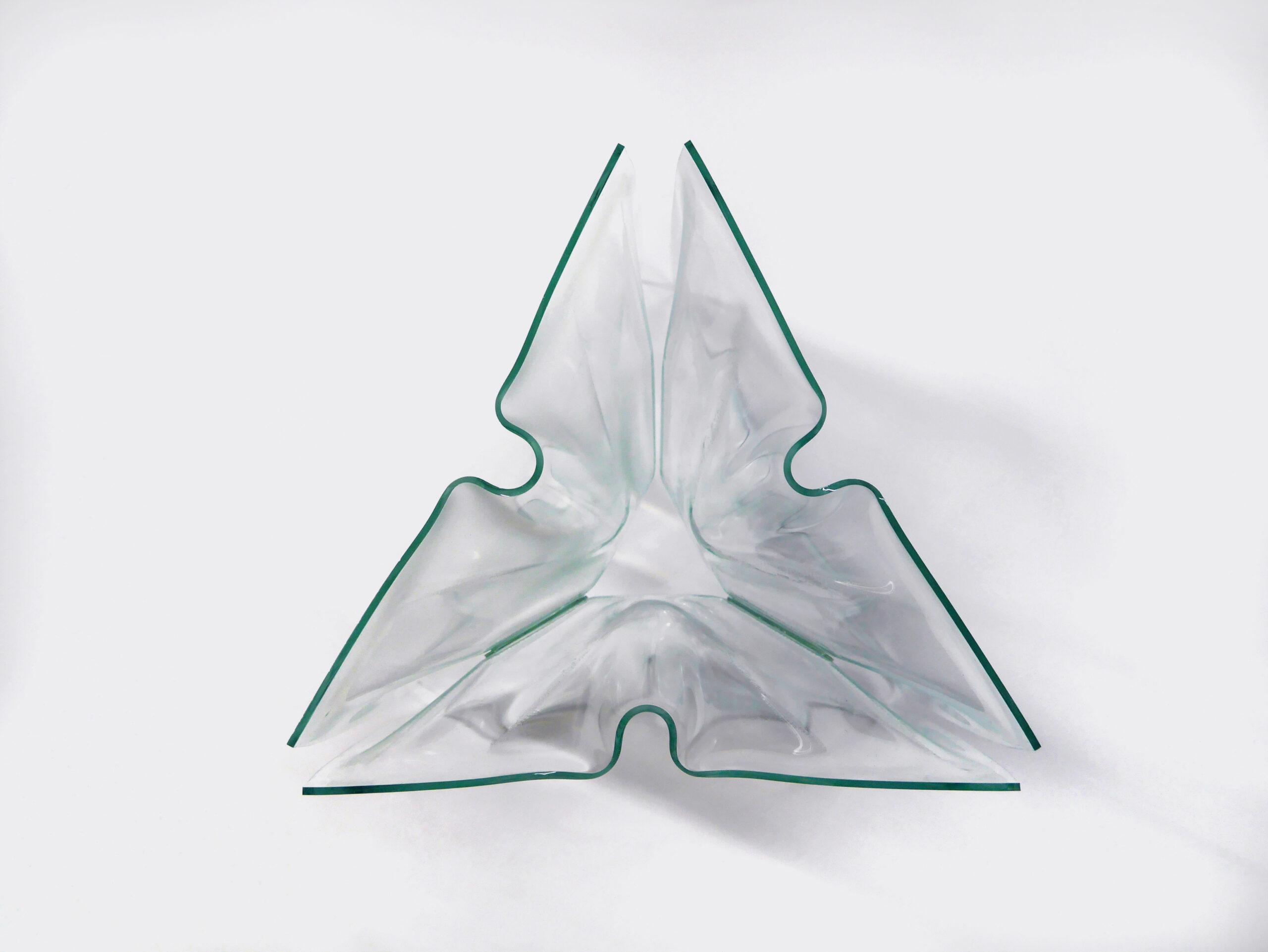 Speculating on new techniques for the production of creative forms in glass, research under the direction of Artist in Residence Gosia Pawlowska introduces the industrial process of robotic incremental metal forming to slumped glass. This work allows for the generation of three-dimensional stained glass prototypes and advances scholarly conversations around technology and craft.
This research supplements historic methods of glass craft with the capabilities of six-axis robotic incremental metal forming (RIMF), 3D scanning, and 3D printing. By engaging in playful experimentation at the boundary of handcraft and automation, we describe a new technique for fabrication and assembly of three-dimensional architectural glass panels.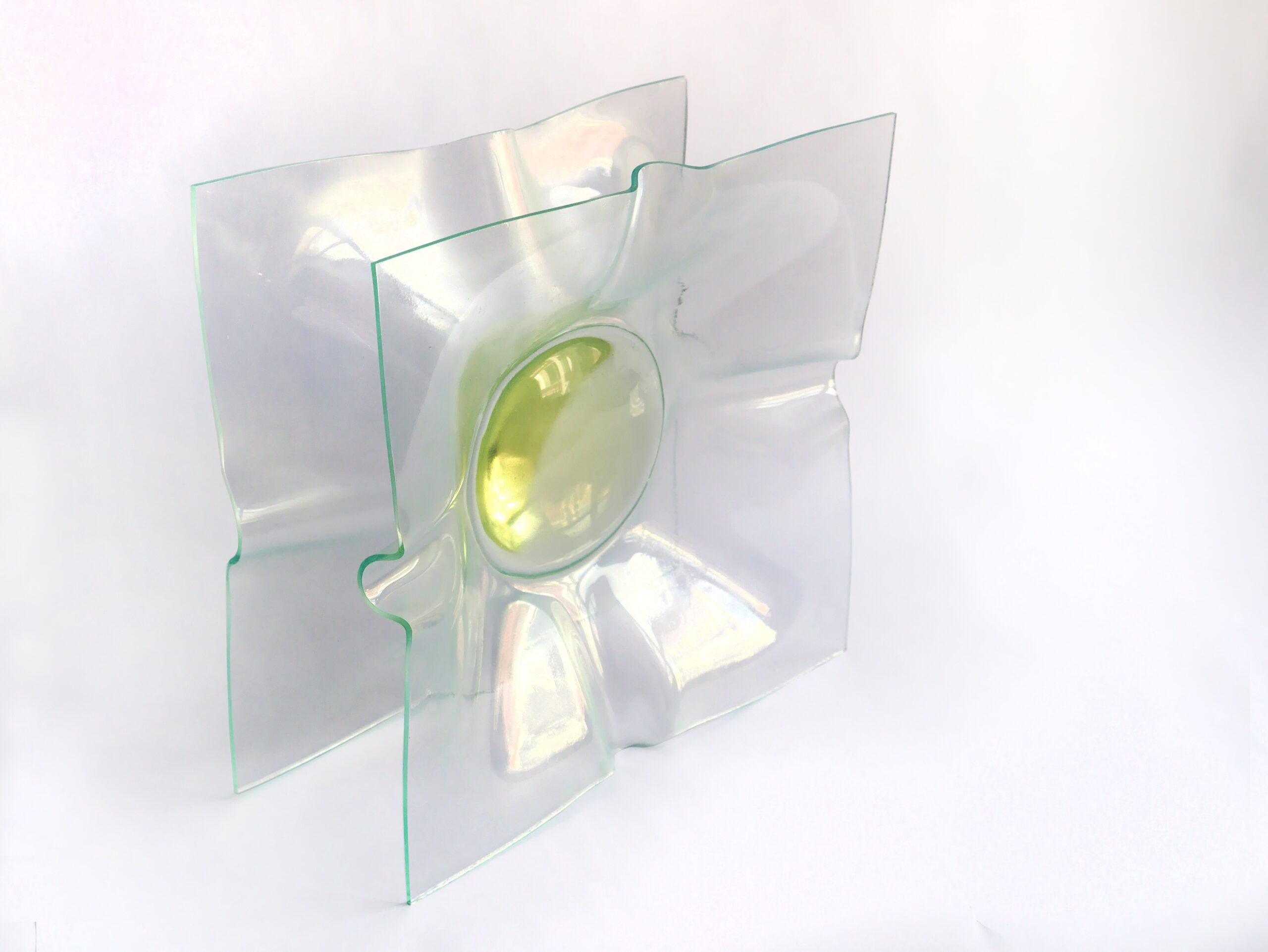 Traditionally, slumped glass molding uses high temperature kilns to loosen the molecular bonds in glass until it begins to drape over a given mold. RIMF is an innovative technique wherein force is applied to a sheet of metal by a robotic arm and end-of-arm tool, forming a three-dimensional shape in steel. Here, the digitally designed and fabricated steel forms will be used as molds or for the process of glass slumping. As the slumped glass panels conform to the shape of the steel mold, organic curvature, folds, and textures emerge as artifacts of the digital-to-physical translation. These unpredictable features can be designed around with the help of scanning and 3D printing technologies to generate bespoke assemblies of multiple slumped glass panels.
"Dynamic Projection" | Mixed Reality and Projection Mapping
Technologies of projection mapping (PM) and mixed reality (MR) are rarely used together with an architectural agenda. Under the leadership of Graduate researcher James Nanasca, "Dynamic Projection" imagines the confluence of accessible PM and MR technologies and asks how we might leverage their strengths for making architecture from within the climate movement while obviating their inherent weaknesses.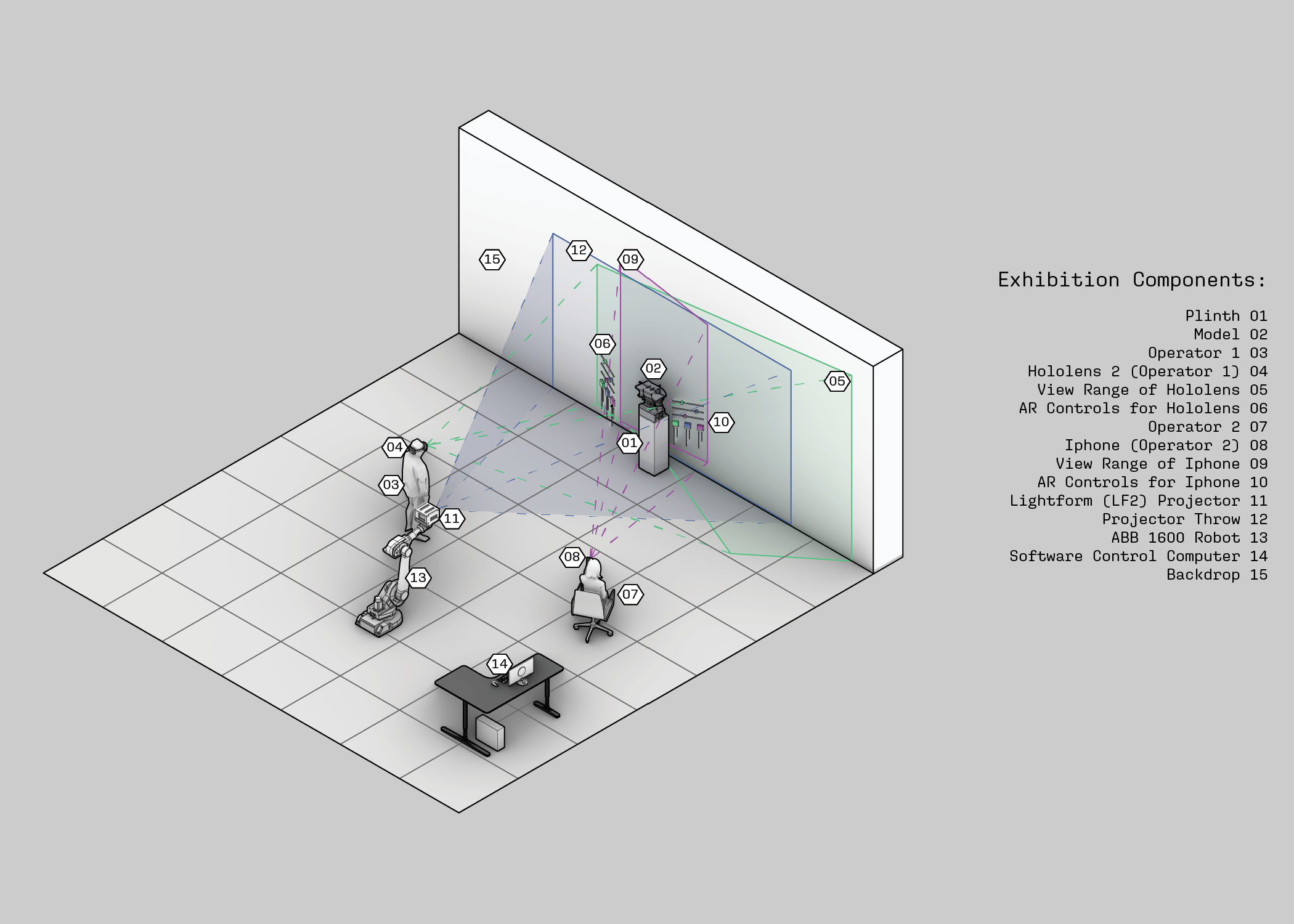 This research began by examining the dormant potential of projected MR by augmenting a physical model in an exhibition setting and evaluating it through a cybernetically enhanced mixed reality framework to understand how the technology might be best used. In 2022, the work is being expanded by developing a more versatile platform that uses better, more responsive tools and an industrial robot to simulate various dynamic feedback systems.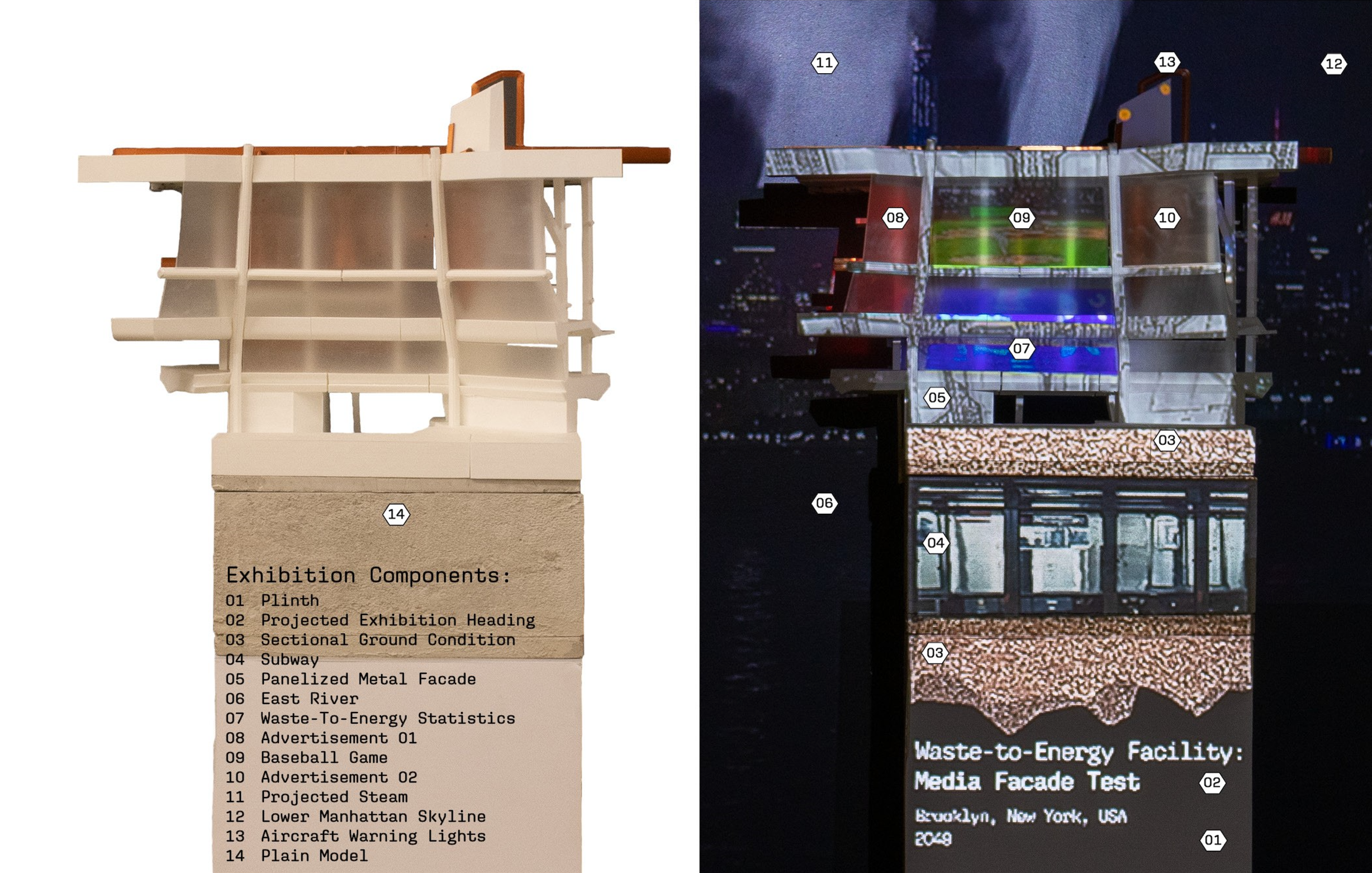 A key feature of this work is the desire to leverage projected MR as a suite of tools to make architecture a more active participant in the climate movement: possibilities include connecting physical sites with statistics to help reduce energy consumption, augmenting the construction process, or helping facilitate waste reduction through efficient construction. This work will be presented at the 27th Annual CAADRIA conference in Sydney in 2022.
Additive Manufacturing for Fashion Design
In 2020 and 2021, Pratt student researchers at the Consortium for Research & Robotics helped design and construct a PETG 3D Pellet Extruder as an end-of-arm tool for an industrial robot. Initially designed for a NASA project, the extruder was paired with a highly tuned robotic control unit, allowing researchers to print at large volumes in non-standard orientations and with reduced print time, as well as the ability to mix different pellet colors and types.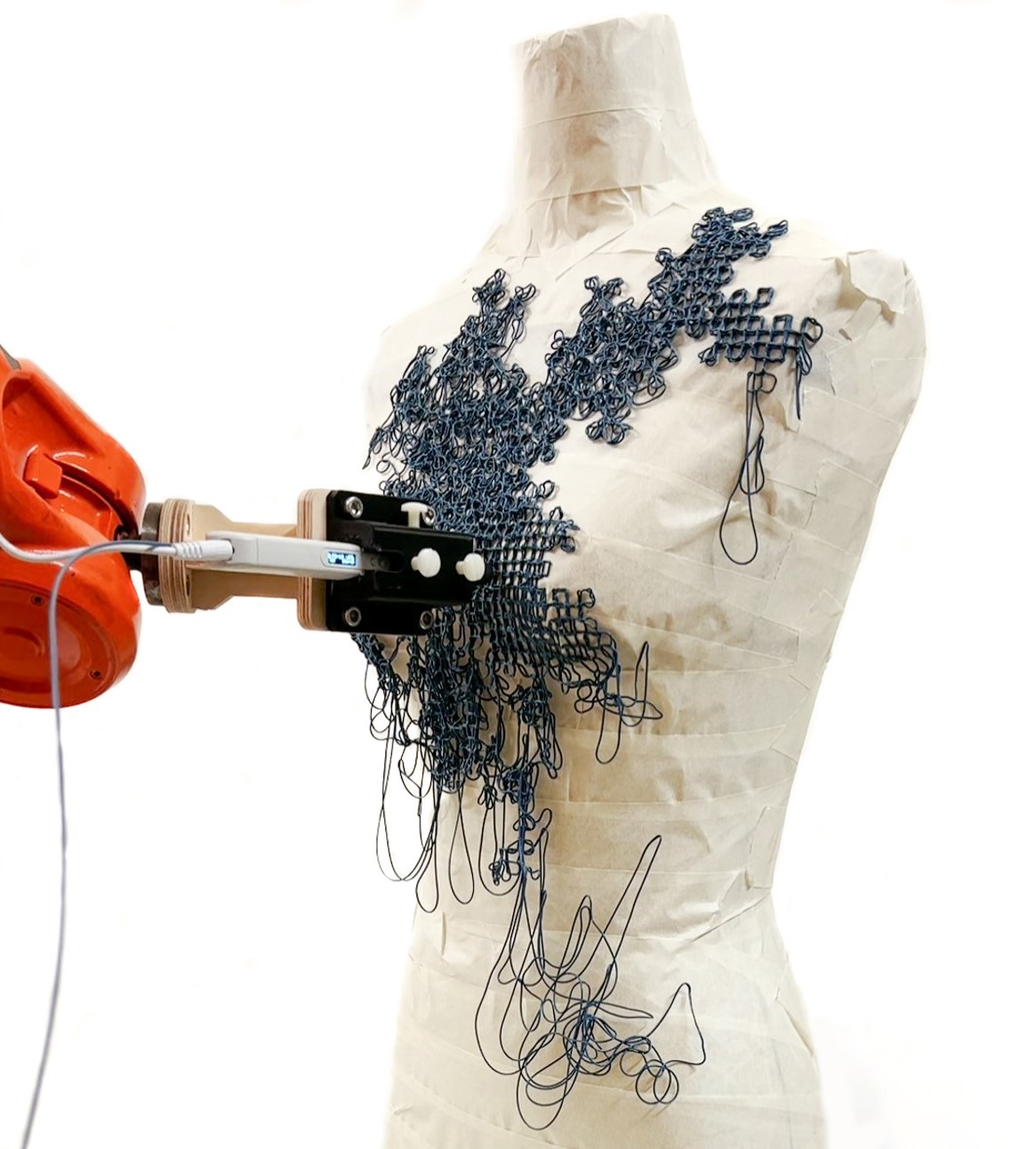 New research, under the leadership of Artist in Residence Lilach Porges, aims to create a fashion design collection using additive manufacturing of sustainable materials directly onto a human form.
The outcome of this two-year-long research will include the production of a collection of twelve garments and a short performance that reflects the creation process. New technologies are opening the door to sustainable materials that have not yet been used in fashion design. Through real-time sensing and six-axis printing using these materials, this research aims to introduce to the fashion industry bespoke clothing production and design using robots.