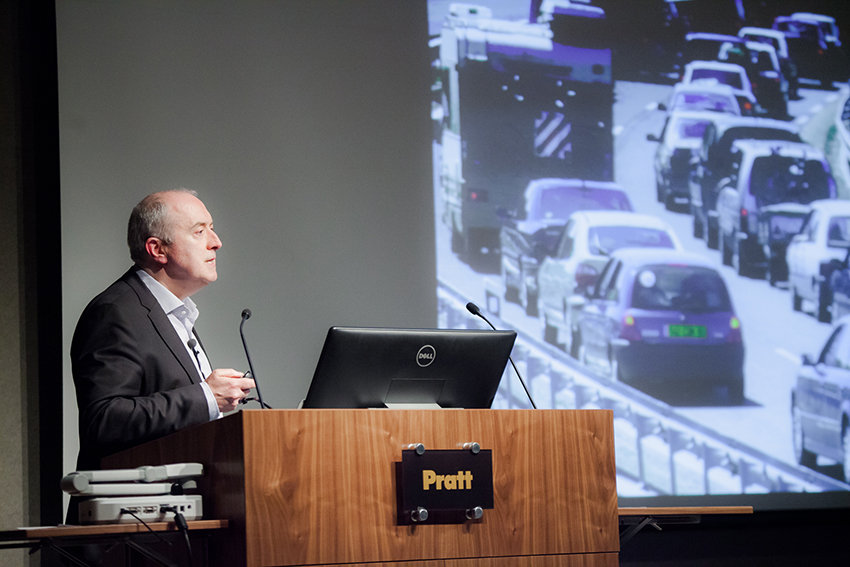 Pratt recently welcomed internationally renowned architect Grant Brooker to the Institute's Brooklyn campus, where he spoke about his career highlights and insights into the field of architecture in front of an attentive audience in Higgins Hall auditorium. The March 7 talk was part of the Arnold Syrop (B. Arch '61) and Joanne Syrop Annual Lecture, which highlights outstanding individuals in architecture and is endowed by the Selz Foundation.
Currently based in London, Brooker is the head of Studio 1 at Foster + Partners and leads his team in a wide range of commercial, residential, and cultural projects that have included some of Europe's tallest residential towers; the Smithsonian Institution courtyard in Washington, D.C.; the Museum of Roman Antiquities in Narbonne; and most recently, the new Mexico City Airport.
"I've been in the studio for almost 30 years so I've seen and played a part in much of our work, and I thought I would talk about our approach and the work of Foster + Partners through five projects," Brooker said before the event. At the opening of the talk, he explained that one characteristic of the firm's approach to its work is not to see any separation between the design, the conceptual and technical aspects, and the physical reality of making a building. Starting with the Viaduc du Millau (Millau Viaduct), the elegant cable-stayed road bridge in southern France, he guided the audience through some of the key decisions and choices involved in projects the firm has carried out around the world. With the help of visuals that included renderings and photographs, he also discussed the iconic Swiss Re Headquarters—London's first ecological tall building—as well as three different "ports"—the Hong Kong International Airport, Spaceport America in New Mexico and Marseille's Vieux Port (Old Port) in France.
The talk finished with a question-and-answer session that touched on how the studio builds teams around individual projects, as well Norman Foster's vision. "What Norman gave us was a philosophy and an approach," Brooker said, talking about the collaborative way of working that continues at the firm today.