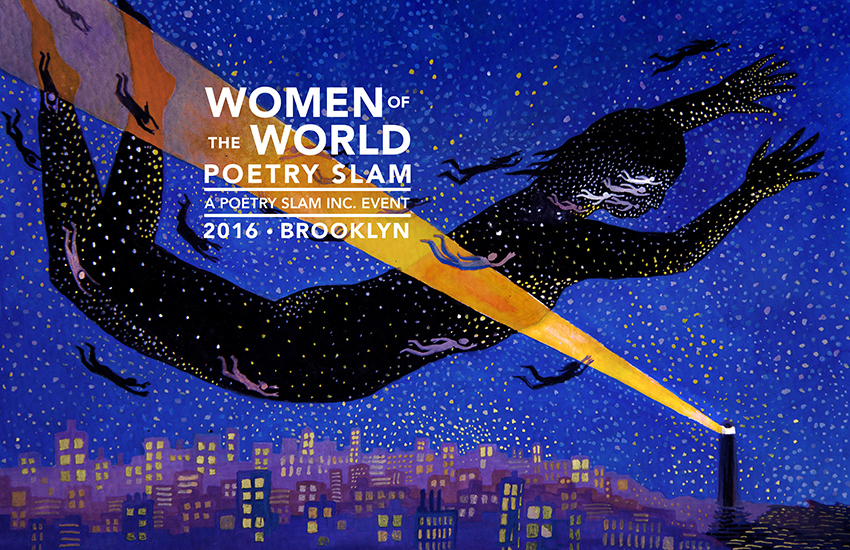 The 2016 Women of the World Poetry Slam (WOWps), a poetry tournament and festival, was held on Pratt's Brooklyn campus from March 9-12. Mahogany Browne (M.F.A. Writing '16) brought WOWps to the Pratt campus as part of her fieldwork residency for the MFA in Writing program at Pratt, and served as the event coordinator. Cecily Schuler (M.F.A. Writing '16) served as volunteer coordinator.
The WOWps brought together 96 women and gender non-conforming poets to showcase their talent for a poetry slam, or competitive performance poetry, and more than 150 people registered to attend the festival's other events. The WOWps drew a packed audience to various spaces on campus and a sold-out crowd to many of the events, including the slam finals. This year's poetry slam co-champions were Emi Mahmoud and Imani Cezanne.
The festival is held in a different host city each year by Poetry Slam Incorporated, a nonprofit organization that oversees the international coalition of poetry slams. In addition to the competition, the festival included poetry workshops, themed open mics, and other community-building literary events.
The festival received coverage on the news website DNAinfo New York by reporter Alexandra Leon, who quoted Browne about the importance of poetry slam: "It's really fun and it empowers the audience with a say-so in what they think is the best poetry. So the variety of voices are celebrated."
Fieldwork residencies for Pratt's MFA in Writing program require Browne and the other second-year M.F.A. candidates to expand their writing and research interests through collaborations with outside institutions, organizations, or groups. Other fieldwork projects by current second-year M.F.A. students include Raw Fiction, a literary arts organization for youth created and directed by Zahra Patterson, and Phoebe Glick's collaboration with the Reanimation Library, an independent reference library housed at the Queens Museum. The first class of students in the MFA in Writing Program, which began in fall 2014, will graduate this spring.