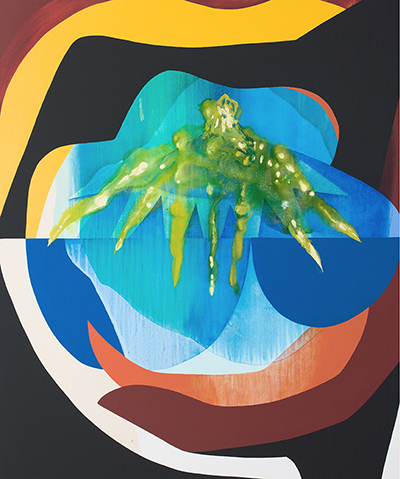 The Whitney Biennial 2017 will include the work of two Pratt-affiliated artists: Assistant Professor of Fashion Design Susan Cianciolo and alumna Carrie Moyer (B.F.A. Painting '85). The Biennial will open on March 17, 2017.
The Whitney Biennial is a prestigious survey of contemporary American art that is currently culturally relevant. The 2017 show is the first to take place in the museum's new building in the Meatpacking District in Manhattan, and will include work by sixty-three participants ranging from emerging to well-established individuals and collectives across a range of artistic mediums.
Cianciolo is an artist, fashion designer, and illustrator who became well known in New York's avant-garde art and fashion scene in the mid-1990s. From 1995-2001, she produced her critically acclaimed collection RUN, revived in recent years in various forms. Her work has been shown on runways and in galleries and museums around the world, and has been featured in The New York Times, Artforum, T Magazine, Vogue, and other publications. Cianciolo, who teaches courses in drawing and fashion illustration at Pratt, introduced her home accessories collection RUN II in 2014.
Moyer's paintings and public art projects have been exhibited widely in the United States and in Europe. With photographer Sue Schaffner, she co-founded one of the first lesbian public art projects, Dyke Action Machine!, which was active from 1991-2008.
Moyer's paintings bring together many references to the history of painting, pop culture, and feminist art in a visual language that is completely her own. Her critical writing has appeared in publications including Art in America, Brooklyn Rail, Artforum, and Modern Painters. Solo exhibitions of her paintings have been featured at DC Moore Gallery in New York, the Worcester Art Museum, and the Tang Museum at Skidmore College. Moyer is an associate professor of painting at Hunter College.
The Whitney Biennial 2017 will run from March 17 through June 11, 2017.
Image: Carrie Moyer, The Green Lantern, 2015, acrylic and glitter on canvas, 72 x 60 inches (courtesy of the artist and DC Moore Gallery, New York)