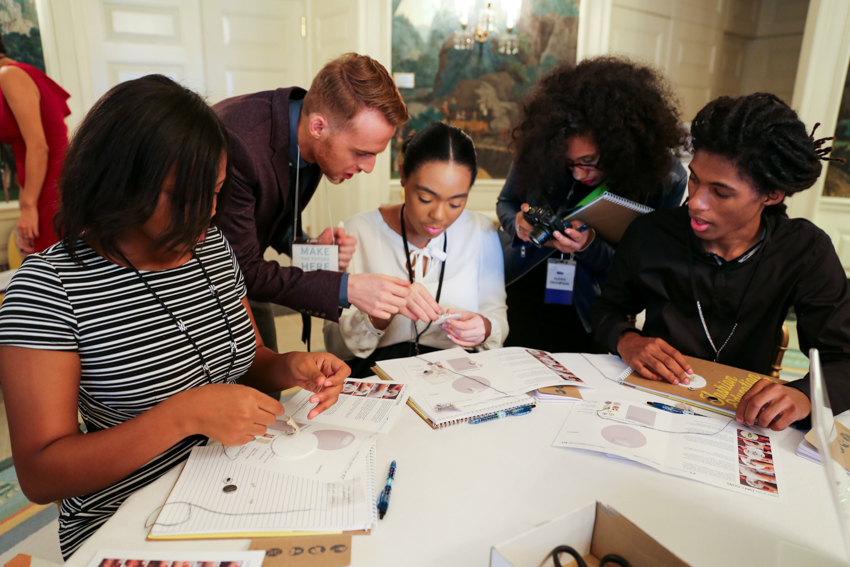 Led by Debera Johnson, executive director of Pratt Institute's Brooklyn Fashion + Design Accelerator (BF+DA), a select group of research fellows and students traveled to Washington, D.C. to participate in the first-ever White House Fashion Education Workshop on October 8. Hosted by First Lady Michelle Obama, the event brought together key fashion industry leaders and innovators with more than a hundred area high school and college students to promote education and encourage the students to pursue their dreams and achieve their career goals.
The day, which included five small-group workshops, a luncheon, and a panel discussion, featured fashion luminaries such as Anna Wintour; Zac Posen; Diane von Furstenberg, a Pratt Fashion Icon Award winner; Tracy Reese; Jenna Lyons; Eva Chen; Jason Wu; Phillip Lim; Reed Krakoff; and Thom Browne, a Pratt Fashion Visionary Award winner.
Johnson presented the vision of the BF+DA to Stephanie Santoso, Senior Adviser for Making with the White House Office of Science and Technology, which led to Pratt's participation in the event. "Ms. Santoso was impressed by how far ahead Pratt is in supporting makers post-graduation," Johnson said.
The technology small-group workshop was developed by Rebeccah Pailes-Friedman, BF+DA research fellow and adjunct associate professor of Industrial Design and Fashion at Pratt Institute. Pailes-Friedman is known for her contributions in the area of wearable technologies and smart textiles and has recently collaborated with NASA in developing wearable technology for astronauts aboard the International Space Station. "The wearable technology workshop inspired students to consider the expanding role that new technologies are playing in the fashion industry," said Pailes-Friedman.
The wearable technology workshop was taught by Pailes-Friedman with the assistance of Pratt students Carolina Pabon-Escobar (M.I.D. '14), Theo Ferlauto (B.I.D. '15), Cody Miller (B.I.D. '15), and Carson Stanch (B.I.D. '15). The session gave high school students an introduction to wearable technology and taught them the basics of a sewable electrical circuit. The First Lady made a personal visit to the workshop to speak with the session leaders and students.
In prepared remarks at the luncheon, Michelle Obama said, "Fashion is about so much more than just a pretty pair of pumps or the perfect hemline. For so many people across the country, it is a calling, it is a career, and it's a way they feed their families. So that's why we thought it was important to bring the industry to the White House, and to share it with all of you who are coming up in the next generation."
Johnson said, "It is important that Pratt was recognized as a leading design education institution and to have had the opportunity to influence the students who could be the face of fashion tomorrow. The BF+DA is a unique resource that exemplifies President Obama's focuses on the emerging Maker Economy and the role that fashion plays as a real economic force in this country."
The White House Fashion Education Workshop attracted press coverage in a range of media outlets, including Vogue and New York magazine's The Cut. To read about the Workshop on the White House blog, click here.