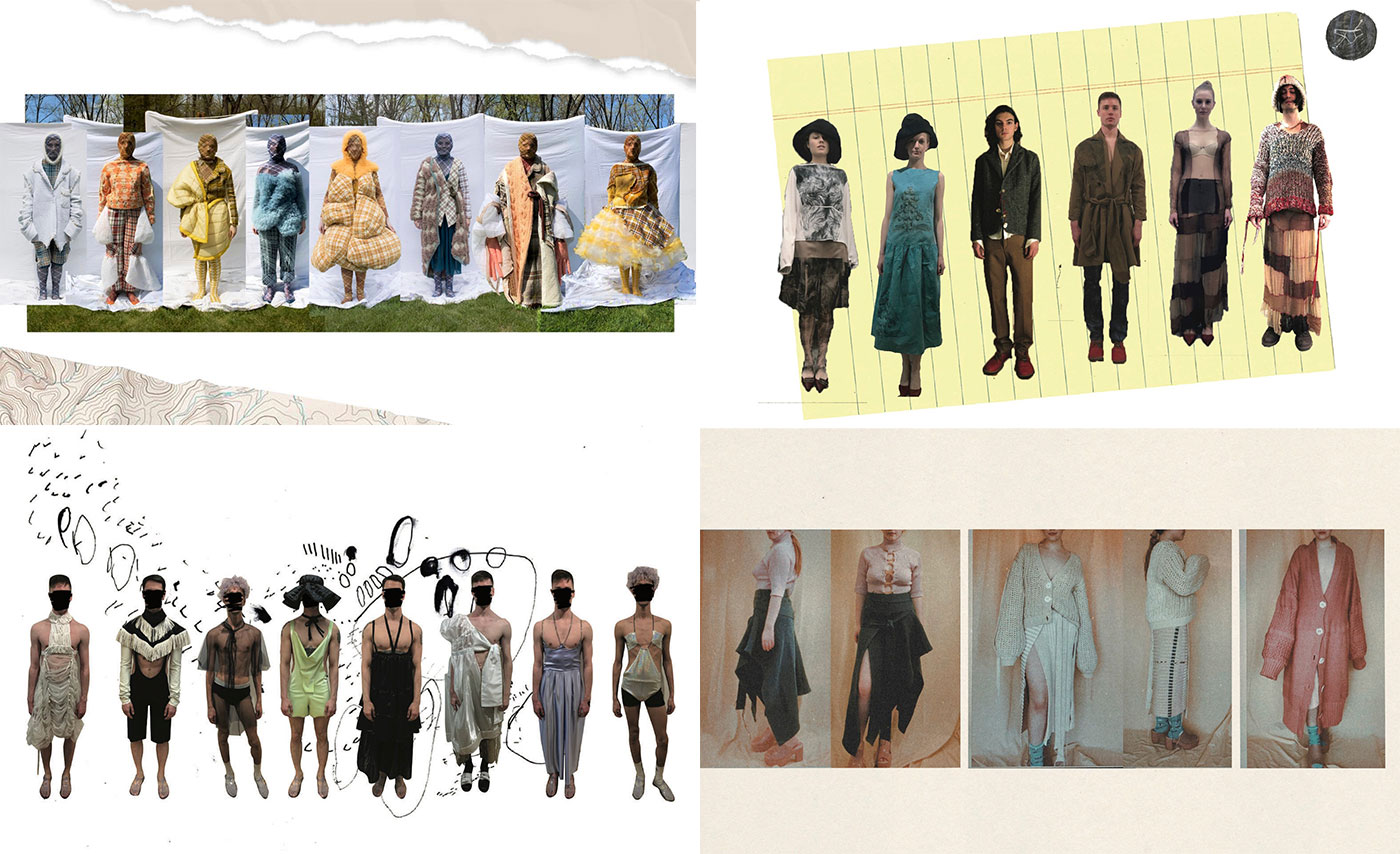 Collections by fashion graduates (clockwise from top left): Juliana Gogol, Stefan Maier, Olivia Rose Harris, and Ry Arne
In an online feature, Vogue spotlighted 10 fashion graduates from the Pratt Institute class of 2020. Each shared their collection and responded to two questions, one on what their mission is in fashion and another on how the industry should change to move forward. As the fashion industry adapts to the new challenges of COVID-19—from overproduction to job loss—and issues of sustainability and environmental impact are ongoing concerns, the graduates expressed their commitment to change, their resilience, and their positivity on the future.
"The beauty of fashion is that it is universal and influential: we have the power to transform the nature of the industry and production to be friendly to humans and the earth," Emi Stearn told Vogue. Other graduates also commented on the need to be ecologically conscious, with FangYi Liu remarking that "keeping our designs sustainable and environmentally friendly is a mission that every designer must consider."
Several graduates addressed the need to transform the structures of the industry. Xinzi Cui said that "small-scale workshops should be one of the major developments in the future of fashion" and Hannah Thomas said that slowing down fashion will "allow for artistry and craftsmanship to come back to clothing." Juliana Gogol noted that this can in turn raise "consumer awareness of the process and people involved in making the clothes they buy," and Olivia Rose Harris added that there should be "a greater emphasis on slowing the fashion cycle, and choosing quality over quantity." As Victoria Rodriguez Varela said, these shifts can help "generate an already growing appreciation for small, independent brands."
The graduates also told Vogue about their commitment to better representation in fashion. "It's an art form we all participate in, and the clothes need to reflect that," Ry Arne said. Cornelia Borgerhoff said that fashion "needs to showcase more voices. Designers of color need to be seen, and not just because they are fulfilling some diversity quota." And at this moment when they have finished their final year apart after studying together in the studio, they reflected on the value of working collaboratively. "A sense of community and togetherness is vital," Stefan Maier said, adding that as the industry recovers from the blows of the pandemic, "the craft of making these garments, and mutual support … will need to become important again."
Read "10 Designers From Pratt Institute's Class of 2020 Share Their Work—And Their Thoughts on Change" on the Vogue website.