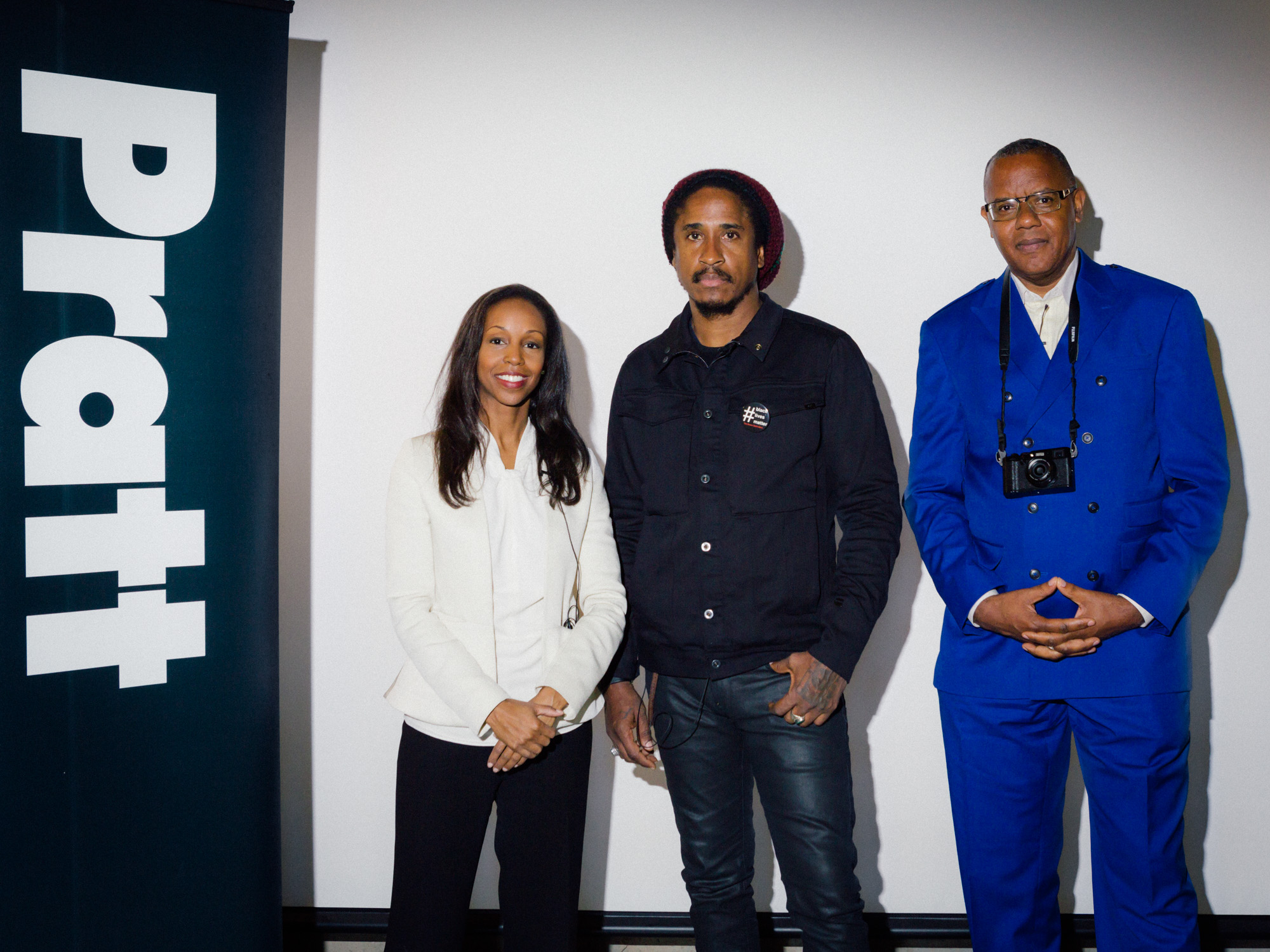 Social documentary photographers Radcliffe "Ruddy" Roye and Jamel Shabazz recently joined author and curator Dr. Sarah Lewis on Pratt Institute's Brooklyn campus for a lively and thought-provoking discussion that revolved around their work and themes of representation, community, and social justice. The April 18 event was the second lecture in the annual School of Art Lecture Series, which was launched in spring 2017 by School of Art Dean Gerry Snyder as a platform for visionary artists and thinkers to come to Pratt and explore compelling and timely issues.
Co-presented by the School of Art and the Photography Department and partially supported by the Longfellow/Dulmage Fund, the lecture attracted a large audience that included Pratt President Frances Bronet, Pratt Board of Trustees Chair Bruce Gitlin, students, alumni, faculty, and the general public. Photography Chair Stephen Hilger welcomed the audience to begin the event and 2018 Gordon Parks Scholarship recipient Alanna Fields, MFA '19, introduced the speakers.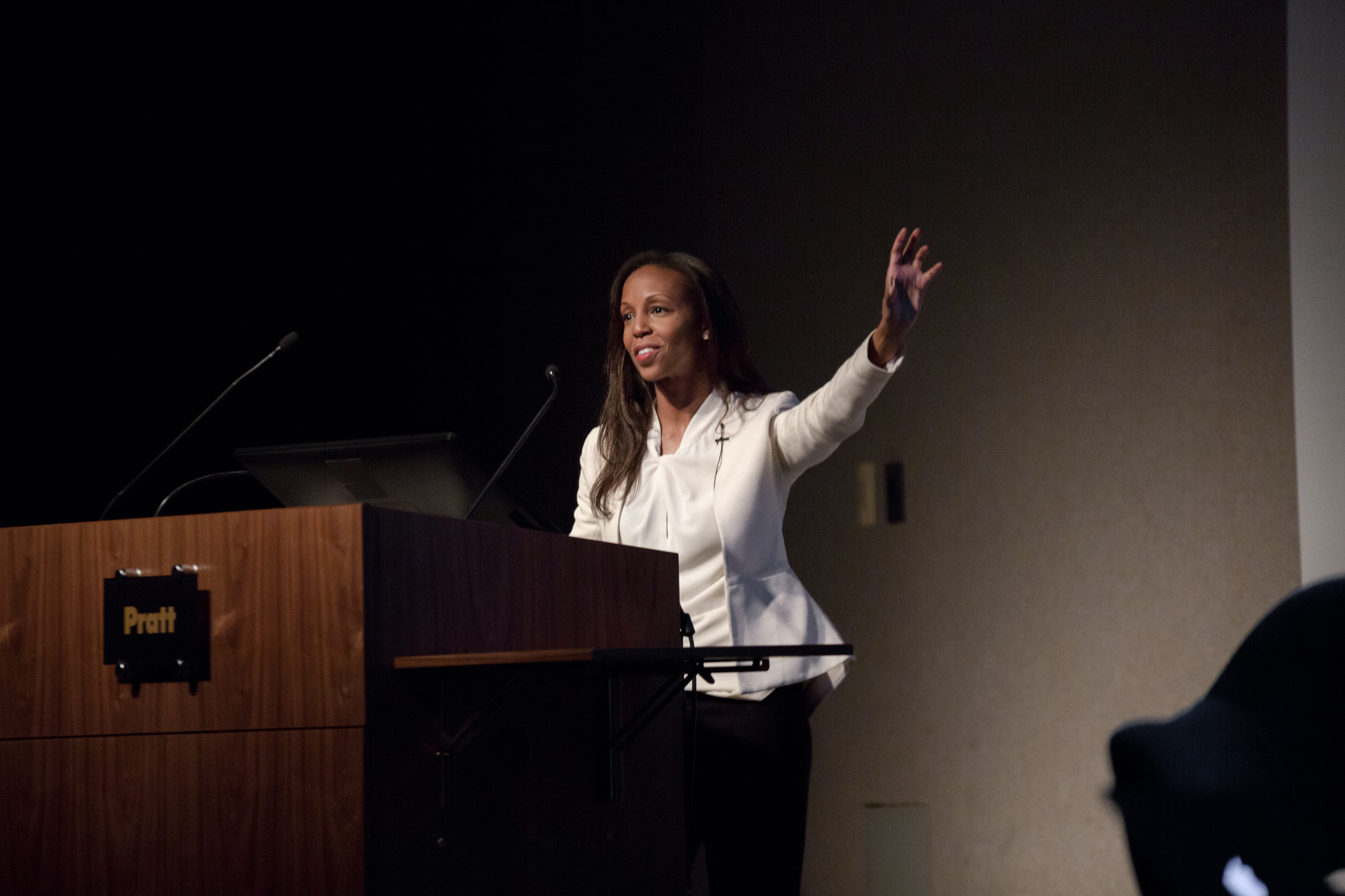 Lewis set the stage for the discussion by offering historical background on the role that culture and pictures have in social justice and in "re-narrativizing" history. She noted the corrective function that photography has had for African American life in particular, and how Frederick Douglass, the famous thinker and abolitionist who was the most photographed American man in the nineteenth century, understood and spoke about the transformative power that pictures would have on the nation.
She also shared the story of her grandfather, who was expelled from his New York City high school in the 1920s for asking where African Americans were in the history books and refusing to accept his teacher's response that African Americans had done nothing to merit inclusion. "The endeavor to affirm the dignity of human life cannot be waged without pictures, without representational justice. This, he knew," she said.
Lewis then framed the photography of Roye and Shabazz within the context of the "Vision & Justice" issue of Aperture—guest edited by Lewis—which features both photographers' work in a dialogue around the role of photography in the African American experience.
Roye and Shabazz each gave presentations on their work and then joined Lewis in a broader conversation about their experiences and thoughts on working at the intersection of race, art, and citizenship. Both have powerful visions of communities of color and share an immersive and personal approach to photography that relies on walking through various New York neighborhoods, including Bedford-Stuyvesant, near Pratt in Brooklyn. Their route to photography was equally personal.
Roye talked about his childhood in Jamaica in the 1970s and the soundtrack of hardship and protest that informed it. He played song excerpts from Bob Marley's "Talking Blues" and "Soul Rebel" for the audience on his iPhone. "That legacy is what I'm standing on," he said. He described how a comment he had received on social media that his images were "misery porn" led him to articulate how that legacy underpins his work and to respond that his aim actually was to "reintroduce the black face in a space that was mired in stereotypes and put it on a pedestal so that we could honor it."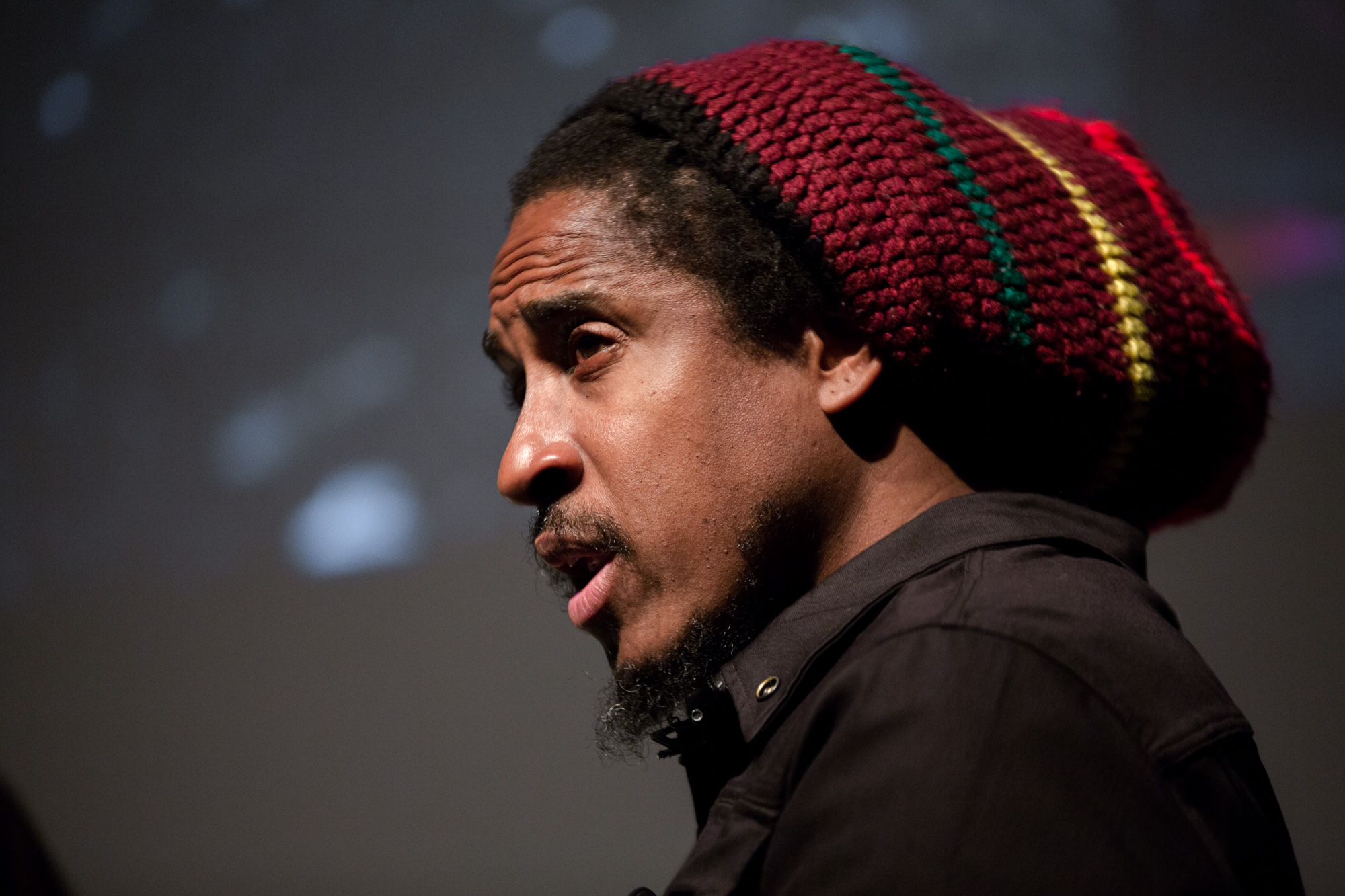 Shabazz grew up in a Brooklyn housing project during the turbulent 1960s. He spoke about questioning the things he was seeing—Vietnam and assassinations on television, racial strife and riots closer to home—and how searching for answers led him to books and magazines, and to discover the power of photography. "It was a universal language," he said, and a very potent one, as he learned by seeing photographs of the My Lai massacre in Vietnam, desegregation-related violence in Boston, and other images that he found both haunting and transformative.
Turning to the present, Lewis asked what question their work is asking now. Roye didn't hesitate: "How do I change the narrative? I want to introduce black folks to white folks. It's as simple as that."
Shabazz's work today continues to be influenced by his early experiences, including a documentary project that aims to tell the still untold stories of African American Vietnam veterans. "I want to provoke conversation and thought," he said, and emphasized the importance of creating work that contributes to cultural memory and can be preserved in archives and as part of history.
Lewis wondered how the two ask people if they can take their photograph. Both photographers spend time with their subjects, and spoke of the importance of being sincere and respectful, and developing a relationship through conversation.
Roye explained that his images are intentional. "When I go out, I know exactly what I want to do today because it's important for me to tell the story," he said. "Maybe I heard something" on the radio "that I'd like to erase and create a new narrative."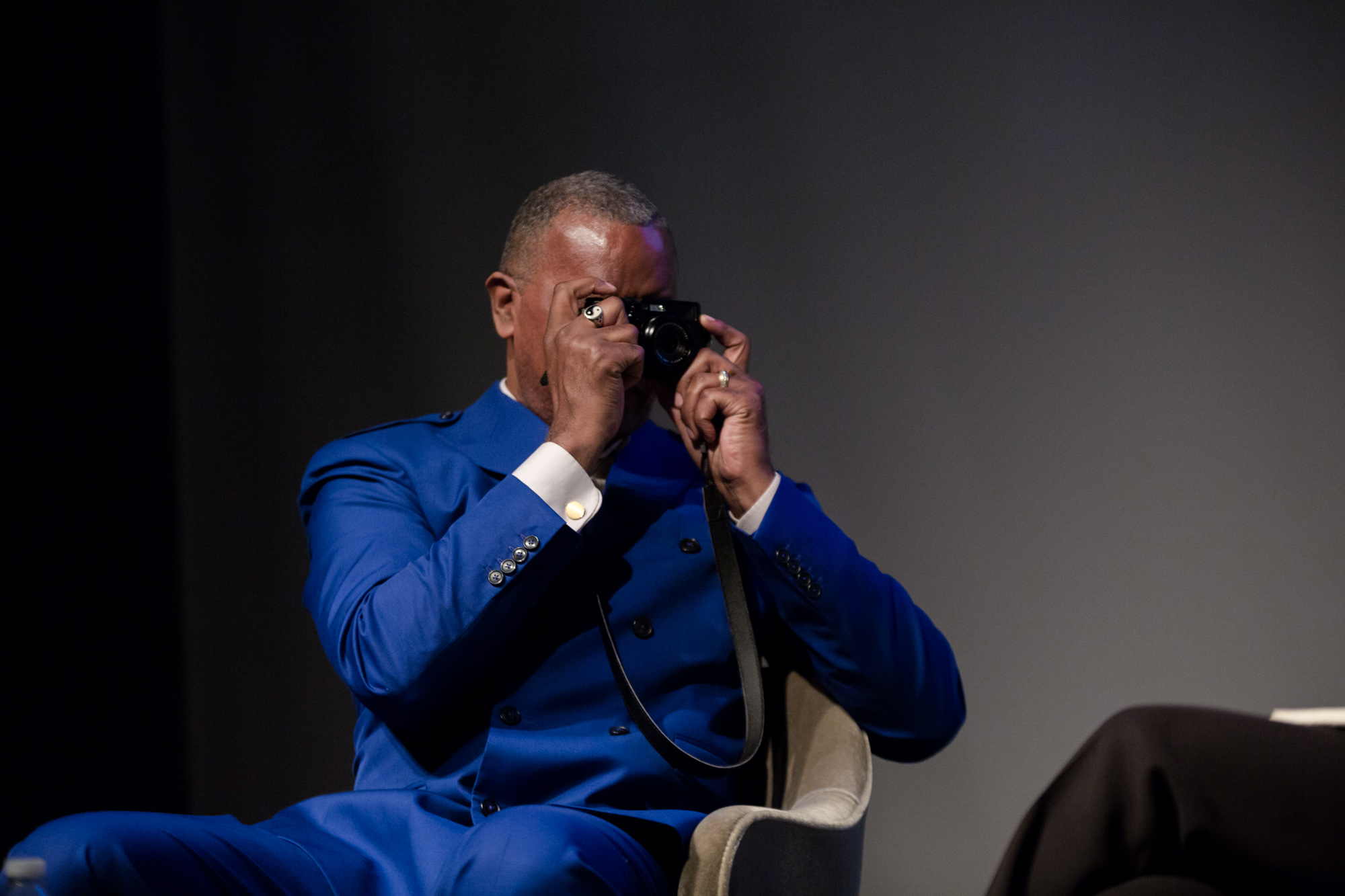 Shabazz's approach includes preparing for the unexpected. "Always have your camera with you out and ready to shoot," he advised, and followed his own recommendation by quietly taking a few photos of his colleagues during the conversation onstage.
The discussion drew to a close with an audience Q&A with the speakers and thoughts on the role of photography in creating "visual medicine" and healing. Did they have any advice for young photographers about this aspect of the work? "The key is to pick a subject that is close to your heart and give a voice to those individuals who don't have a voice," said Shabazz. "The camera is a great tool that can bring about change. We need to use our gift to make the world a better place."
Images: (main, L-R) Dr. Sarah Lewis, Ruddy Roye, and Jamel Shabazz; (inset photos, top to bottom) Dr. Sarah Lewis; Ruddy Roye; Jamel Shabazz