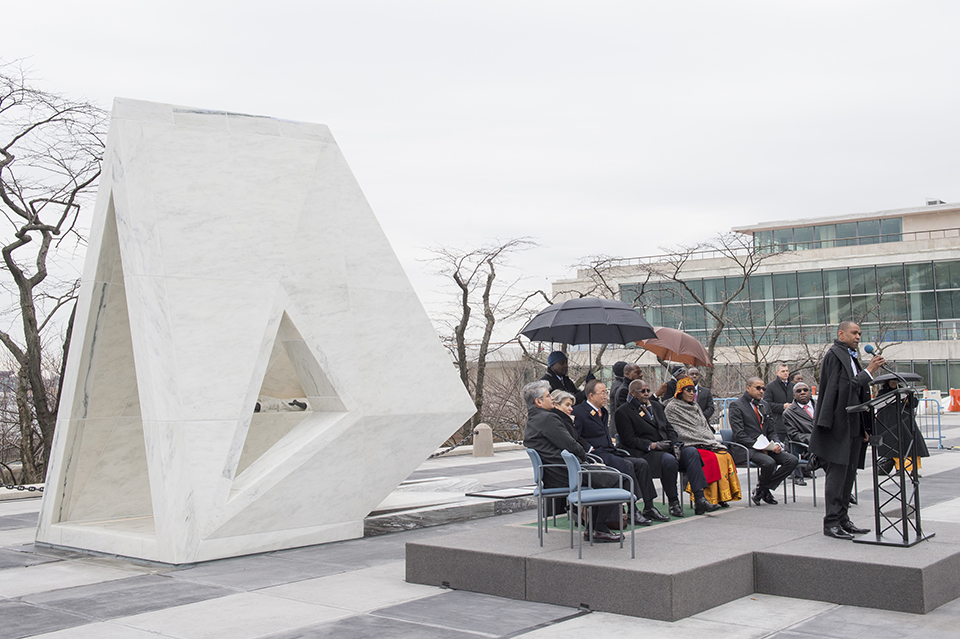 A permanent memorial designed by Rodney Leon (B.Arch. '92), Pratt Institute alumnus and adjunct professor in the School of Architecture, was unveiled at the United Nations Headquarters in New York City on March 25. Titled The Ark of Return, the memorial recognizes the millions of African people who endured the extreme conditions on slave ships during the Middle Passage and the subsequent horrors of enslavement upon their arrival in the "New World." Renowned Brooklyn-based metal fabricator Milgo/Bufkin, a company that is headed by Pratt Board of Trustees Chair Bruce Gitlin, was involved in the development and fabrication of the memorial.
Located on the Visitors Plaza, The Ark of Return was dedicated on the eighth International Day of Remembrance of the Victims of Slavery and the Transatlantic Slave Trade. The memorial provides a solemn space designed in three parts that visitors can walk through to initiate a psychological, emotional, and spiritual transformation while reflecting on a tragic chapter in human history.
Leon, the founder and principal of Rodney Leon Architects PLLC, has an architectural background as designer on diverse projects including memorials, private homes, churches, and cultural institutions in the United States and abroad. He is the designer of the African Burial Ground Memorial in New York City, which is the only national monument in the United States dedicated to the contributions of people of African descent.
"The Ark of Return memorial will bring home to visitors from around the world the terrible legacy of the slave trade," said Secretary-General Ban Ki-moon in his annual message about the International Day of Remembrance of the Victims of Slavery and the Transatlantic Slave Trade. "It will enable them to reflect on a core goal of the United Nations: the promotion and preservation of the dignity, freedom and equality of all human beings."
Image: Rodney Leon (at lectern at right) speaks at the unveiling ceremony of The Ark of Return. Seated behind him (from left): Asoke Kumar Mukerji, Permanent Representative of India to the UN; Irina Bokova, Director-General of the United Nations Educational, Scientific and Cultural Organization (UNESCO); Secretary-General Ban Ki-moon; Sam Kutesa, President of the sixty-ninth session of the General Assembly; Portia Simpson Miller, Prime Minister of Jamaica; Courtenay Rattray, Permanent Representative of Jamaica to the UN; and Téte António, Permanent Observer of the African Union to the UN (photo: UN Photo/Eskinder Debebe)