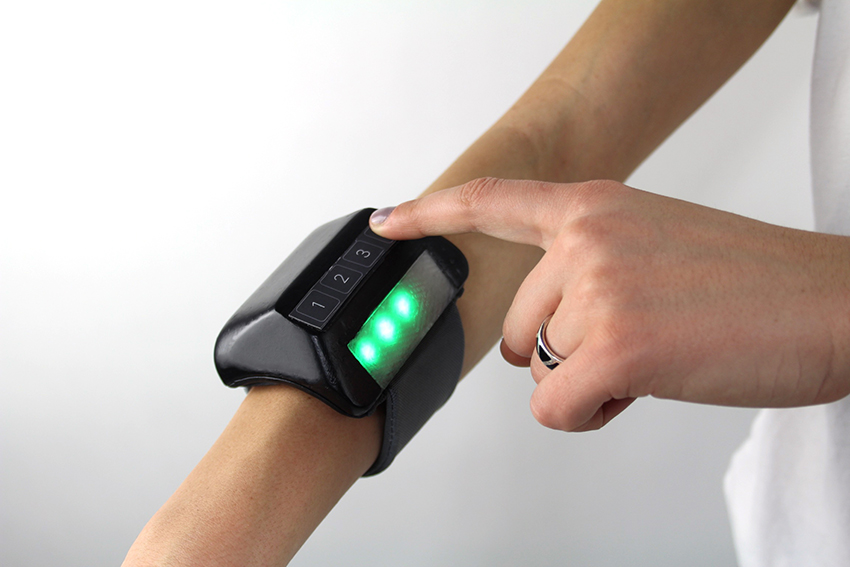 U.S. News & World Report has published a significant feature article about the wearable technology studio class taught by Rebeccah Pailes-Friedman, adjunct associate professor of industrial design and fashion, and Pratt's ongoing wearable technology collaboration with NASA. The article, "Designers, Students Mesh Apparel with Technology," was written by Amy Golod and is featured on STEM Solutions, the U.S. News & World Report website's hub for news about science, technology, engineering, and math.
The story profiles Pailes-Friedman's wearable technology studio class, which challenged students last fall to research life on the International Space Station (ISS) and design a piece of wearable technology that would improve efficiency and quality of life for astronauts there. Students invented a wearable product with stainless steel conductor threads that works like a dimmer switch to give astronauts greater control over the brightness of light in an ISS module, as well as a watch-like device that uses signals to make it easier for astronauts to locate objects in ISS storage areas.
The article highlights Pratt as one of the higher education institutions participating in the NASA Wearable Technology Collaboration for Leveraging Universities in Sciences, Technology, Engineering, and Research, or CLUSTER, a collaboration that is in its third year at Pratt. At the end of April, Pailes-Friedman's students will attend the 2016 NASA Wearable Technology Symposium at the Johnson Space Center in Houston, Texas.
The story also discusses a number of Pailes-Friedman's other wearable technology projects and CODED_COUTURE, an exhibition on view at the Pratt Manhattan Gallery (through April 30) that explores coding as a design tool for creating customized garments and accessories. Pailes-Friedman's The BioWear Project, a conceptual fashion accessory that is embedded with sensors to detect wearer's heart rate, is one of the works being shown in the exhibition.
To read the article, click here. More information about the CODED_COUTURE exhibition is available here.
Image: A wearable device to help astronauts locate objects in storage areas on the International Space Station, created by students in the Wearable Technology studio class (photo: Luke Simmons (B.I.D. '17)