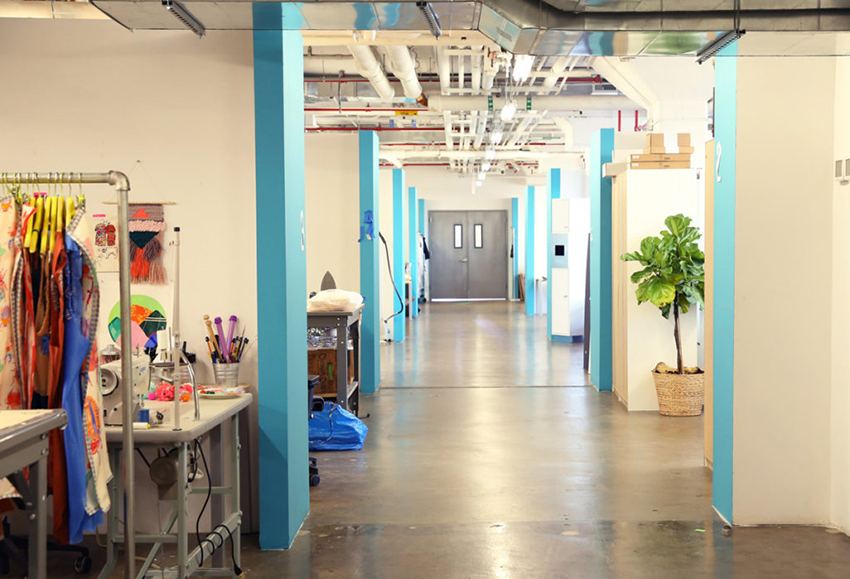 The U.S. Department of Commerce has awarded a $486,000 research grant to Pratt Institute's Brooklyn Fashion + Design Accelerator (BF+DA), a vital hub for ethical fashion production, to support the link between sustainability, technology, and apparel manufacturing. The BF+DA program will focus on supporting Pratt thesis projects and underrepresented populations in technology innovation.
The grant is part of the Department of Commerce's investment of $15 million in entrepreneurs across the nation to market and promote American innovation. There were 35 organizations from 19 states, including nonprofits, institutions of higher education, and entrepreneurship-focused organizations, selected to receive grant money through the Economic Development Administration's (EDA) Regional Innovation Strategies (RIS) program.
"There's no other resource like this in the city," said Deb Johnson, executive director of Pratt's Center for Sustainable Design Strategies and founder of the BF+DA. "Now we can give New York City designers and Pratt students a place to create next-generation materials and processes that support innovative products."
Pratt launched the BF+DA to provide high-potential design start-ups with the resources they need to establish viable businesses that benefit the environment and society. Now in its second year of operation, the BF+DA ventures have created more than 50 new jobs and over $2 million in revenues. The BF+DA also has a micro-run production lab for apparel manufacturing including computerized knitting, 3D printing, and patternmaking/cut & sew to support R&D for wearable technology.
With the new grant, the BF+DA will support six research projects over two years with a focus on the following areas: Design for Manufacturing, where research will advance production methods for embedding technologies into apparel; an Active Materials Resource center for prototyping and testing new textiles; and individual projects by New York City researchers and thesis students recruited from academic programs at Pratt. "We're here to support the development of brilliant ideas that advance technology and enhance the functional aspects of apparel in meaningful ways," said Johnson, who was the chair of the Industrial Design program at Pratt for seven years. An RFP will be issued in mid-January through the BKaccelerator.com website.
The BF+DA will use the grant money to expand the capabilities in the production lab and provide workspace, production services, and access to the Mastermind Knowledge Network that will speed proof-of-concept development for six-to-eight Research Fellows over the next three years. "Ultimately we are creating a pipeline to the BF+DA Venture Fellow program that will help designers turn their ideas into successful businesses that benefit the environment and society," said Johnson.
Learn more about the BF+DA.