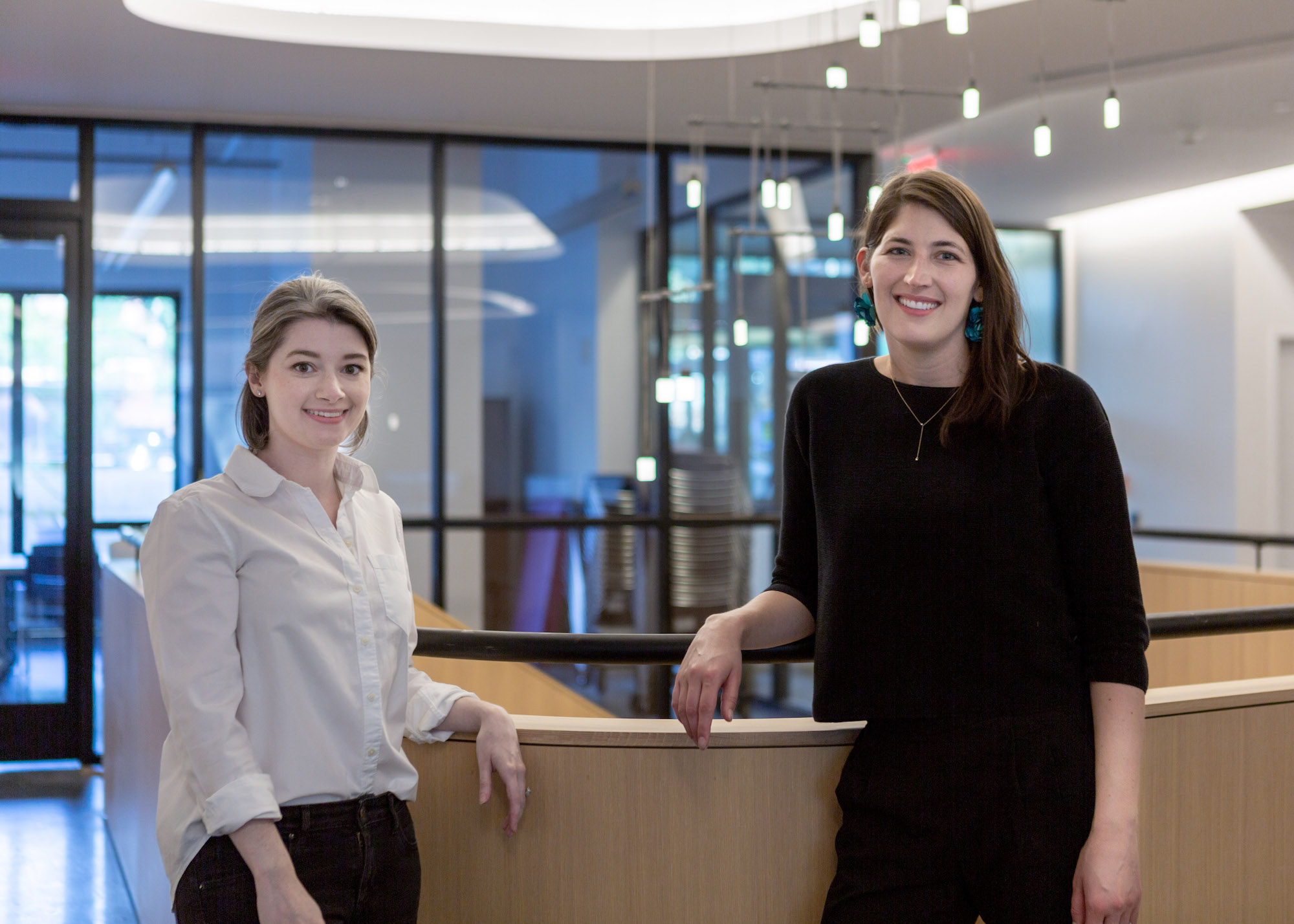 Many students have dreamed of designing a better residence hall for their college, one where bedroom floors don't have to double as studios and there are places to have quiet personal time as well as social gatherings. Two alumnae got the opportunity to participate in just that kind of project with Emerson Place Residence. Designed by CannonDesign and Hanrahan Meyers Architects, it opened in August as the newest residence hall at Pratt Institute.
Shannon Hayes, BArch '12, is a Designer and Project Architect at hMa with a focus on architectural design, while Frances Fox, MArch '12, is an Associate Vice President at CannonDesign where she is part of the higher education studio in the New York City office, focusing on the planning, programming, and design of academic and student life spaces. When Hayes and Fox were both studying at Pratt, they worked together on the InProcess student School of Architecture publication.
Emerson Place Residence was an opportunity for them to collaborate again on campus, this time drawing on their experiences as students and professional architects to contribute to a new living space that supports first-year students in their residential and academic needs. Recently, Pratt.edu news met with the two alumnae in one of Emerson Place Residence's newly finished rooms with a panoramic view of the Brooklyn campus. The discussion delved into how they referred to their time as students in working on a building for their alma mater.
How did your studies at Pratt prepare you for your current architecture careers? Frances, you were here for graduate school, while Shannon was here for undergraduate.
Frances Fox, MArch '12: I chose Pratt for graduate school because of its progressive design environment. I appreciated the space it gave me to have a series of mini-research projects, including engaging in dialogue, research, and digital investigations. I learned to hone an idea and communicate it via writing, visual representation, and ultimately an architectural object. I also graduated knowing that I wanted to work on institutional buildings that have hybrid, mixed uses which facilitate social and cultural interaction.
Shannon Hayes, BArch '12: The reason I chose Pratt was the studio culture. It teaches you to experiment, to accept and offer criticism, and to work with others, which is the basis of successful design. At Pratt, you're able to learn the fundamentals in the classroom and then test them in the studio. I believe that the studio culture is what prepared me to go into an office and be an effective team member.
You mentioned working with others, and you both worked together while at Pratt as co-editors of the student publication InProcess. Did you have an opportunity to draw on that previous collaboration in working together on Emerson Place Residence?
FF: I joined [InProcess] in my second year, so we had two years together. We were partners in that I was on the graduate side and you [Shannon] were the undergraduate side.
SH: We were both responsible for delivering the final product. This was great because when we came into this project we had already delivered a really high-quality product on a compressed timeline and had done it together. There's something special about a relationship that is formed when you have faith in your partner to ultimately accomplish a task. Being a team member of CannonDesign and hMa's supportive collaboration as a young architect afforded me the opportunity to participate in the complex process of developing a design concept into a built reality while working with a trusted friend.
FF: It was a true collaboration with an open line of communication. I think that enabled us to have a productive push and pull on the design direction which ultimately brought a richness to this project.
SH: Plus, having completed the graduate program, Frances offered a different perspective on Pratt as a whole. As more perspectives were feeding into the design process, it made the design as well-rounded and complete as it could be. The InProcess experience served us well.
FF: I think we both have a heightened perspective of what it's like to work and exist here. We are striking the right balance between being committed on a professional level, but also having memories and first-hand experience on campus.
SH: It goes beyond commitment; it goes to caring. That's what it comes down to: you have people who were students that once lived on campus producing something for the next generation of students. We had a commitment to delivering something that is uniquely Pratt because we are uniquely Pratt.
FF: There are a lot of memories embedded here. Having the opportunity to leave a mark and make it a better place is a huge deal.
Did either of you live in the dorms on campus or have experience with other college housing? If so, in what ways did that experience influence your work on Emerson Place?
FF: I did not live on campus, but I did live in an apartment close to Myrtle Avenue. I was embedded in the local neighborhood and experienced the development of Myrtle Avenue over the years. Understanding that perspective and how the campus interacts with its community, I felt that was an important aspect to bring to the project.
I also lived in a traditional residence hall during my first year of undergrad at Georgia Tech. I majored in architecture and valued that that program also had a strong studio culture. However, I loved that my residence hall floor was a group of girls who were of all different disciplines. The fact that I had to walk down the hall to brush my teeth created all these chance encounters and new friendships. I ended up making a network of people in my residence hall. So, I had my home community and then my studio community, and the two blended over the years in wonderful ways. At Emerson, we're creating chance encounters, we're creating spaces where students can connect in both larger lounges and smaller niche spaces. We're providing pockets of opportunity for interaction at a variety of scales.
SH: I spent a lot of time in all the Pratt dormitories. I first lived in Stabile, then I moved into Willoughby across the street, which is the upperclassmen dorm. The first day on this project, Christopher Kasik, the Director of Housing and Residential Life, and Tuan Vu, Associate Director for Housing Administration and Operations, took us around and gave us their impressions of and their experiences with each dorm. It was nostalgic for me, but I was also seeing it with the fresh eyes of somebody who had completed architecture school and entered into professional practice.
My freshman roommate was in Foundation [the yearlong experience in project-based learning for incoming students] in the School of Art and I was in the School of Architecture. There was a lot of tension surrounding that dichotomy of schedules and needs and the type of work we were doing, right down to my clothes being covered in sawdust from the woodshop all the time. I thought a lot about that experience because I had access to a studio space in Higgins Hall that was dedicated specifically to my design studio. But I remember, I would swing open the door to my room, and my roommate would be working with color-aid paper on the floor; it would go flying because I created a vortex. It was moments like that that really impacted me regarding what these freshmen would need. It was important to have larger maker spaces on the ground floor that would be open to them whenever they needed them.
Students need this spectrum of spaces for work because the work is so varied for what they're doing, whether writing a paper for English, working with color-aid paper for Color Theory, working on a group project, or needing to create a large-scale piece of work that needs its own space. And, sometimes your mind just needs space to think. That's a big part of the conception of the workspaces in this building. We wanted to provide different spaces for different types of learners so that anybody can come in and find a spot and they can feel comfortable and safe and able to express who they are and make connections.
FF: We wanted to provide different spaces for different types of learners so that anyone can come in and find a spot where they can feel comfortable and safe to express who they are and make connections.
Emerson Place extends the Brooklyn campus, but it's also very close to Myrtle Avenue. How does its design reflect that relationship with the school and the neighborhood?
FF: I think it's the right balance between creating safe, secure spaces for students and being open and inviting. We talked a lot about transparency and putting the activities inside on display to the street to say, "Hey, we're proud we're here."
SH: We wanted the building to be engaged with the surrounding neighborhood. The design team spent time taking pictures of buildings in the neighborhood and the historic educational buildings on campus, because the color of that brick is so aesthetically married to what's going on on campus and what's happening in the neighborhood, and why red brick is the major material of the façade. This building is outwardly facing. Every room has a big, gorgeous window offering an enormous range of views of the surrounding community. We're trying to create an opportunity for the students who are here to see Pratt, see Brooklyn, see New York as a whole. And, when you travel around the building, you'll get all those perspectives. It's a building that's obsessed with its community.
We've been talking about your experiences working on this building as part of your professional practice. For you, what's the most valuable thing you learned for that career at Pratt?
FF: I found my voice. This is where I learned how to define an idea, to take a position on a topic, and communicate that position effectively. In this project, we really thought about the students who were going to experience this building and how the space would impact both their educational and social development. This humanist approach is something that I both lived and learned here.
SH: At Pratt, I found my community. Having this opportunity to design something that encourages others to find their community has been an amazing, full-circle experience for me.
FF: It's been really great to have worked with Shannon and reconnect in the professional world. I also worked with Tom Hanrahan of HmA as part of InProcess. Carisima Koenig, Practice Leader and Senior Vice President at CannonDesign, was my professional practice professor while at Pratt. All of this is about that Pratt network and moving from the educational to the real world.
Image: Shannon Hayes and Frances Fox in Emerson Place Residence (photo by Armon Burton)