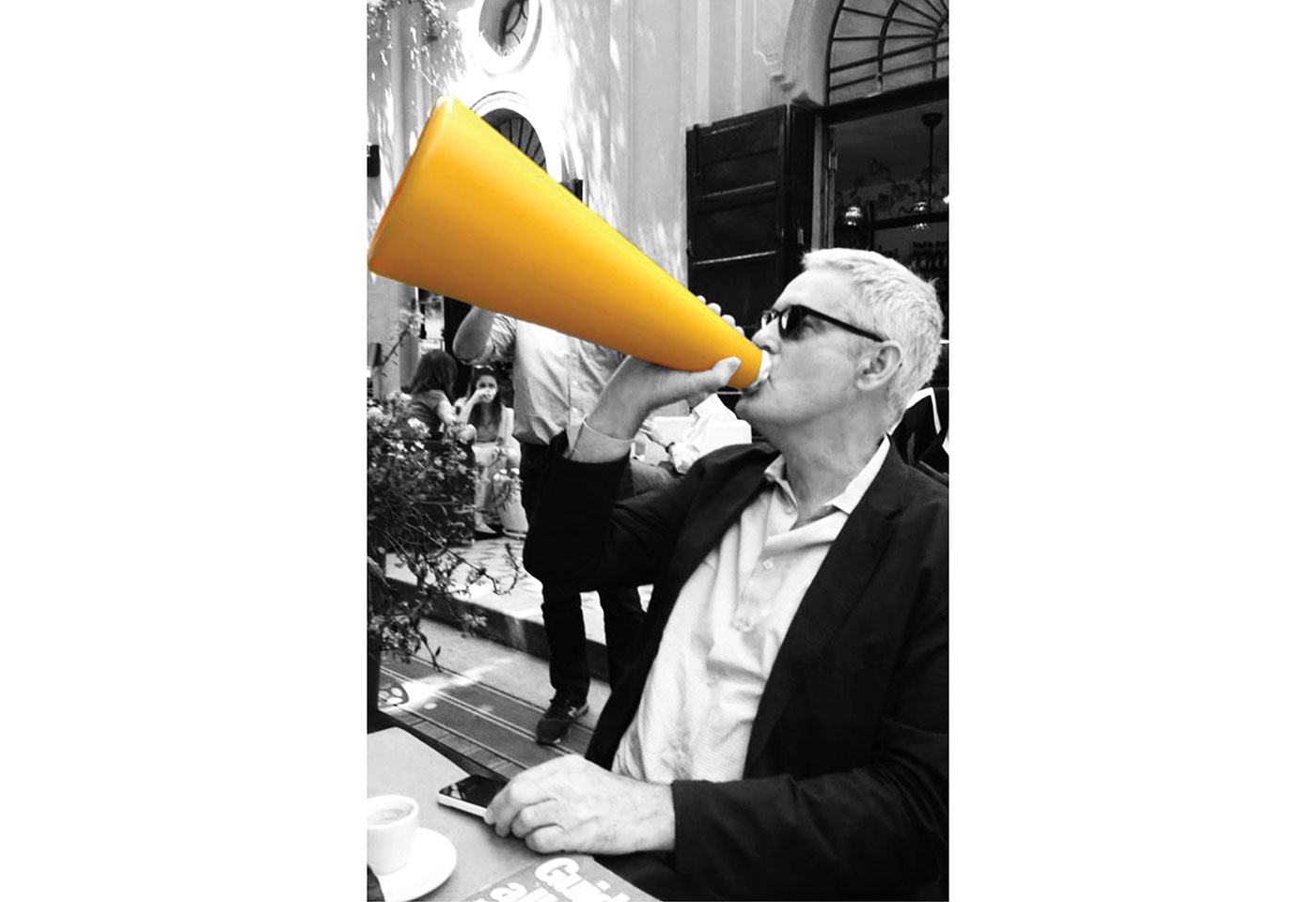 (courtesy of Rob Gregory)
Following the announcement that architectural historian and educator William "Bill" Menking died on April 11 at the age of 72 after a long battle with cancer, tributes have poured in from the Pratt Institute community. Some of these messages are featured below, with more compiled at the Architect's Newspaper. On Monday, May 4, at 6:30 PM EST, an online memorial will be live streamed on the School of Architecture Facebook page to celebrate his life and legacy.
Menking was a tenured faculty member in the School of Architecture. He taught for three decades in the Graduate Center for Planning and the Environment (GCPE) where he led a history survey course and was involved in several years of the Pratt Berlin Studio. He recently served as a faculty member on the Development Committee of Pratt Institute's Board of Trustees.
Menking grew up in California and studied architecture and urban studies at the University of California, Berkeley. A tireless learner, he later earned an MS from the Bartlett School of Architecture at University College London, an MS in city and regional planning from Pratt, and studied for a PhD in art history at the City University of New York.
His dynamic early career was indicative of the many hats he would wear throughout his life, including organizing for farmworker labor unions, working as a server at Studio 54, scouting TV and film locations in the 1980s, and taking on an art director job for Miami Vice during which he became committed to the preservation of modern and Art Deco buildings. He was a longtime aficionado of Italian radical design and its collectives like Superstudio and Archizoom, co-curating the 2003 exhibition Superstudio: Life Without Objects, a collaboration between Pratt Manhattan Gallery and Storefront for Art and Architecture.
His extensive engagement with architecture and the dialogue around it included co-founding The Architect's Newspaper in 2003 with his wife, Diana Darling. This publication was aimed at filling a need for daily reporting on the profession. It was inspired by his time in London in the 1990s during which he wrote for publications such as the Architects' Journal and Building Design. In 2008, he curated the US Pavilion at the Venice Architecture Biennale—an event he attended every year since its founding in 1980 and which he explored in co-editing the 2010 book Architecture on Display: On the History of the Venice Biennale of Architecture. He served on the Board of Directors at Storefront for Art and Architecture and the Architecture Lobby. In every position, his spirited enthusiasm for architecture and its possibilities radiated through his work.
Joining Pratt in 1990, he had an incredible impact on the teaching of architecture and planning. He was passionate about interdisciplinary education and created connections across campus so that students could have an understanding of the social issues in their field and challenge the status quo of the industry and its institutions. He was committed to architecture's capacity to effect change and recently introduced several Pratt leaders to Grace Farms Foundation's initiative to eliminate modern slavery in the supply chain of the architecture and construction industries.
Making connections, expanding networks, and reveling in the human relationships in architecture and beyond were central to his life. Menking is survived by his wife, Diana Darling, and their daughter, Halle.
Tributes:
Harriet Harriss
Dean, School of Architecture:
Bill Menking was a much-loved and highly regarded professor in the School of Architecture at Pratt Institute. Within a few days of assuming my role as dean last summer, he called me up to offer a thoroughly unorthodox appraisal of what I needed to know to do the job and to offer various essential introductions to the New York architecture scene. We began hatching plans for exotic and engaging events, for when he was feeling better, but this was not to be. He was a brilliant educator, writer, editor, provocateur, colleague, ally, and friend, not only to me but even more so to the many faculty and students he worked with at Pratt for so many years. He was refreshingly free from artifice and yet always insightful, ever generous, and in possession of an inexhaustible imagination. We cannot replace Bill, but we will never forget him.
Ronald Shiffman
Professor Emeritus, Graduate Center for Planning and the Environment (GCPE)
Bill was a student. We taught together a long time ago and early on he had a bus and acted as a guide to the city's neighborhoods and we often rented that bus when we had visitors, community organizations, and classes. He played a key role in the tours we ran in conjunction with the Bronx Center planning initiative we engaged in [through the Pratt Center for Community Development] with the Municipal Art Society of New York, the Bronx Borough President, and the Urban Assembly in the early '90s. Our paths diverged over the years; we saw each other infrequently despite the fact his summer home was a short ferry ride from my place on Shelter Island. Despite all that, I will miss him and our conversations about city issues, personalities, and conflicts.
Maria Sieira
Adjunct Associate Professor-CCE, Graduate Architecture and Urban Design (GAUD)
In what seems like a lifetime ago I was at [urban planner] Laura Wolf-Powers' house for dinner (she was at Pratt at the time) and Bill showed up for dessert—he was a sort of dessert wasn't he?—because he had been busy all day coordinating an initiative he had called "The Architect's Newspaper." Months later, I dutifully submitted my architecture license number (to get the print copy delivered, before those AN capital letters and that distinctive blue became a mainstay on our screens), and eventually sat in the Higgins Hall cafe with him to talk about writing contributions I might make to his now ubiquitous publication, the conversation veering, as it always did, to Venice. This is how I will choose to remember him, a collage of impressions, him in Venice saying "Give me 800 good words."
Luca Viverito, BArch '23
Bill Menking was an incredible man. I haven't met one like him in my life, and I'm unsure I'll get to meet another. Fiercely intelligent and witty, I admired him deeply. To be taught by him was a privilege, to watch him teach was much the same. Watching him in the classroom, you could see just how effortless it was, it gave you the impression he knew everything you would ever need to know in life. It was comfortable, being in that space. Until then I had been so lost as to what kind of person I wanted to be, as an individual but also as a creator. He was the only person at that point in my career I trusted to help me figure that out, so I asked him, and he did.
More tributes to Bill Menking are online at the Architect's Newspaper.