Reflecting on the momentous change that Pratt Institute's Class of 2022 has experienced and the challenges that lie ahead, architect and educator Toshiko Mori in her Commencement address urged the graduates to "celebrate your diverse identities, promote your radical curiosity, and think of now as a time of immense opportunity for new initiatives and inventions" and "to be the light for the world that greatly needs your help."
The joyful occasion in the grand setting of Radio City Music Hall on May 18 commemorated the accomplishments of over 1,100 graduating students. As they walked across the stage in their caps and gowns, they completed their journeys as Pratt students and were welcomed as the Institute's newest alumni.
The 133rd Commencement was the first to be held in person since 2019 due to the disruptions of the pandemic. It was also live-streamed for graduating students, friends, and family who were celebrating remotely. Pratt President Frances Bronet welcomed everyone in Radio City and around the world with her opening remarks, congratulating the students on their achievements.
"Your time at Pratt is only embryonic, and we hope and we know it will grow into a lifelong engagement with your alma mater," Bronet said. "Pratt is your home. It will always be part of your lives, and I hope that you cherish your Pratt experience as much as we have valued your presence, your insight, your contributions to all of us."
Katie Rose Gurkin, MFA Communications Design, and Leo Kim, MPS Arts and Cultural Management, of the Class of 2023, performed a soulful rendition of Pratt's alma mater on acoustic guitar and cello.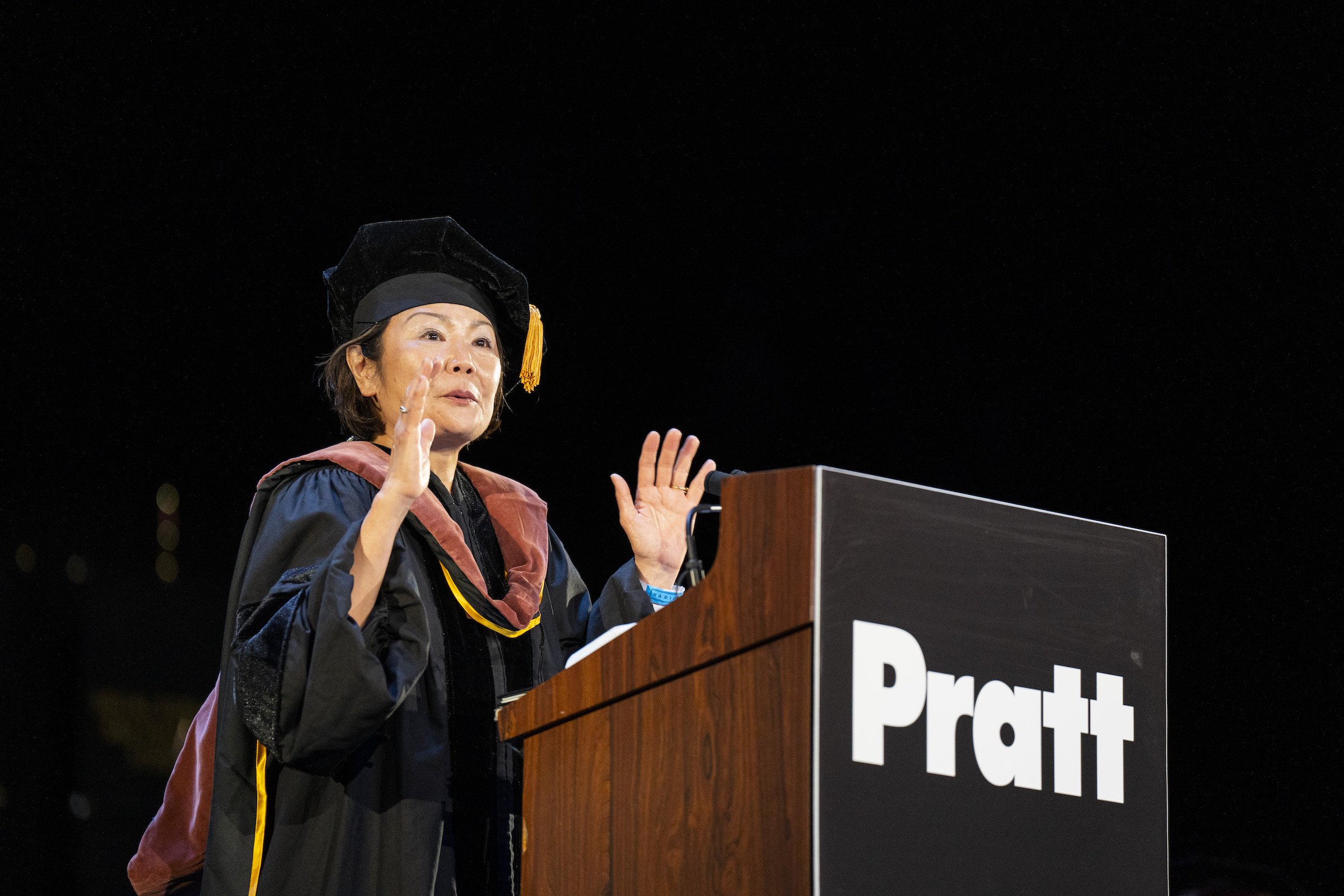 Pratt then bestowed honorary degrees upon three leaders in their fields whose work embodies the innovation and creativity promoted by the Institute, including Mori (Doctor of Fine Arts), who was also the Commencement speaker; fashion designer Byron Lars (Doctor of Fine Arts); and Carter Burwell Emmart (Doctor of Science), director of astrovisualization for the American Museum of Natural History.
Mori began her address by recognizing the Class of 2022's resilience and adaptation during the pandemic that demonstrated their strength and empathy.
"I urge you to remember, as you advance in your career, do not forget to bring your community along with you," Mori said. "Continue to share values and make your community a better place."
She added that with their Pratt education they have a foundation to make positive change in the world as, despite the many crises, there is room for hope.
"The type of education you received has enabled you to become the creative engine of tomorrow's society," Mori said. "You have become generators, transformers, and catalysts. … With your powers of close observation, you will notice problems about the world that must be remedied. With your imagination, you will envision a reality that makes the world more just and equitable for all. With the skills you have acquired in your studios and classes at Pratt, you will put that vision into practice and create a sustainable future."
Emmart, in accepting his honorary degree, remembered his father who attended Pratt after serving in World War II and who said "that to create you need the inspiration from others who inspire."
Emmart spoke of the unique perspective gained from seeing the Earth from outer space in his astrovisualization work and how such a view can benefit the graduates in the years ahead. "To go from wonder about the universe to the knowledge of how it works needs a woven diversity of thought," he said. "Our salvation is in that diversity of ways of seeing. In that way, art is love and the antidote to war and pessimism, and to stay young in the mind is to stay amazed and work the problems together."
In accepting his honorary degree, Lars recalled his first involvement with Pratt in the trailblazing 2014 Black Dress at Pratt Manhattan Gallery. He thanked Pratt and Professor of Fashion Design Adrienne Jones, who co-curated the exhibition, for facilitating that important professional moment and "most of all for recognizing the imperative of inclusion as it relates to excellence."
Lars emphasized the importance of not just creating good work, but acknowledging the people who support it. "Never forget to honor the people who actually clear those trails for you to blaze and who actually pave and maintain those paths on which you will travel to professional glory," he said. "Because without them there's no blazing, there's no glory. It all comes back to the people and the relationships you cultivate with them."
The graduation speakers also included Shakti Bhagchandani, adjunct associate professor of film/video, who was named Distinguished Teacher (2022–23). Bhagchandani was honored with a medal designed by Joanne Wu, BID '24. Julia Grippo, BFA Communications Design '22, and Kassandra Ruiz, MFA Communications Design '22, were the elected student speakers. Members of the Class of 1972 were recognized for the 50th anniversary of their graduation.
Departing Radio City Music Hall to join their fellow graduates, friends, and family in celebration, members of the Class of 2022 took their first exciting steps as alumni.
See photographs from Commencement below and on the Pratt site. Follow @PrattInstitute on Instagram and the hashtag #PrattGrad22 to see more from this milestone event.