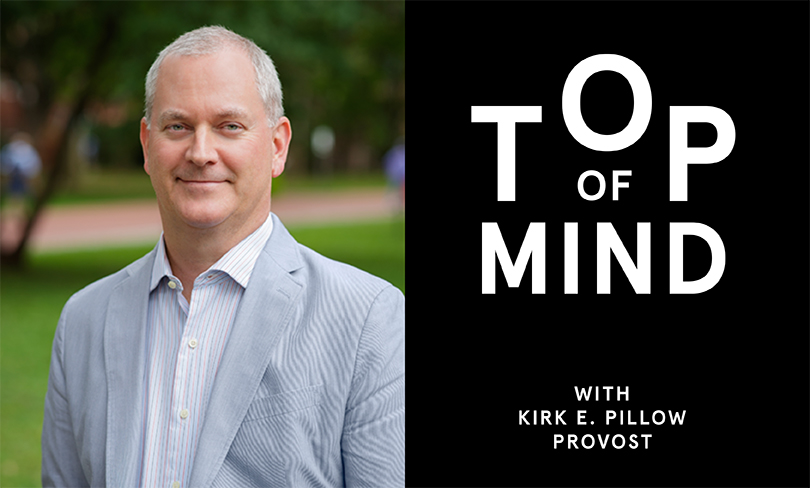 In the Top of Mind Q &A series, Pratt.edu sits down with leaders around the Institute to gain insight into what they do and how they are working in their area to area to foster a welcoming environment, prepare students for success now and throughout their careers, and more. In this column we feature Pratt Provost Kirk E. Pillow.
The role played by the provost is extremely important within a college, yet people are sometimes unclear about the provost's responsibilities. Can you talk a little about what the role entails?
As the chief academic officer of an institution, the provost leads the overall academic mission and direction, and oversees the key academic leadership in the schools (the deans and chairs) and in academic resource areas, such as the Libraries, the Registrar, and Student Advisement. The provost works closely with the Academic Senate and with Student Government to encourage a collegial process of shared governance. The provost is the titular leader of the faculty as a whole and should strive to support all faculty in their professional aspirations.
What makes the work really interesting and rewarding is the opportunity to identify and support teams of people to work on major projects to advance the Institute's goals. What makes the work really challenging is helping people to pursue their own goals in ways that meet the needs and aspirations of the Institute as a whole.
What first attracted you to Pratt? What are the unique strengths and opportunities that you see here, especially in light of all of the different schools that make up this one center of learning?
Having served as chief academic officer of two other art and design schools, I love the creative ferment of this environment. So naturally I wanted to be part of this culture at one of the best. Pratt offers the widest range of programs of any free-standing art school, which makes for an incredibly rich campus community in which to learn, experiment, and partner with others. Pratt draws together expertise from so many creative fields, so many people open to trying something new, that working here feels like anything is possible. And usually for the better! Plus, having spent a stretch of my career at liberal arts colleges, I was drawn to the fact that Pratt has one of the most developed liberal arts schools among the art and design-focused institutions.
You are an established scholar in philosophy who has published widely on aesthetics and the philosophy of art. How does this background influence your approach to your role and work at Pratt?
I'm a fan and follower of creative work in a variety of disciplines and fields, but as a philosopher my interest in the arts is theoretical, which is to say not particular to any discipline or way of making. I think this helps me bring to my work a good degree of dispassionate objectivity and fairness. I'm not here to favor any one field or set of interests, but instead to support and strengthen all of what Pratt is good at, across the board. I think my background also makes me highly sympathetic to the labors of artists and designers, who more than most play key roles in helping us all imagine better futures.
It has been four years since you joined Pratt in July 2015. In that time, the Provost's Office has launched a number of exciting initiatives in the areas of interdisciplinary learning, research, and partnerships. Can you talk a little about the context and development of these areas moving forward?
There is so much more to do, that we will do. Most schools trumpet interdisciplinarity, but we're really doing it, through the Pratt Integrative Courses, interdisciplinary minors, funding multidisciplinary faculty projects, and more to come. Pratt faculty had called for some time for us to develop stronger infrastructure to support faculty research and the means of seeking funding for it. We've been rolling that out and building Pratt's reputation as a research powerhouse, highlighting the work of our amazing faculty, students, and staff. Pratt already partners with many dozens of organizations, schools, and companies through internships, study-away opportunities, faculty exchanges, sponsored studios, community projects, and so on. I think we can and will become more deliberate about expressing what Pratt is and what we're best at through the kinds of partnerships and partners we embrace. In the end, all of this work is about making Pratt the singularly best at what it is already so good at, for the sake of ensuring a life-altering education for our incredible students, and an inspiring creative home for our faculty and staff.
Photo: Ron Hester Photography