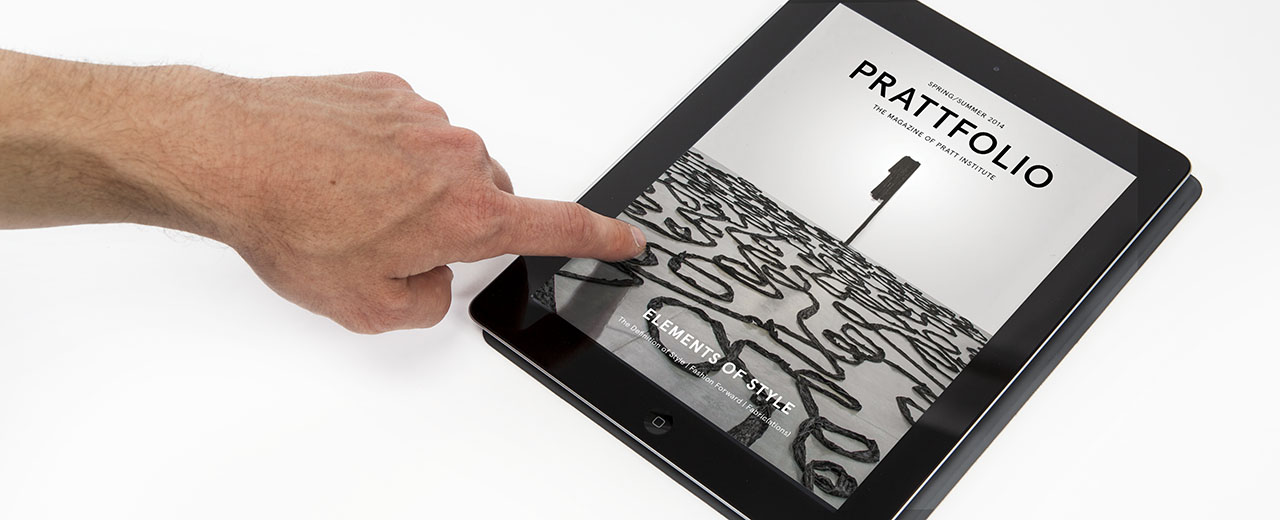 Pratt Institute was recently selected as a winner of Graphic Design USA (GDUSA) magazine's 2014 American Inhouse Design Awards. A highly selective 15 percent of the 4,000 entries submitted were awarded a Certificate of Excellence. Pratt's creative services teams, led by Creative Director Joshua Graver and Senior Art Director Kara Schlindwein, won three separate Certificates for the designs of Prattfolio magazine, Prattfolio digital magazine, and the Youth Art Programs brochure.
Prattfolio, the official magazine of Pratt Institute, recently underwent a major redesign to highlight Pratt's role as a living lab of craft and creativity. The magazine also went digital with the creation of an interactive version of each issue, as well as a mobile application that allows users to access the content of the magazine on an iPad. Prattfolio reaches an audience of approximately 50,000 alumni and friends of the Institute, including business and design industry leaders, entrepreneurs, artists, architects, and urban planning professionals across the country and around the world. The Youth Art Programs brochure highlights the Art and Design Education Department's five K-12 arts programs for local New York City children.
For more than five decades, GDUSA has featured competitions that spotlight areas of excellence and opportunity. The original and biggest showcase for work by inhouse designers, the American Inhouse Design Awards recognize designers for their talent, the special challenges they face, and the value they bring to their institutions.