Pratt Institute, along with North Carolina-based furniture manufacturer Cabot Wrenn, will unveil "The Pratt Institute Chair" as part of NeoCon World's Trade Fair from June 14-16 at The Merchandise Mart, Chicago. The chair bearing the Institute name was designed by a four-person faculty-student team to celebrate Pratt's reputation as one of the nation's largest and most prestigious independent colleges of art and design and will be on display at the Cabot Wrenn Showroom #10-116.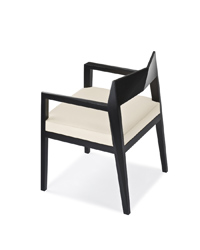 Designed by a creative team led by faculty member and furniture designer Mark Goetz, B.I.D. '86, which also included faculty member Tim Richartz, B.I.D. '86, and industrial design students Alvaro Uribe, B.I.D. '10, and Ashley Thorfinnson, M.I.D. '10, the chair's unique faceted structure offers different perspectives from every angle. The chair was designed in Pratt's Juliana Curran Terian Design Center, a central and physical campus hub where creative minds from interior, graphic, industrial, and fashion design can cultivate new ideas in a collaborative setting. The chair is handcrafted by Cabot Wrenn from sustainable North American white maple. The design uniquely incorporates straight cuts of lumber to minimize material waste and highstrength joinery construction to ensure maximum product life. The result is a beautiful and functional piece that demonstrates Pratt's commitment to sustainability and enduring quality.
"The Pratt Institute Chair" represents Pratt's impressive near 125-year history in attracting and educating the world's most talented and promising students to become prominent artists, designers, information professionals, and architects. The chair design gives physical form to the many perspectives and multi-dimensional talents represented by Pratt's four major schools – Art and Design, Architecture, Information and Library Science, and Liberal Arts and Sciences. Many of the programs within these four schools are consistently ranked among the best in the country, and promote creative and cross-disciplinary strategies to solve problems and enhance learning and research outcomes.
Pratt's Brooklyn and Manhattan campuses and faculty members afford students access to the best in art, culture, design, and business. As one of the world's multicultural epicenters, New York provides students an exceptional learning and working environment that extends beyond campus. Pratt faculty and alumni include the most renowned artists, designers, and scholars in their fields. Pratt faculty members work with some of the world's most prestigious companies and organizations and provide students with invaluable industry connections that yield internships while they are studying and jobs in their fields upon graduation.
From the neighborhoods of Brooklyn and New York City to countries in Asia, Europe, Africa, and South America, the work of Pratt's world-class faculty, students, alumni, and staff individually and collectively impacts the way we as a society live and view the world. The teaching philosophy, the campus atmosphere, and the specialized facilities at Pratt help students to develop and inform their own point of view while working in a nurturing and inspiring environment that encourages the development of practical skills. In this way, Pratt has stayed true to the founding vision of Charles Pratt, who in 1887 sought to provide a practical education to teach its students the specialized skills they need to make a living through artistry.
A leader in art, design, and architecture education, Pratt Institute offers some of the nation's finest undergraduate and graduate degree programs, according to 2010 rankings by DesignIntelligence. Pratt's industrial designers seek to be innovative and impactful in creating beautiful forms and products that express their vision as reflected by the people and culture of the times.
Cabot Wrenn, founded in 1981, is a manufacturer of fine business furniture. The company's mission is to make the very best product possible in the areas of materials, construction, tailoring, and seating comfort. Cabot Wrenn combines timeless design with a full rage of ergonomic features such as comfort, style, and durability. The company's areas of manufacturing include lounge seating, side chairs, executive chairs, traditional seating, and tables. For more information, visit cabotwrenn.com.
NeoCon World's Trade Fair presents thousands of innovative products and resources for corporate, hospitality, healthcare, retail, government, institutional, and residential interiors from more than 700 showrooms and exhibitors. For 42 years the Merchandise Mart has been home to North America's largest design exposition and conference for commercial interiors, providing nearly 40,000 architecture and design professionals with seminars and association forums, keynote speakers, cutting-edge products, innovative exhibits, building and design resources and materials.
Members of the press are invited to an exclusive cocktail reception that will celebrate the Pratt | Cabot Wrenn collaboration and feature "The Pratt Institute Chair" from 6-8 p.m. on Monday, June 14, 2010 at The James Chicago at 55 East Ontario Street. Members of the press who are interested may contact Amy Aronoff at 716.698.5919 or aarono29@pratt.edu to attend. Press credentials will be required for access.