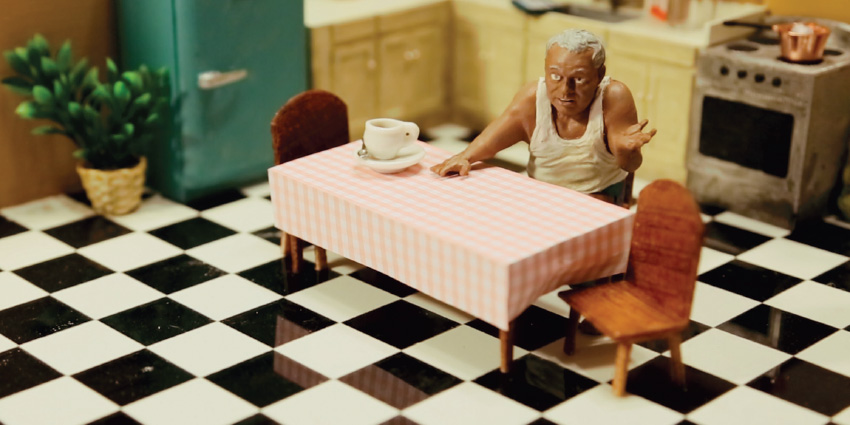 Across industries, Pratt alumni have been influential in
reimagining and reshaping the way we live, responding
to the challenges, needs, and questions of their times. Part two of six from Prattfolio's feature on Pratt alumni leading the way in a changing world highlights William D. Caballero (B.F.A. Computer Graphics '06): New American Storyteller.
Despite the diminutive stature of his starring cast, multimedia filmmaker William D. Caballero is working to tell, piece by piece, a big story. With a blend of eye-catching, miniature-scale visuals and first-person storytelling, Caballero's short films are reshaping narratives surrounding people of color in America.
Four-inch-tall 3-D-printed figurines act as Caballero's principal players, standing in for a range of real-life subjects. His protagonists have included first-generation college students; members of the Dreamers Movement, Latino youth who are or were once undocumented; and even Caballero's own grandfather, Victor Muriel, who came from Puerto Rico to New York in the 1960s and brings his seasoned perspective to Caballero's webseries Gran'pa Knows Best. Caballero's films are voiced by the subjects themselves, including Gran'pa, who shares his earnest, authentic take on life's questions, many submitted by viewers.
Authenticity is a central element of Caballero's practice, responding to a call for more nuanced storytelling surrounding the experience of people of color. "I consider myself a nerdy and artsy Latino intellectual, but I've been force-fed negative depictions of people of color through mass media," he says, citing the need for more varied voices on both sides of the camera. "In the TV and film industry, there are simply not enough people of color working behind the scenes, which means less-than-honest portrayals of a diverse America."
With short-film series such as Dreamer Generation, which appeared on Univision, The Smallest Step, which premiered on PBS and WORLD Channel, and Gran'pa Knows Best, picked up by HBO last summer, Caballero is working to shift this trend. "With my creativity as my main weapon, my work reflects honest depictions of my culture and my ideals, eschewing stereotypes every step of the way, and humanizing my subjects to the best of my abilities."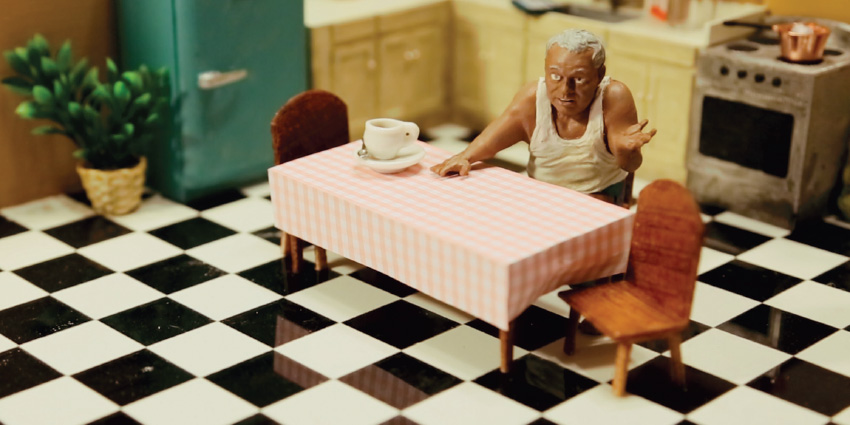 After developing his background in digital arts at Pratt, Caballero found multimedia filmmaking to be the ideal medium to channel his creative drive and reach a broad audience, and working on the micro scale helped him shape his unique voice. "I realized early on that no one was using 3-D printed figures to tell the stories I wanted to see," he says. "I thought I could create a niche where real people are interviewed and 3-D printed—a hybrid documentary animation."
The first figure he created, with the help of 3-D modeler Chang Kim, was his grandfather, in 40 variations modeled after reference photos of Gran'pa himself and painstakingly hand painted to achieve an array of candid expressions. (The process is documented on Caballero's website, wilcab.com) Gran'pa gained new dimension in Caballero's recent short film Victor and Isolina, which was selected for the 2017 Sundance Film Festival and screened as part of the Animation Spotlight.
For Caballero, transforming the fabric of the national story takes more than making films. It takes making space too. His latest project is a new webseries, Storybored USA, funded by Latino Public Broadcasting and set to debut this spring on PBS, that encourages young people, specifically of the millennial generation, to create personal narratives in film and video, writing, and other creative media. "This is an effort to add their voices to the American narrative," he says. "But on another note, sometimes in the act of creating, a transformation happens from within. You make something you never thought possible or learn something new, and that allows you to feel free."
Originally published in "The Transformers" in Prattfolio (Spring/Summer 2017). Read the issue at www.pratt.edu/alumni.
Images: Stills from Gran'pa Knows Best (top) and Victor and Isolina by William D. Caballero