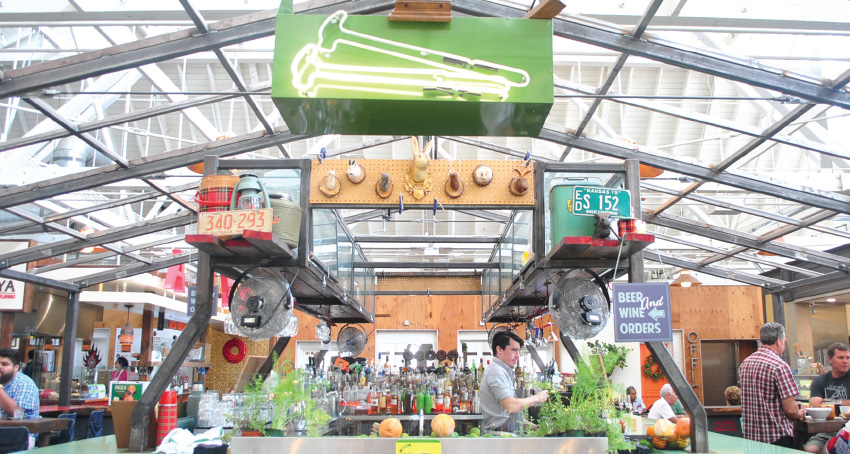 Across industries, Pratt alumni have been influential in
reimagining and reshaping the way we live, responding
to the challenges, needs, and questions of their times. Part five of six from Prattfolio's feature on Pratt alumni leading the way in a changing world highlights Shaheen and Linda Sadeghi (both B.F.A. Fashion Design '77): Retail Reinventors.
For Shaheen and Linda Sadeghi, two veterans of the fashion industry, the mall of the nineties was an obsolete model. A public space where young people congregated to socialize, strut, and scope out the makings of personal style, the mall was becoming less about consuming goods and more about creating culture—and the traditional format, a bastion of the mainstream, needed a makeover. In 1993, in a refurbished factory in Orange County, California, the Sadeghis established the first of a series of fresh takes on the commercial experience—and the "anti-mall" was born.
Dubbed the Lab, the first anti-mall featured street-art-influenced murals, repurposed materials used for seating and decor, gallery space, a café, open areas for bands and buskers, and indie retailers that included a comics shop and an alternative music store. The space, which was followed by the Camp shopping and dining center and the SoBeCa Arts District, all in Costa Mesa, shirked suburban convention to channel the grittier, indie-driven ethos of a generation.
Having become familiar with the needs and desires of a new generation of consumers through their years in fashion, the Sadeghis, who met in the Fashion Design program at Pratt, saw an opportunity in the retail space to create better experiences for young customers. "Working for leaders in the surf industry, I could see the power of the global youth culture," says Shaheen, referring to his time as president of Quiksilver and Gotcha Sportswear. "There always seems to be a renewed energy when one looks at design through that lens. When you know too much, the lens can get cluttered with fear."
When it comes to their work transforming commercial spaces, a bit of inexperience was key. "We were blessed with not knowing the 'rule book' for building shopping centers—we just created places that we ourselves would inhabit with comfort, art, and music at the core," says Linda. "Commerce followed."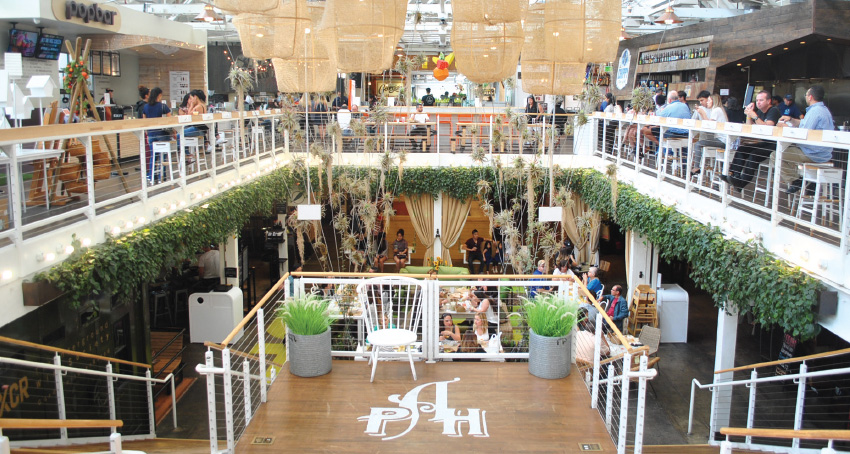 The Sadeghis continue to find inspiration in the sensibilities of the young and young-at-heart, as their company, LAB Holding (LAB standing for Little American Business), has sought out ways to reshape the commons with an emphasis on the local and the authentic. "As culture evolves, we feel that the next generation of consumer has a different intellect level," says Shaheen. "Commerce is no longer about pure consumption but rather more social and meaningful experiences."
Their latest and largest-scale project is a revamp of downtown Anaheim, California, where LAB Holding purchased several buildings last year. The sites include a former citrus-storage warehouse that LAB converted into an artisanal dining hall in 2014, along with several other sites intended for both retail and residential renovation. Projected plans include a winery and brewery, a dining development with live/work spaces for local chefs, and a district that weaves together spaces dedicated to the arts, housing, and business.
With a growing body of unconventional commercial transformations built on another radical redesign—of their careers—their crossover perspective helped break new ground. "Once you master a medium—anything you have a passion for—if you move into another field, you'll have the advantage of a fresh perspective that can be a game changer," says Shaheen. "If you look at today's successful people and businesses, many started in another industry. Elon Musk came from PayPal and transformed the auto industry with Tesla. Apple started as a computer hardware company but transformed the music industry with iTunes."
Linda agrees. "'Designer' is just a name rooted in a technique to approach a task—that task can be in any field," she says. Shaheen adds, "Creativity is the new world order."
Originally published in "The Transformers" in Prattfolio (Spring/Summer 2017). Read the issue at www.pratt.edu/alumni.
Images: Interiors of the Anaheim Packing House in California, developed by Shaheen and Linda Sadeghi. Photographs by Dioraze Acuzar