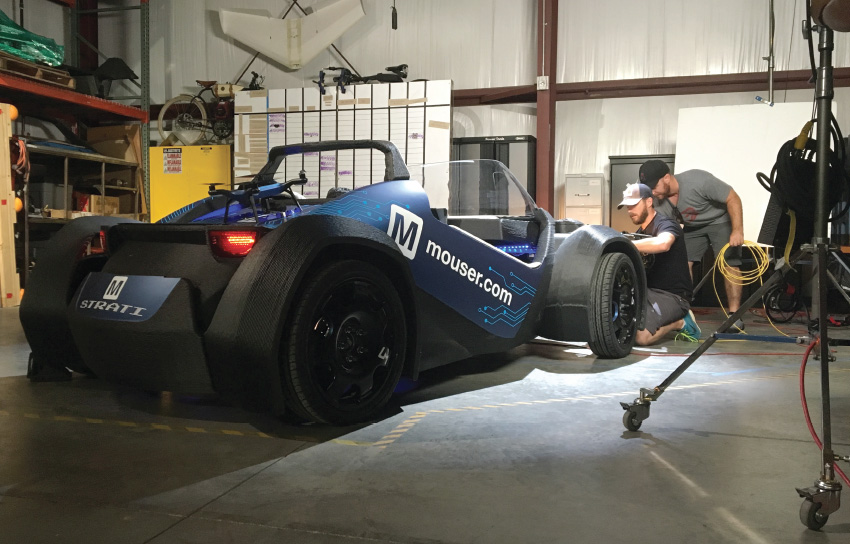 Across industries, Pratt alumni have been influential in
reimagining and reshaping the way we live, responding
to the challenges, needs, and questions of their times. Part five of six from Prattfolio's feature on Pratt alumni leading the way in a changing world highlights Finn Yonkers (B.I.D. '91): Auto Visionary.
From intelligent cruise control and rearview cameras to GPS navigation and crowd-sourced traffic apps, the driver's seat continues to be a site of technological advancement—or make that the rider's seat, with the dawn of the driverless car inching over the horizon. As technology catches up to innovators' speculations and dreams, designer Finn Yonkers is helping to shape the future of autonomous transportation.
Recognized with awards for several of his future-forward transportation concepts, last fall, Yonkers saw one of his designs come to life as the winner of concept-vehicle builder Local Motors' Essence of Autonomy Challenge. Fly-Mode, his design for a drone-equipped, 3-D-printed, self-driving car that was realized and road-tested by electronics distributor Mouser Electronics, allows riders to launch a drone from the back of the vehicle to soar above and survey the road ahead while passengers receive live footage from its flight on screens inside the car.
In contrast to the notion that autonomy means idleness, Yonkers's intention was to increase interactivity and heighten the sensory experience for riders. With designs like Fly-Mode, Yonkers is rethinking "not just how we get around, but more important, how we use our time and, in big cities, how we use the space of a vehicle as a commodity."
Yonkers's drive to reconsider functionality took shape at Pratt—after taking classes with William Fogler in the Industrial Design Department, Yonkers channeled his passion for sculpture into conceptual design—an approach that dovetailed with his passion for vehicles. "There is a unique emotive aspect that brought me to concept vehicles," he says. "You can allow yourself to think beyond the confines of manufacturing and mass-market appeal. It is only now that technology is aligning with these earlier explorations."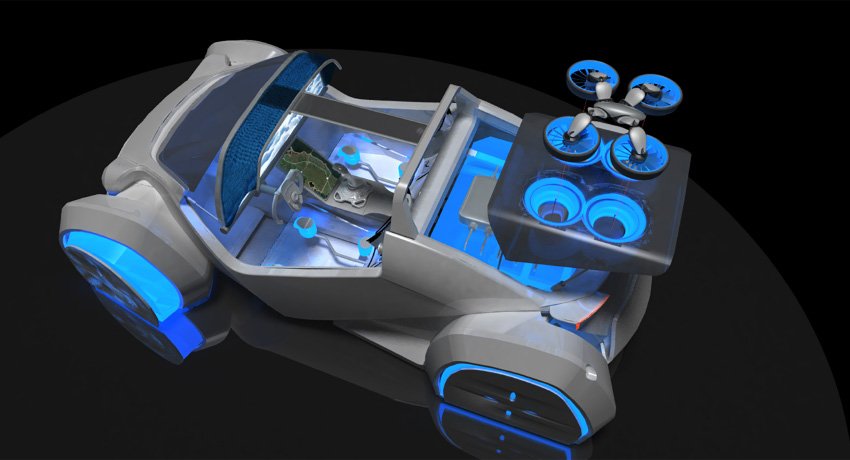 As recent advancements in 3-D printing and the technology of connectivity have made possible the advent of drones and autonomous vehicles (or "passenger drones"), as well as rapid prototyping and direct digital manufacturing (DDM), Yonkers found that his strengths finally intersected with new opportunities in vehicle design.
After primarily focusing his career on exhibition design and marketing (Yonkers is also president and creative director of Studio1011 in Providence, Rhode Island), he found a way to revisit his first love, joining the community of designers at Local Motors, a company that fabricates concept vehicles that are conceived and developed through collaboration among its community of "co-creators."  Through Local Motors challenges, he has gone on to create award-winning concepts, including a high-visibility, small-footprint security vehicle intended for navigating narrow spaces in an urban setting and an Airbus cargo drone to autonomously deliver medical supplies to inaccessible locations.
As far as consumer vehicles, the next big question, as Yonkers sees it, is how to apply the opportunities for personalization made possible by DDM, and he aims to take the lead in shaping how customization meets consumers.
"It will be more important to bridge the gap between what customers want and what is made available. In the frontier of autonomy, the possibilities for vehicle architecture, just like in your home, are now wide open," he says. "However, a proper framework that supports both personalization and a design standard needs to be developed. Today's focus is still on the technology, and I want to help redefine the customer experience in a way that embraces more than what the mainstream market defines. Of course being in the right place at the right time to be able to contribute to these changes is paramount."
Originally published in "The Transformers" in Prattfolio (Spring/Summer 2017). Read the issue at www.pratt.edu/alumni.
Images: Fly-Mode build (top) and rendering. Photographs by Finn Yonkers.