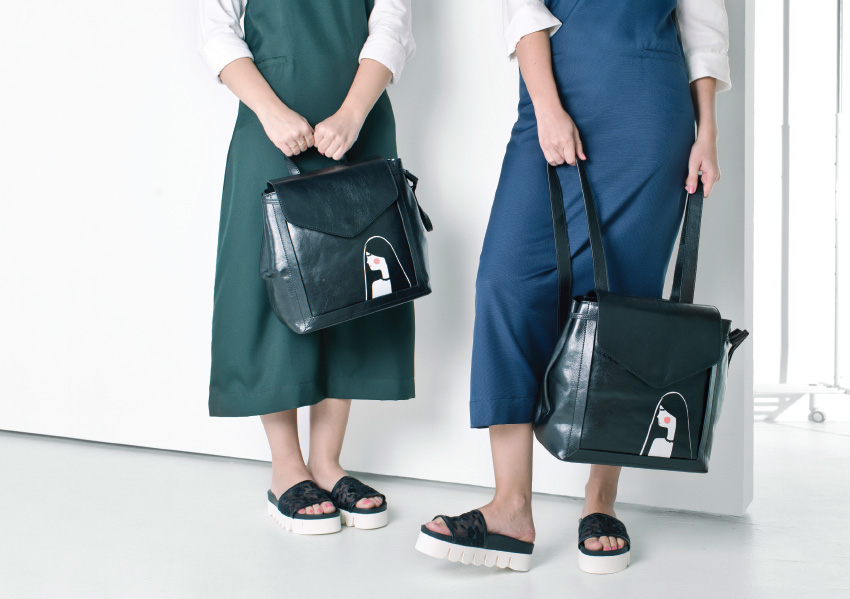 Across industries, Pratt alumni have been influential in
reimagining and reshaping the way we live, responding
to the challenges, needs, and questions of their times. Part one of six from Prattfolio's feature on Pratt alumni leading the way in a changing world highlights Alaa Balkhy (M.P.S. Design Management '15): Pop Cultivator.
With the open global gateways of the net-connected age, the popular in pop culture takes on new meaning every day. Designer Alaa Balkhy is one of a new generation of startup founders, makers, and lifestyle influencers bringing the voice of the Saudi peninsula to the world stage, and elevating the experience of Saudi women in the process.
In 2011 Balkhy launched her accessories brand, Fyunka (or bow), in her home city of Jeddah, Saudi Arabia, featuring illustrations that blend a witty style evocative of worldwide youth culture with iconic elements rooted in the Arabian peninsula. Take the "Fyunka girl," a chic figure who appears in several of Balkhy's designs, among an ensemble of her fellow women sporting the hijab or coolly balancing a dallah (an Arabic coffee pot) on her head.
The designs, while they may seem whimsical on the surface, are intended to start a conversation, Balkhy says, to open others' eyes to a vibrant culture that transcends national boundaries, celebrating Saudi women and offering them an original means of self-expression. "In Saudi, to make positive change, you start by small social gestures rather than abruptly trying to change things," she says. "Fyunka touches on some social issues in a humorous way. I urge Saudi women to embrace their experience and start their own journey, despite what society has to say, if they truly believe in it."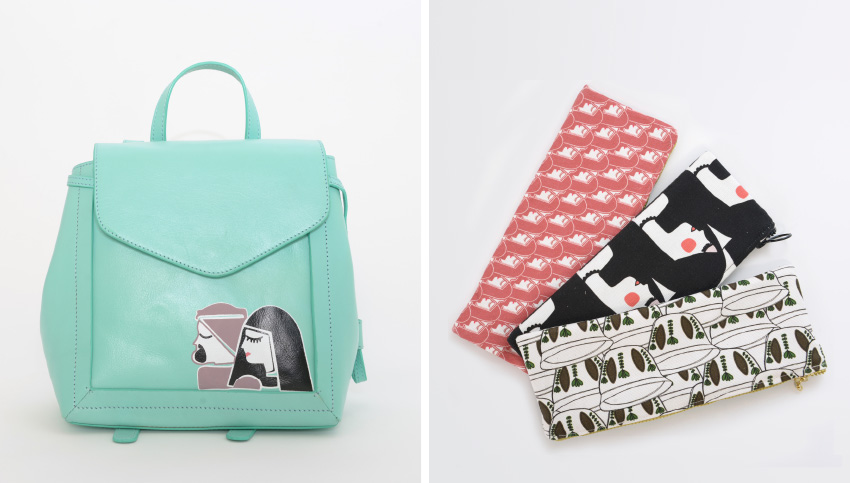 Balkhy found her own creative voice, and her career, by happy accident. When she entered college in Saudi Arabia in the mid-2000s, graphic design was a new major in the country, and she was up for the challenge of entering uncharted territory. Through her illustrations, she created a fresh and often funny take on her own experience as a woman and a young person in the changing social landscape of Jeddah. When others responded enthusiastically to her work, she decided to make her designs accessible through products, and accessories proved a manageable first step.
Among the small community of Saudi startups, Balkhy found a supportive network of fellow entrepreneurs who helped one another grow in a promising new market. As she scaled up, she knew it was time to streamline her business practices, which brought her to Pratt's Design Management master's program. "Pratt, and being in New York City, helped me to be more grounded and humble," she says. "At Pratt, I learned how to be more articulate about my work, and I learned how to work with people of different cultural backgrounds. Everyone has something to add to the table, and it's amazing."
Balkhy recently found yet another community of colleagues who helped her deepen her mission. Last year, she joined the Wing, a recently launched women's co-working collective with shared space located in Manhattan's Ladies' Mile Historic District, whose culture of encouragement and cross-industry membership opened up even more opportunities to expand the conversation Balkhy began with Fyunka. "It has inspired me to do more and create more, and it pushes me to challenge the status of women in Saudi Arabia," she says.
Now calling both Jeddah and Brooklyn home, Balkhy continues to expand Fyunka's line—offering home goods, casual wear, and, of course, accessories—as she prepares to launch her next venture, Minaa Zine, an image-driven biannual magazine that highlights global fashion and lifestyle, reframing notions of beauty, style, and a young woman's voice in the world.
Originally published in "The Transformers" in Prattfolio (Spring/Summer 2017). Read the issue at www.pratt.edu/alumni.
Images: Designs by Alaa Balkhy for Fyunka. Top photograph by Nada Hakeem, The Loft Middle East