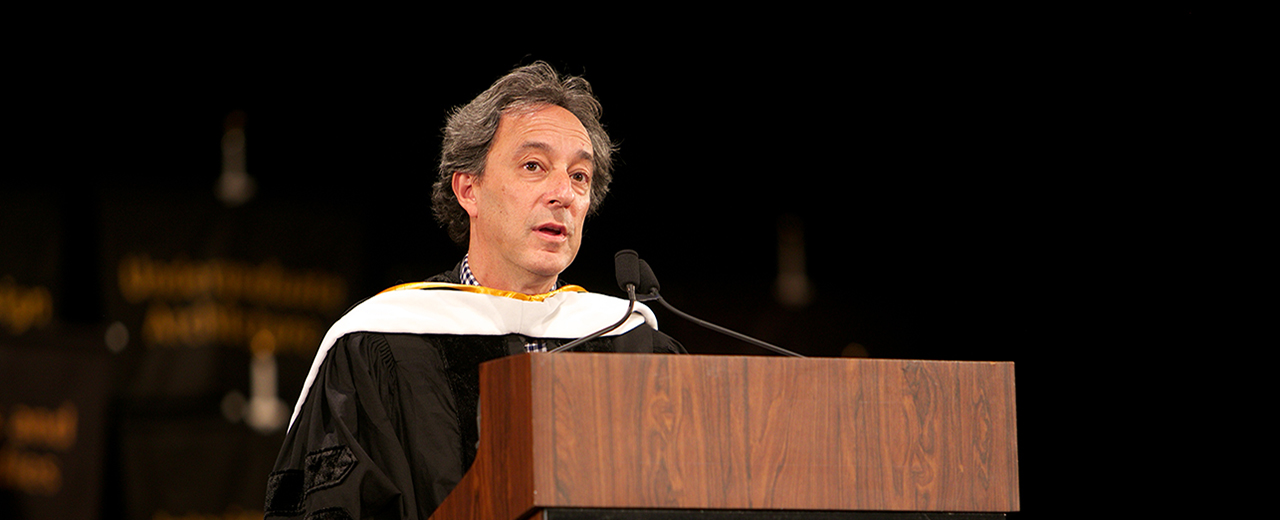 The New York Times' Architecture Critic Michael Kimmelman encouraged graduating students to follow their convictions, to "stop doing well, and to start doing good" at Pratt's 2014 Commencement on May 16.
For the fifth time in Pratt's history, the event was held at Radio City Music Hall, with 1,337 students, both graduates and undergraduates, crossing the stage and becoming alumni.
Kimmelman, who also received an honorary Doctor of Letters during Commencement, advocated that students creatively consider ways to improve the world around them. As an example, he talked about his role in pushing New York City to reimagine Penn Station—"the saddest railroad station in the world"—by relocating Madison Square Garden, the arena that sits above it. After pressure from Kimmelman and others, the City Council voted to limit Madison Square Garden's lease, paving the way for change in the future.
"The future is not fixed. You will make it," Kimmelman said. "This is your opportunity and today is your call to arms."
Prior to Kimmelman's speech, three honorary degrees were awarded: Brooklyn Museum Director Arnold L. Lehman (Doctor of Humane Letters), Artist Yoko Ono (Doctor of Fine Arts), and Designer Karim Rashid (Doctor of Fine Arts).
Graduation speakers also included Creative Writing Associate Professor Ellery Washington, who was named the Distinguished Teacher (2014-2015), and Michelle Betters (B.F.A. Writing '14), the elected student speaker, who reminded graduates that they have left an indelible mark on Pratt—and vice versa.
"No matter where you go today, you are taking this Pratt experience with you. Share what you've created, share what others have created and then create something new in a different place," Betters said.
Text: Ruth Samuelson
Video and Production: Peter Tannenbaum