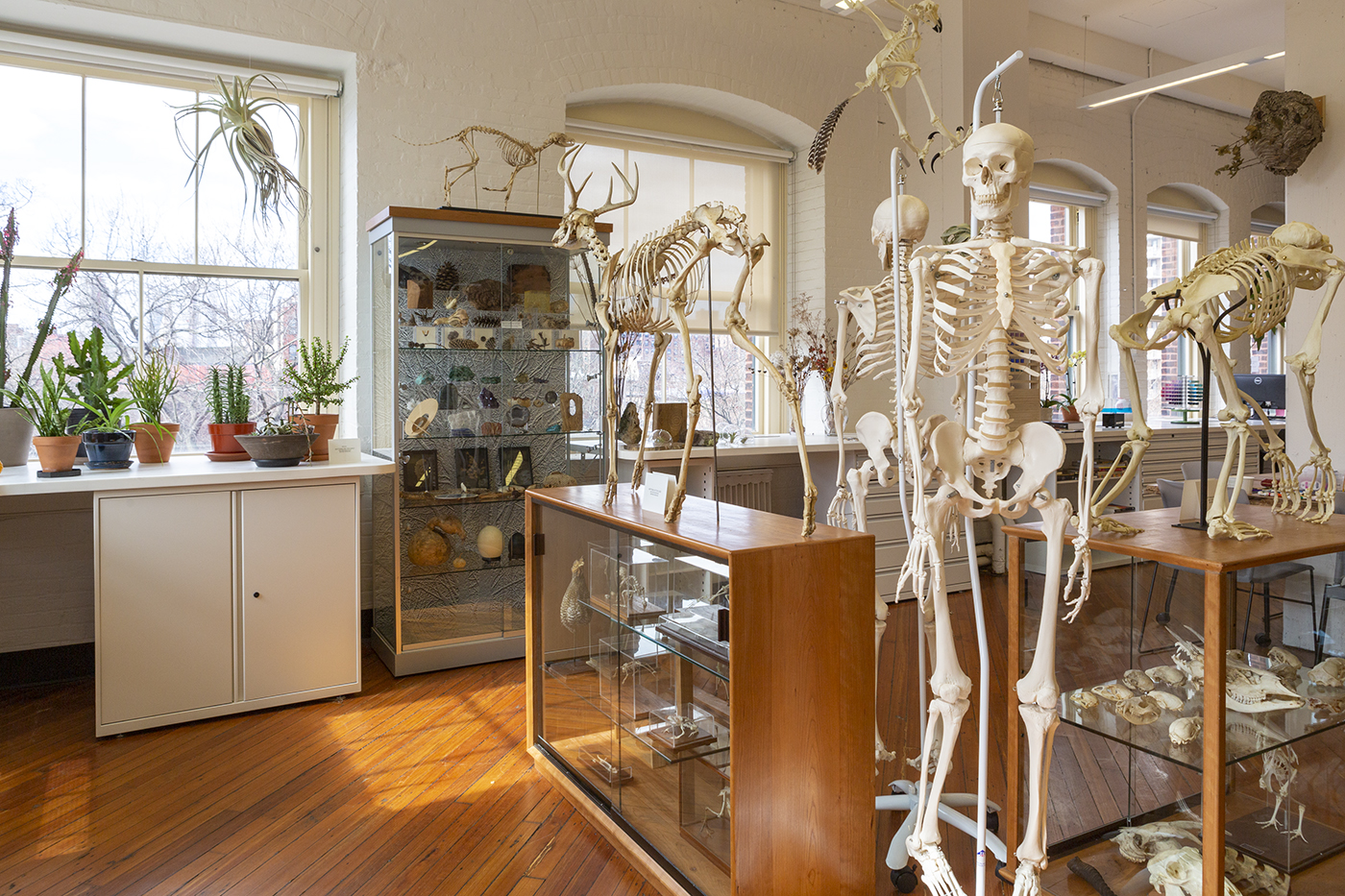 The Foundations Lab at Pratt Institute (photo by Armon Burton)
The Foundations Lab in the Main Building on Pratt Institute's Brooklyn campus is a space designed to spark curiosity about the natural world. Articulated skeletons and taxidermy animals are joined by a wall of flourishing green plants and cabinets of pinned butterflies and beetles. These specimens are not just meant to be seen, but to be studied, sketched, and examined. Microscopes are on hand to get a closer look at a coral branch or chunk of amethyst; drawers contain collections of shells, driftwood, and hundreds of pigments in every hue. Now with Foundation being entirely online this semester, students are accessing these resources virtually.
"The Foundations Lab is a physical space that allows students to investigate and study the relationship between art, design, and the natural world," said Leslie Mutchler, chairperson of Foundation. "Our lab is outfitted with tactile objects, both natural and manmade, and living, growing organisms to aid in that study and exploration. You may find a nautilus shell, a praying mantis, a small jar of saturated ultramarine blue pigment, or an African milk tree plant. While the lab's mission centers on physicality—touching, turning, experiencing the objects in person—we've been working to make the collection and our programming accessible virtually with the pivot to remote learning."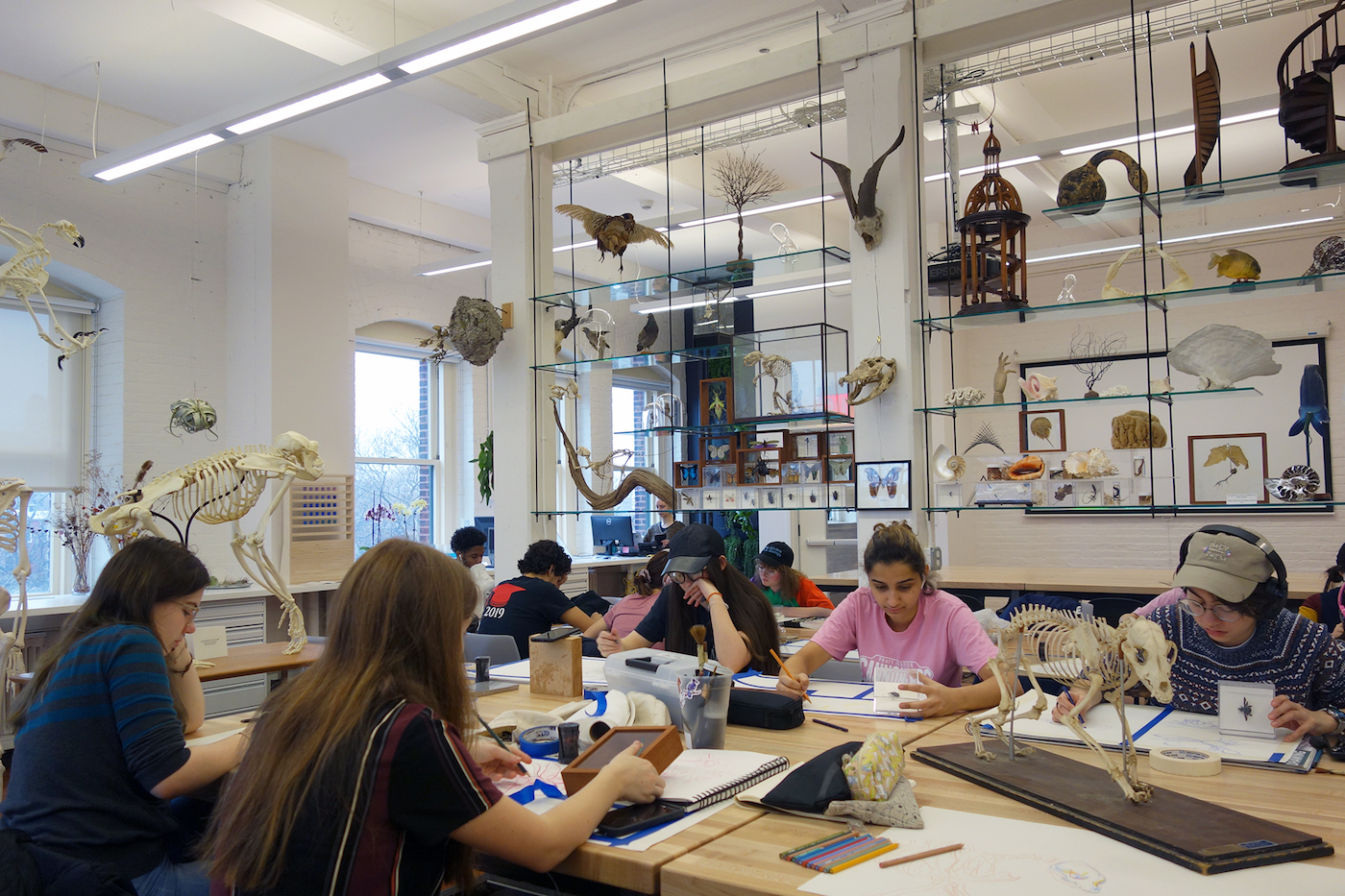 Students working in the Foundations Lab in early spring 2020 (photo by Allison C. Meier)
The Foundations Lab recently received an extensive renovation and reopened on February 12 as an exploratory place for first-year students at Pratt to work, research, and collaborate. Now the Lab is offering an online image library of specimens for students, faculty, and staff to access off-site as well as space for faculty in the Department of Mathematics and Science to record their experiments and lectures. The Foundations Lab Art + Science Series also kicked off on October 20 with artist and science educator Joianne Bittle using the Lab to record part of her presentation on how students can build a transect-matrix in their backyards for field recordings. Bittle involved the Lab's digital archive in a discussion on how collections can cross the borders of art and science, with students connecting their observations to objects in the Lab's collection.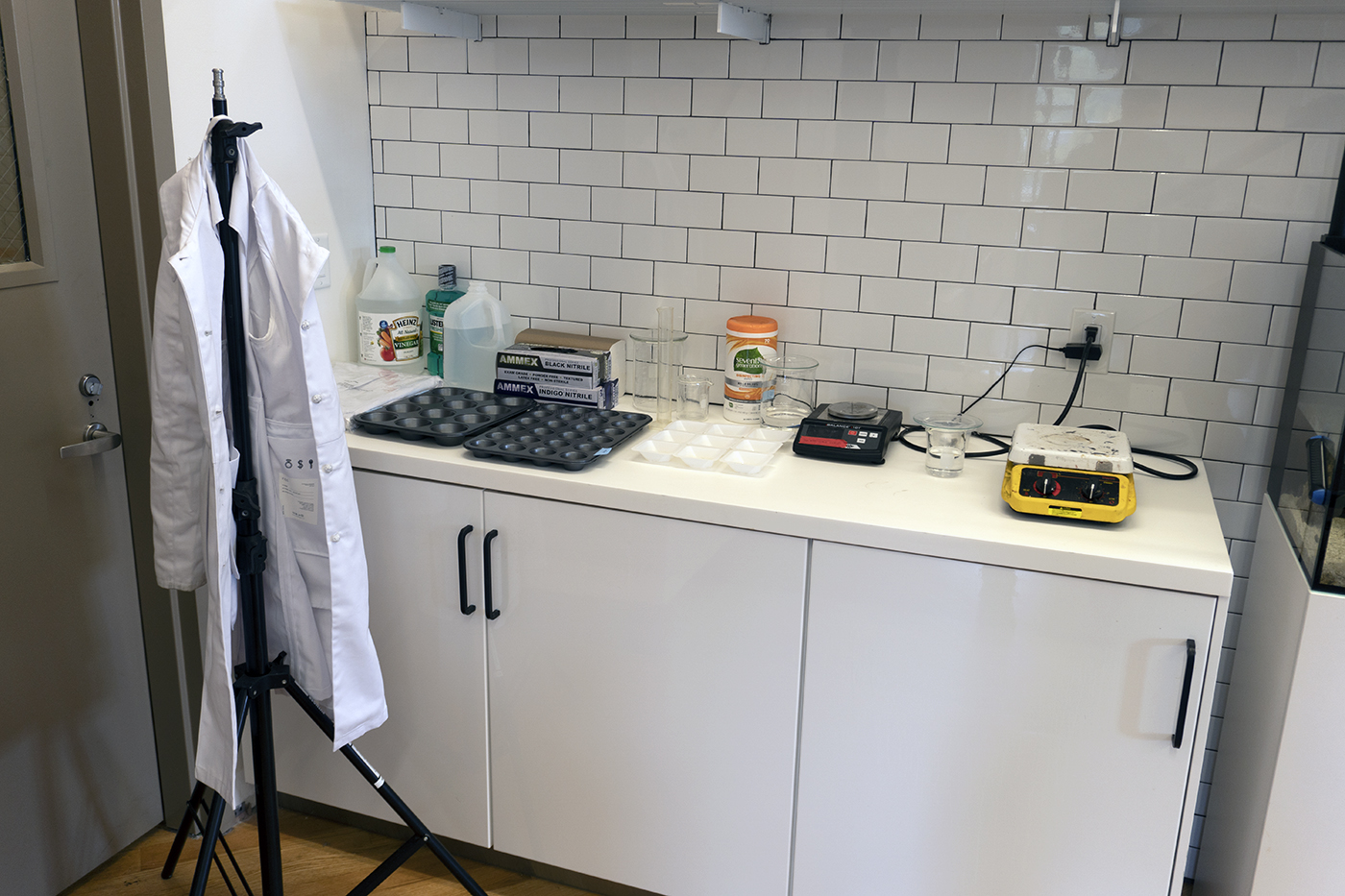 A Department of Mathematics and Science experiment being recorded for remote learning in the Foundations Lab (photo by Scott Robinson)
Each aspect of the Lab is aimed at fostering a continuous search for knowledge, something that is a yearlong focus of the Foundation curriculum for incoming students. The new space is the initiative of two Professors of Foundation Art—Doug Wirls and Iona Fromboluti Wirls— who made a personal gift with additional financial support from an individual donor, and the Alexander C. & Tillie S. Speyer Foundation. Doug Wirls and Iona Fromboluti Wirls wanted to bring together the collections used for their respective Foundation coursework to engage students in the long tradition of hands-on study with the natural world and with new technology.
"The Foundation Department has lacked a place that would represent and support what we teach, a center for study and connection for the students and faculty," Doug Wirls said. "In choosing to use nature as the theme for the Foundations Lab, we are recognizing that the investigation of the natural world and its systems is increasingly essential to education in all areas of art and design, hence foundational for all."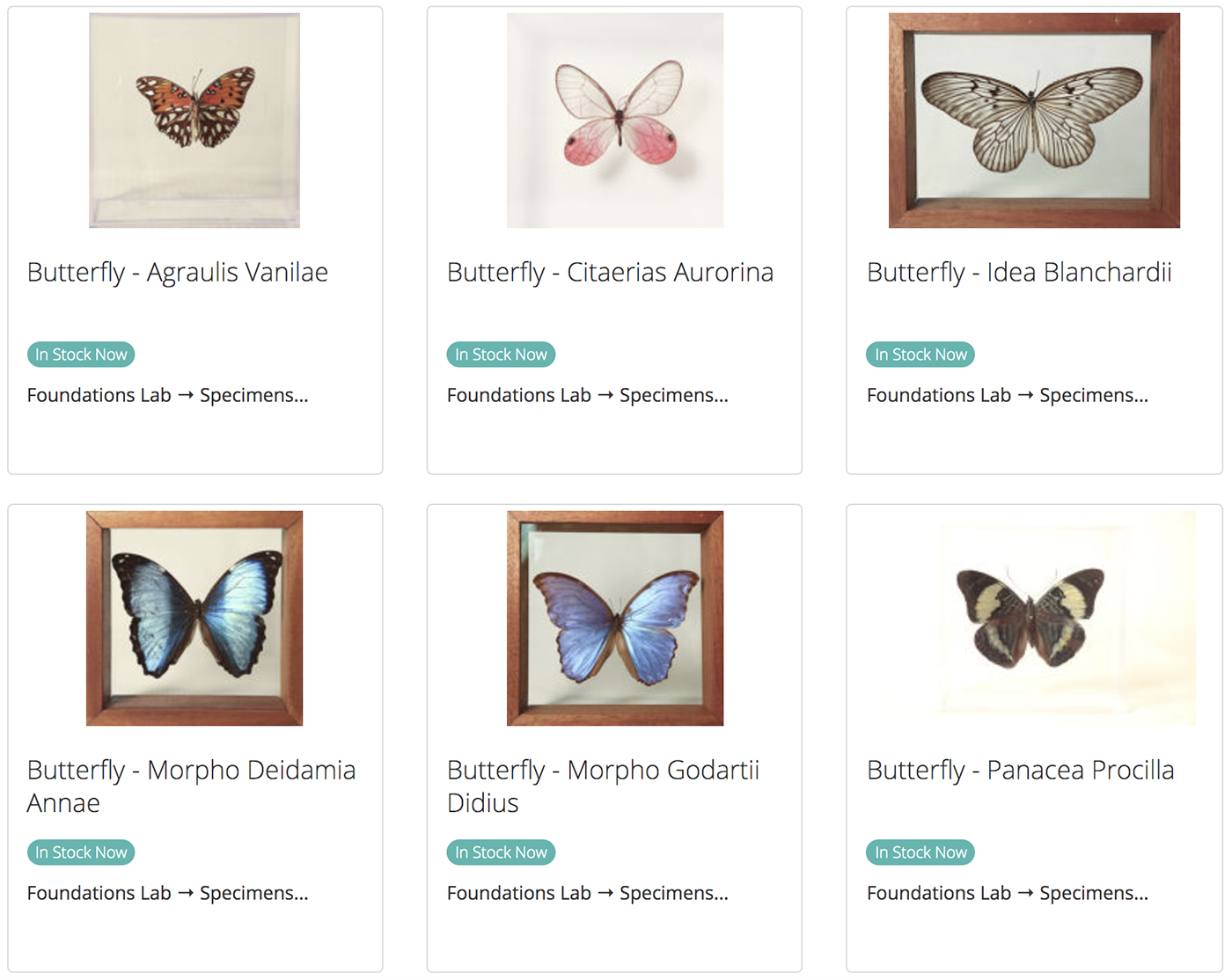 Exploring the Foundations Lab's online image library
Many of the older taxidermy, skeletons, and objects, such as the shelves of plaster models and glass bottles, were previously part of the Drawing Resource Center. It was especially important for the faculty organizers to offer things that students would not otherwise encounter in their class sessions.
"The Foundations Lab is a rich visual environment that can immediately evoke fascination and curiosity," said Foundations Lab Coordinator Scott Robinson. "One of the most important functions of the Foundations Lab is that it can deepen students' understanding of lessons and principles taught in the Foundation year and demonstrate how those were derived. This gives students the ability to find creative, new ideas from nature."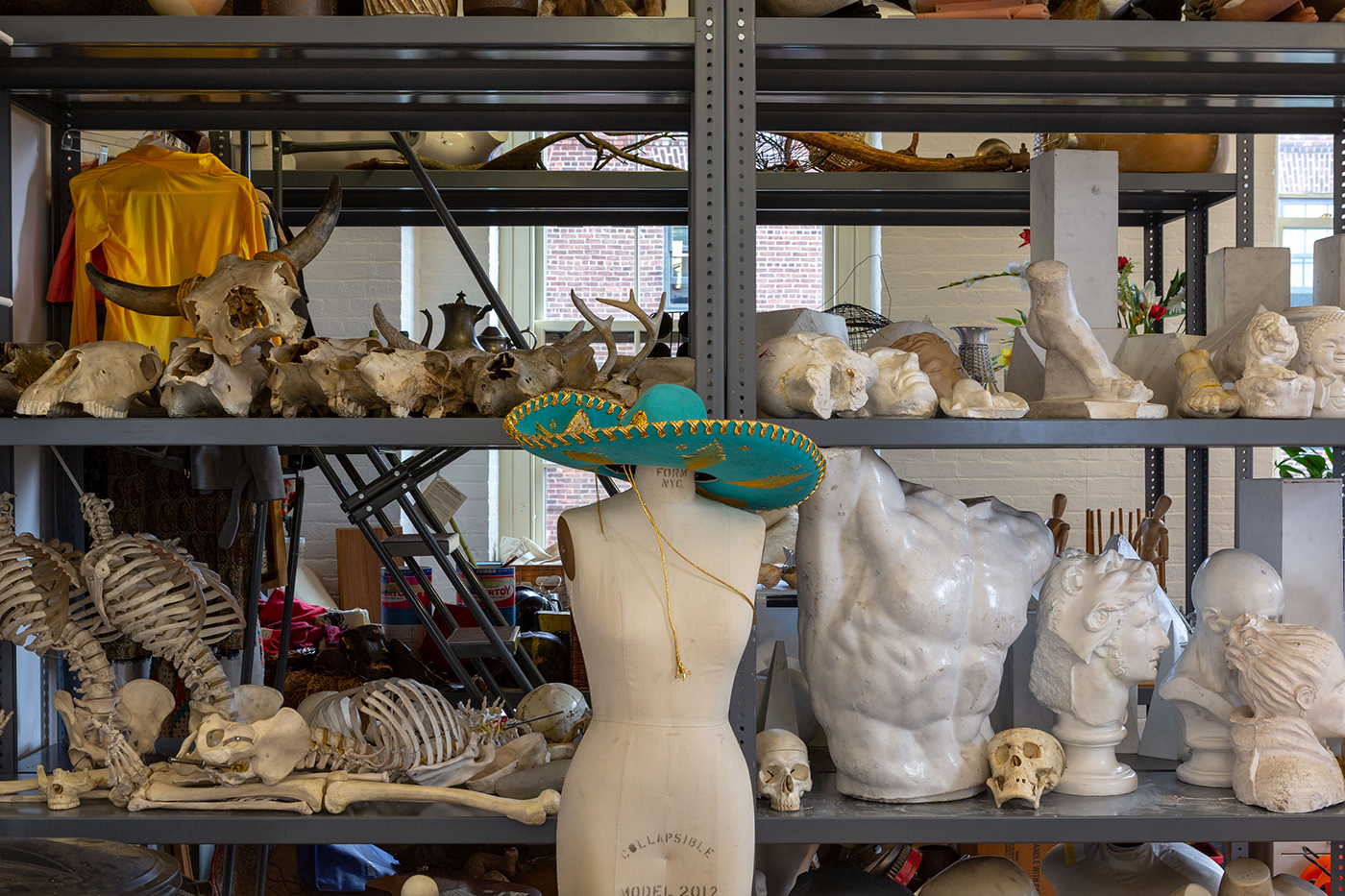 Objects from the Drawing Resource Center now in the Foundations Lab (photo by Armon Burton)
Shortly after it opened in early spring 2020, the Foundations Lab became a hub for interdisciplinary collaboration involving departments around campus, such as working with Randy Donowitz, Director of the Writing and Tutorial Center and keeper of the Pratt Reef, to set up some saltwater aquariums.
The Foundations Lab was imagined as a space where natural objects, whether a preserved horseshoe crab or a living staghorn fern, could spark new understandings about the links between art, design, and nature. As Mutchler explained, "We wanted students, faculty, and visitors to look, to investigate, and to slow down." Now its resources related to observation and the natural world can uniquely support remote learning as Foundation looks ahead to new possibilities for the Lab to facilitate exploration on campus and beyond.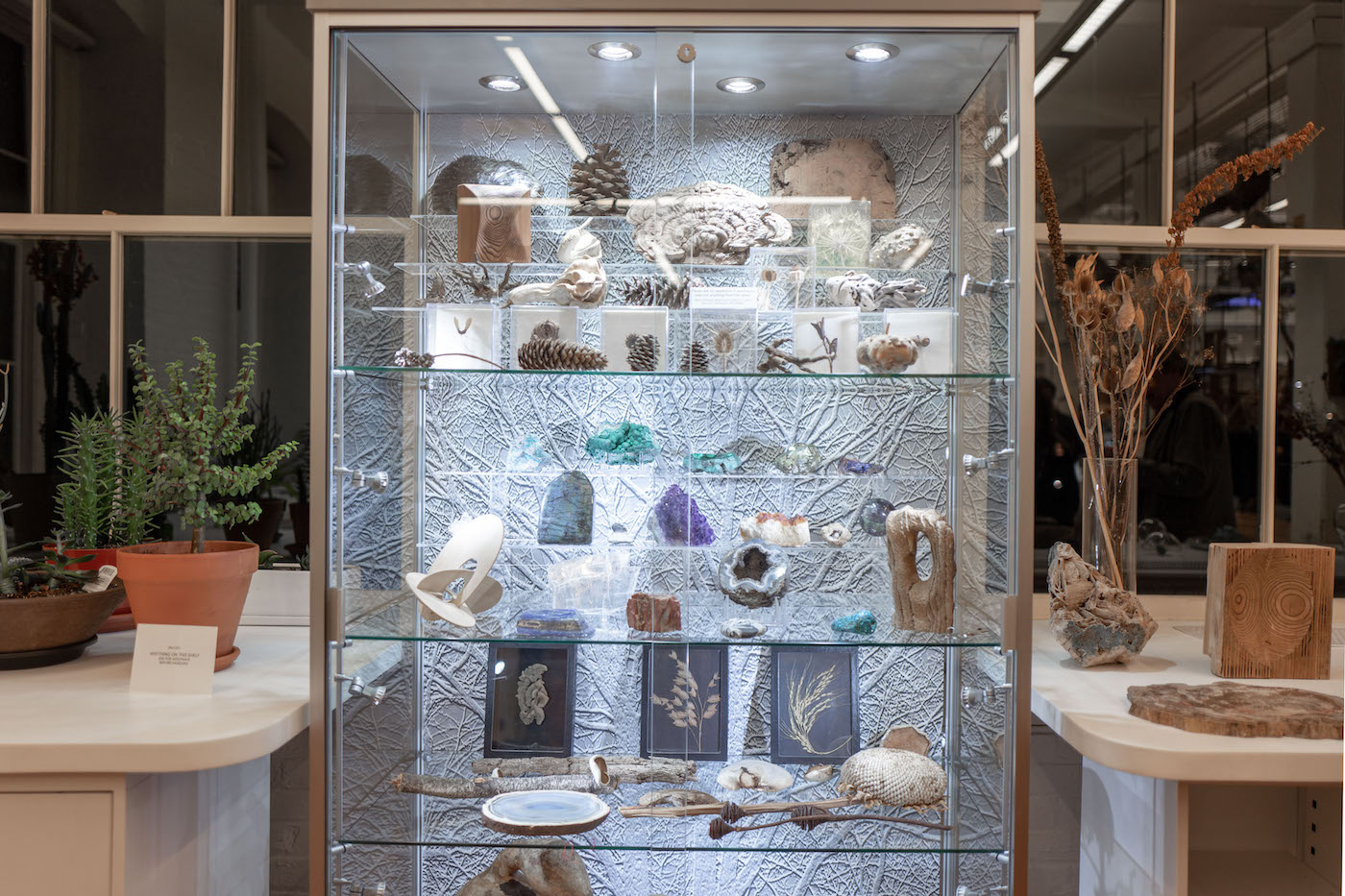 Nature specimens in the Foundations Lab (photo by Armon Burton)