Pratt Institute and Ralph Pucci International recently presented "Pratt + Paper & Ralph Pucci," an exhibition of 20 paper sculpture designs by fashion design, fine arts, industrial design, and interior design students from Pratt's School of Art and Design at Ralph Pucci International/Gallery Nine Showroom. The event was celebrated with an exclusive by-invite only exhibition preview on December 7 that was attended by nearly 200 people.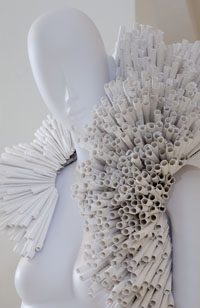 A panel of distinguished judges selected the top three sculpture designs for the body and the top freestanding sculpture design, which were announced at the December 7 event. Those on the judging panel represented some of the best and creative minds from the worlds of fashion and design including Linda Fargo, Vice President of Fashion, Bergdorf Goodman; Nicole Fischelis, Vice President of Fashion, Macy's; Greg Mills, Founder of Greg Mills Showroom; Jens Risom, furniture designer; Ken Smart, Creative Director at Ralph Pucci International; Anna Sui, fashion designer; Deborah Turbeville, photographer; and Vicente Wolf, interior designer.
The winning looks were designed by Dana Otto (Industrial Design '11 from State College, Pa.), Meredith Lyon and Beatrice Weiland (Fashion Design '12 from Newburyport, Mass. and Bexley, OH, respectively), and Thom Forsyth (Interior Design '11 from Boston, Mass.). Su Ting Chen and Samantha Johnson (Interior Design '11 from Maspbeth, N.Y. and Pullman, Wash., respectively) received top prize for their show-stopping sculpture design that hung from the ceiling of the Gallery Nine Showroom. All are current undergraduate students. The winning designers received awards in the form of 12-inch mannequins in gold, silver, bronze, and white that were hand sculpted by Pucci designer Michael Evert.
The work emerged from an interdisciplinary, semester-long study in texture and form to dress Pucci's Spring 2011 "GIRL 2" mannequins entirely in paper. The project was led by Rebeccah Pailes-Friedman, Acting Chair of the Department of Fashion Design at Pratt, with the help of Anita Cooney, Chair of the Department of Interior Design; Josh Longo, Visting Instructor, Industrial Design; and Donna Moran, Chair of the Department of Fine Arts. The exhibition highlighted the best work from the project as selected by Ralph Pucci. The exhibition space also featured large pencil drawings of the Pucci mannequins by graduate interior design student KC Weakley ('11 from Brooklyn, N.Y.).
Ralph Pucci is the major force behind Ralph Pucci International, and an innovator in the mannequin industry. He is president of the company founded by his parents in the 1950s, which is operated in a spacious loft on West 18th Street. Mannequins are designed, manufactured, and unveiled twice yearly. His Gallery Nine Showroom showcases art, sculptures, photography, lighting, and furnishings by a variety of new, spirited artists and designers.
Paper for the "Pratt + Paper + Ralph Pucci" project was generously donated by Borden & Riley Company, Inc., and Mohawk Fine Papers, Inc.
Image detail of second-place look design by Thom Forsyth courtesy of Antoine Bootz.