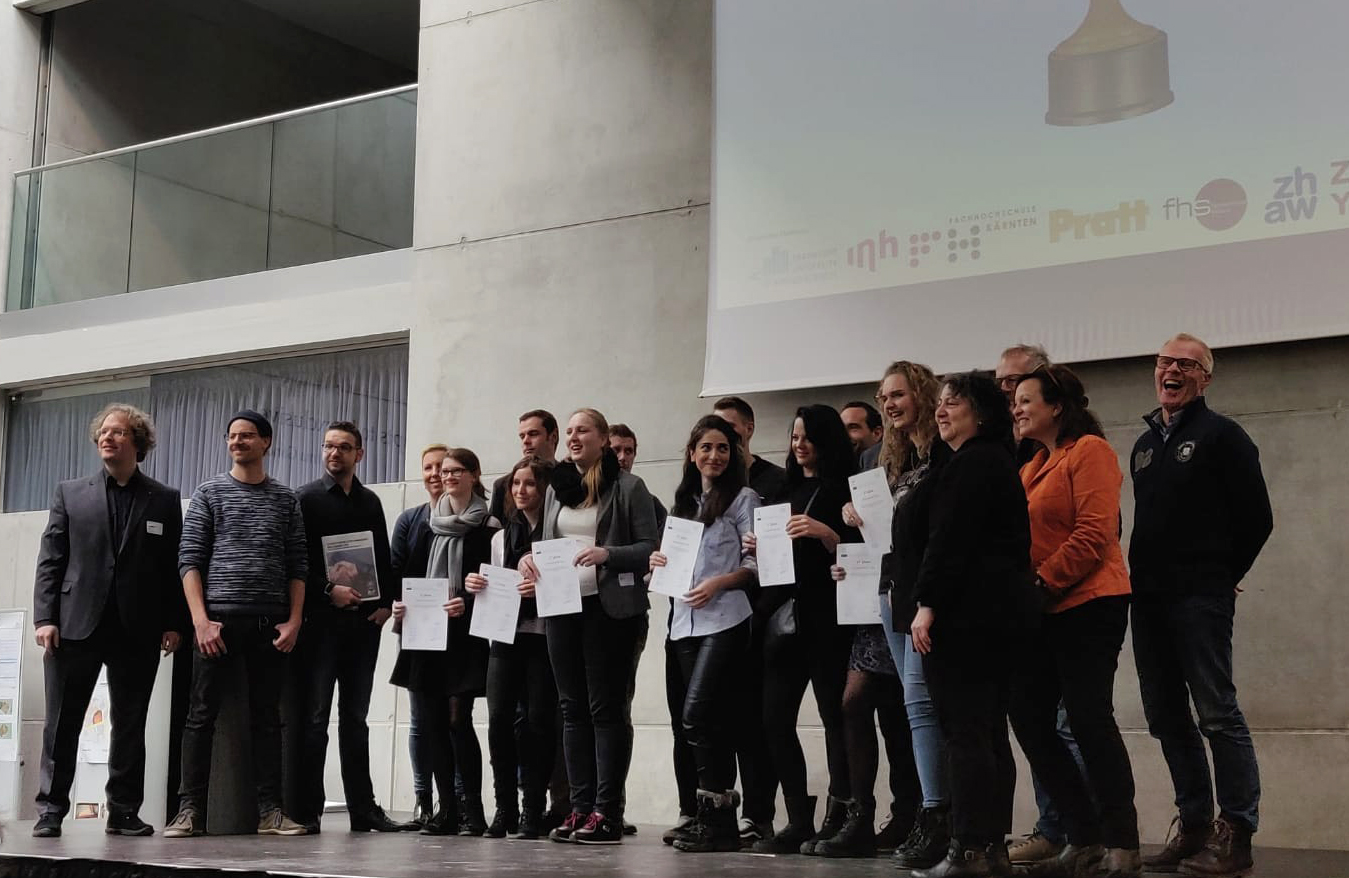 A group of undergraduate and graduate students in Pratt's Construction Management (CM), Facilities Management (FM), and Real Estate Practice (REP) programs recently traveled to Kufstein, Austria, where they had a chance to work together on proposals that could bring new life to a historic building project in the heart of Tirol, Niederndorf, Austria. The project was the focus of a weeklong intensive student competition on sustainability and adaptive reuse in facility management and real estate management (REM).
Each year, the University of Applied Sciences Kufstein's FM and REM WinterSchool features a new challenge, and teams of international students compete to develop solutions to a project reflecting contemporary issues in the built environment. Pratt is the only participating American institution invited to attend this private event, with twelve of its students joining 196 undergraduate and master's students from the Netherlands, Germany, Switzerland, and Austria.
"The students amaze me each year as they redevelop real-life projects in the Tirolian district of Austria. The opportunity for our CM, FM, and REP students to work side-by-side with international nonnative English-speaking students to come up with project deliverables and a marketing video in less than four days is quite the task. They do a phenomenal job," said Pratt Construction and Facilities Management Associate Professor Dr. Audrey Schultz, who functions in the role of a coach during the program.
The 2019 edition of WinterSchool asked students to collaborate on sustainable, affordable, and flexible concepts to renovate a Tirolian-Bavarian style Inn located in the Austrian municipality of Niederndorf. Called Post Wirt, the building has been vacant for a decade. It's now planned to be revived as a cultural hub for locals and visitors, with spaces for dining, concerts, lectures, and workshops, as well as lodging for travelers and areas for artisans to share their work.
Students analyzed the site's economic and community potential in the context of facilities management, taking into account construction estimates, parking and architectural needs, branding campaigns, and market analysis. Situated at the base of the Kaiser mountain chain, Niederndorf has a history of settlement dating back to prehistory and is now a popular tourist destination for winter skiing and summer mountain biking, climbing, and other activities. Students considered the Post Wirt's transformation as a reflection of Niederndorf's rich heritage and as a resource in its future growth.
"WinterSchool was a great platform to meet and interact with students from different schools and experience the different ideas and approaches to the project," said Real Estate Practice student Sushmita Vinod Naik. "Collaborating on a team design has broadened our knowledge in forming a concept, problem solving, reasoning, and decision-making. This intensive four-day competition in which we were expected to describe our process and submit a final development project, along with the oral and video presentation, was a truly challenging and rewarding experience," she added.
Images: (main) Pratt Construction and Facilities Management Associate Professor Dr. Audrey Schultz (third from right) and students assembled onstage (photo courtesy of Sushmita Vinod Naik); (inset) "Best Video" from Construction Management students Sabrina Wu and Echo Yu's team