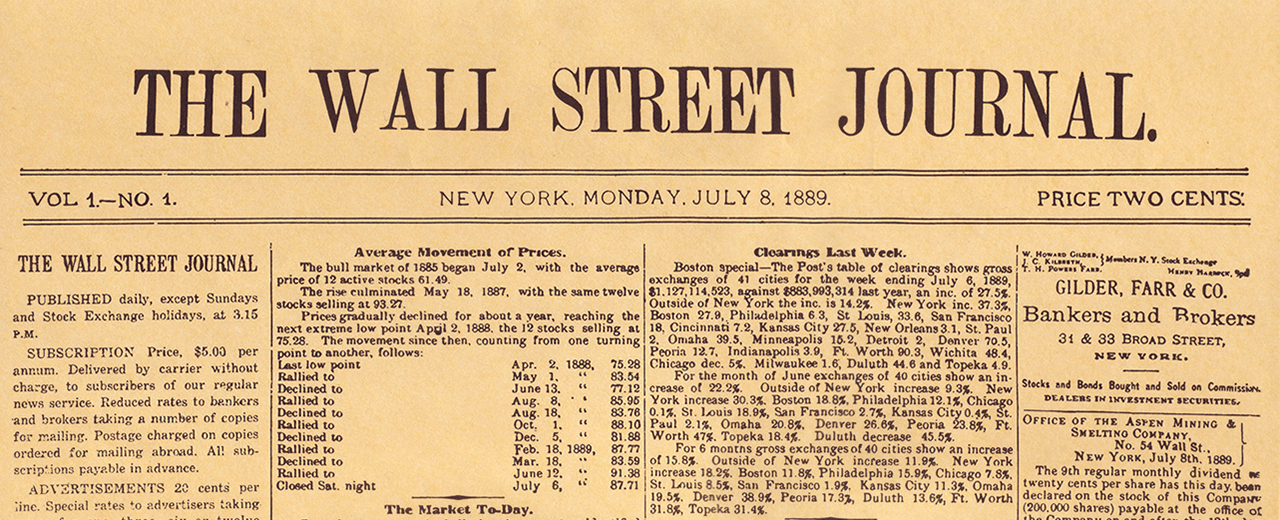 Eleven Pratt students are taking part in an initiative to create work that celebrates the rich history and future innovations of The Wall Street Journal (WSJ), which will commemorate its 125th anniversary on July 8, 2014.
The resulting works, which stem from a partnership between Pratt and WSJ parent company Dow Jones, will be on display in an exhibition, Pratt Celebrates 125 Years of The Wall Street Journal, at Pratt Manhattan Gallery (144 West 14 Street, 2nd floor) from July 8 (opens at 4 PM) to August 21.
The exhibition, which is free and open to the public, will also feature rarely before seen items from the Journal's archives. Later in July, one or more students will have their work selected for permanent installation in one of the Dow Jones global offices.
Eric O'Toole, adjunct assistant professor of Graduate Communications Design, is overseeing the student challenge and is leading the design of the exhibition. "Pratt students have unique skill sets that enable them to tell stories visually. It is exciting to see them use these talents to create a narrative exploring the long history of The Wall Street Journal," said O'Toole. "We're thrilled and honored that Dow Jones asked Pratt students to help tell the Journal's story," he added.
The students, whose diverse backgrounds, disciplines, and interests embody the worldwide influence of the Journal, will create work in their chosen medium, taking inspiration from one or more of eight themes provided by Dow Jones. The themes range from technology's impact on media consumption to the evolution of the Journal from 1889's four-page newsletter to the global news-gathering powerhouse it is today.
Students were given special access to the Journal's staffers and archives to learn about the brand pedigree, timeline, culture, and high journalistic standards.
"We have enjoyed working with these young artists and are eager to see their creative representations of the Journal's extraordinary achievements and impact over the course of its first 125 years as well as its future," said Paula Keve, Chief Communications Officer, Dow Jones.