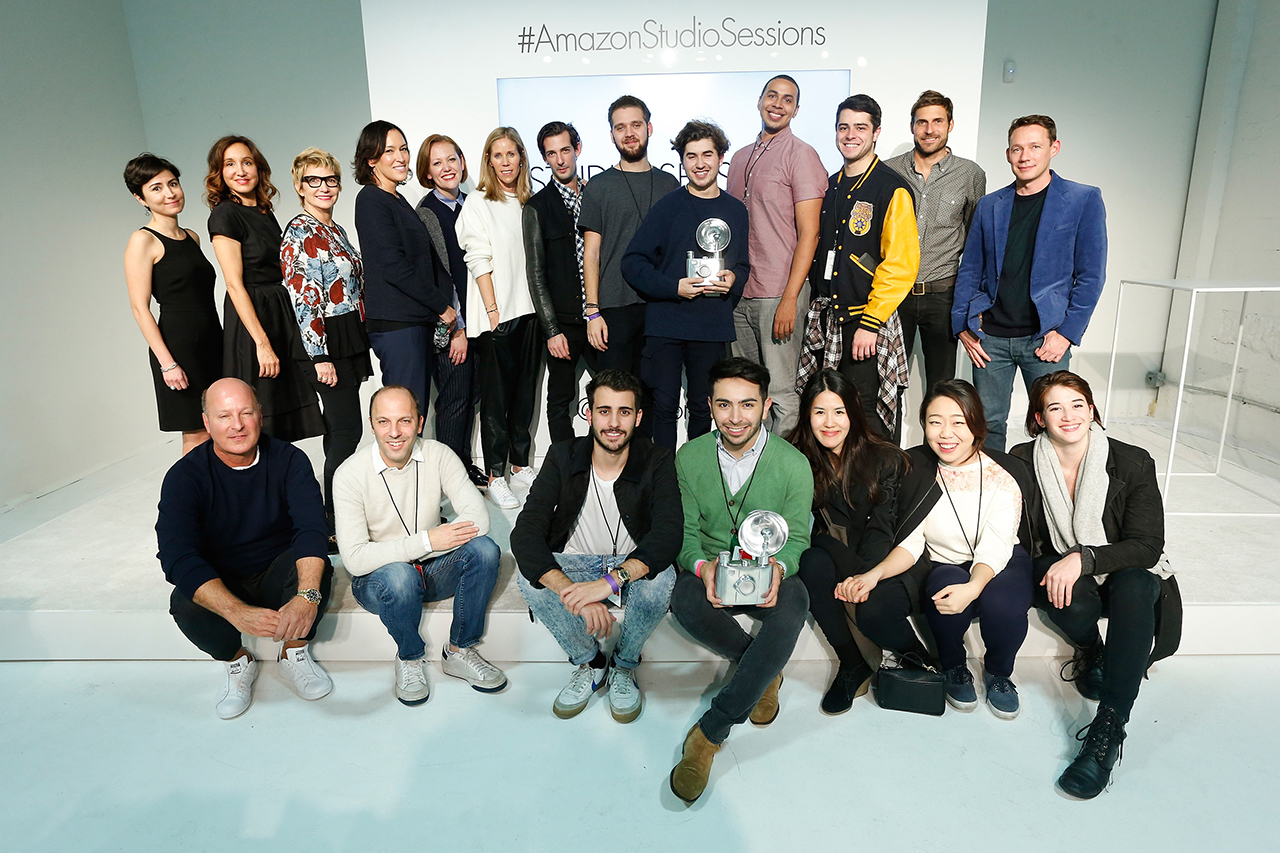 Pratt students received top honors in the menswear category in Amazon Fashion's second annual Amazon Studio Sessions competition, which was held at Amazon's state-of-the-art photography studio in Williamsburg, Brooklyn on October 25. Their winning work will be featured on Amazon.com, reaching the site's 35 million customers as part of Amazon Fashion's Fall 2014 on-site editorial.
Menswear and womenswear teams comprising five undergraduate students from Communications Design, Fashion Design, Interior Design, and Photography were challenged to conceptualize, style, and shoot a captivating editorial campaign, applying their skills in graphic design, styling, editing, fashion photography, and art direction. Coordinated by Shannon Bell Price, acting assistant dean, and Emily Mader, acting assistant chair of Fashion, Pratt Institute School of Design, the Pratt student teams were mentored by Kate Dimmock, fashion director at People StyleWatch, who provided feedback to the teams throughout the daylong competition.
The Pratt teams, along with groups from Fashion Institute of Technology, LIM College, Parsons The New School for Design, and the School of Visual Arts, were given access to state-of-the-art photography equipment, models, wardrobe, hair and makeup services, and props as they worked to create a visual campaign that was compelling and on-brand. Teams then presented their campaigns to a panel of Amazon Fashion executives, who selected the winning womenswear and menswear images based on wardrobe styling, composition, photography, art direction, set design, and fashion editing, as well as their ability to project freshness and creativity consistent with Amazon Fashion branding.
Pratt's menswear team, which included students Nicholas Andreadis (B.F.A. Fashion Design '16), Mehmet Emir Dogan (B.F.A. Interior Design '15), Amit Greenberg (B.F.A. Communications Design '17), Stephen Medeiros (B.F.A. Photography '16), and Derrick Miller-Handley (B.F.A. Communications Design '15), placed first in the menswear category with their "Wear Your Own Adventure" campaign, receiving a $25,000 prize along with the feature on Amazon.com. In addition, Pratt Institute will receive $15,000. Pratt's womenswear team, with students Etoro Umoren (B.F.A. Communications Design '15), Maria Angelica Arenas (B.F.A. Communicaitons Design '16), Francesca Longo (B.F.A. Fashion Design '16), Miria Maciagiewicz (B.F.A. Photography '16), and Haley Haugland (B.F.A. Interior Design '15), created a "Power Dress for Fall" campaign that showcased the versatility of statement pieces.
Image: Amazon Fashion Studio Sessions 2014 judges, mentors, and winning teams, including Pratt undergraduate students (L-R, back row, starting seventh from left): Amit Greenberg, Mehmet Emir Dogan, Nicholas Andreadis, Derrick Miller-Handley, Stephen Medeiros (photo: Brian Ach/Getty Images for Amazon Fashion)