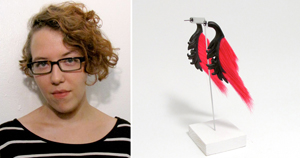 Sara Cochran, a fine arts student at Pratt Institute with a focus in jewelry, recently received the inaugural Tiffany & Co. Foundation Scholarship at Pratt Institute, a generous $25,000 award to provide significant encouragement and financial assistance to the most promising students in Pratt's jewelry design program. The scholarship will provide Cochran with the opportunity to further her design education at Pratt.

Cochran and her 10 classmates went through a challenging screening process that included writing an essay that addressed their design aesthetic and philosophy and how ethical and sustainable metals practices inform their work. They also presented their work to an impressive roster of jurors including Provost Peter Barna; Erin Daily, co-founder, Brooklyn Metalworks; Stephen Dweck, jewelry designer; and Bryna Pomp, a jewelry specialist who co-curates The Loot Show at the Museum of Arts and Design.

The jurors reviewed the students' junior-year projects according to rigorous criteria. They thoughtfully considered creativity, craftsmanship, technical skills, a broad range of techniques, as well as the student's presentation. Student financial need was also a key factor.

Cochran's body of work included a silicone collar, faceted acrylic rings, and a gray necklace of paper fibers that were made in the Jewelry Beyond Metals course; a bracelet and trilogy of rings cast in silver with pointed arcs and curves that were made in the Casting for Metalsmiths course; a flatware set and bowl from the Hollowware course; and earrings of cast silver and pink synthetic hair that provide a modern take on Victorian hair jewelry, a brooch of egg shell mosaic and kum boo gold, and a mask that references a Native American story of a raven stealing the sun, all created in Jewelry III and IV, the studio courses for program majors.

Cochran's teachers were not at all surprised when an excited Patricia Madeja, coordinator of the jewelry program, announced that Sara was to be the recipient of the Tiffany & Co. Foundation Scholarship. "Sara has her eyes wide open, nimble fingers, and a great sense of design. She lets in all types of information and uses it all to accumulate knowledge," said Mary Beth Rozkewicz, one of Cochran's professors. "And she uses that knowledge in creative and humanitarian ways."

Cochran was thrilled to be named the winner of the Tiffany & Co. Foundation Scholarship at Pratt. "It's hard to know where my career will go right after graduation," said Cochran. "But I feel encouraged by this award, and it makes me that much more determined and hopeful that I can go out into the world and accomplish everything I want to."

Pratt Institute is uniquely positioned as the only college in New York City to offer a comprehensive concentration in jewelry and metalsmithing, leading to a bachelor's of fine arts degree.Housed within the School of Art & Design's Department of Fine Arts, the program embraces all aspects of design, creativity, fabrication, and social responsibility in jewelry and metalsmithing.Its highly qualified and award-winning professors bring a diversity of knowledge and experience to students. The cross-disciplinary approach to learning fully prepares students for higher education, industry positions, and entrepreneurial pursuits.
Cochran's work can be seen in detail on saracochran.com.
Images from left: Sara Cochran and her earring design of cast silver and pink synthetic hair. Images courtesy of Sara Cochran.
MEDIA CONTACT:
Amy Aronoff at 718-636-3554 or aarono29@pratt.edu