Pratt junior Ruby Gertz, a fashion design student, was honored by the YMA Fashion Scholarship Fund with one of four $25,000 YMA Fashion Scholarship Fund (FSF) Geoffrey Beene National Scholarship Awards at the 2011 FSF Geoffrey Beene Fashion Scholarship Awards Dinner on January 11 in Manhattan. This was the second consecutive year that a Pratt student was recognized with one of the four top scholarship prizes. Pratt sophomore Paola Ricardo and junior Danielle Ryan were also awarded $5,000 general scholarships for their design work. In all, 100 students composed the FSF Class of 2011 and were honored in front of hundreds of leading fashion and beauty executives.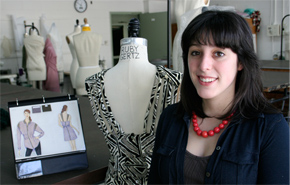 The FSF Geoffrey Beene National Scholarship Award is given to four students who won a $5,000 scholarship the previous year. Scholarship finalists were required to go through a rigorous application process that included the creation of a retail store "for the future" that would fill a void in the current market. They also submitted an essay and a presentation outlining their proposal.
Gertz's "store for the future," called "(R)evolve," integrated the three R's of recycling — reduce, reuse, and recycle — to appeal to mass-market consumers. The main concept behind the store was that new clothing from each season could be sent back to the store to be re-cut and re-sewn into new designs for the next season for a fraction of the original cost. The flagship store would allow shoppers to watch their clothing being re-made into the next year's designs. Each garment in the store would have a hangtag with a 2-D barcode where shoppers could download a video that explains what the piece is made of and what it will be made into the following season.
The FSF Board of Directors reviewed finalists' work to determine the four winners whose names were announced at the January 11 awards ceremony. Gertz plans to put the prize money towards her tuition. She also hopes to work in New York's garment industry upon her graduation in 2012 and to potentially start her own business and launch her "store of the future." Gertz is a native of Melrose, Mass.
"We are thrilled that Ruby represented Pratt and that she was one of the four recognized this year," said Rebeccah Pailes-Friedman, acting chair of Pratt's Department of Fashion Design. "Her work reflects the professionalism of the program and Pratt's commitment to innovative and sustainable design."
The $5,000 scholarship was open to any sophomore or junior from the 33 participating business and design schools listed on the FSF website. To be considered for the scholarship, students were challenged to create a new line for a pre-existing brand that included designs that would fill a void in the store's offerings and in the fashion market. Students were asked to illustrate their idea with the creation of a clothing line and the swatches, hangtags, and a logo to represent the line. They then presented their designs and submitted a research paper on their proposals. Ricardo is a native of Santo Domingo, Dominican Republic and Ryan is a native of York, Pa.