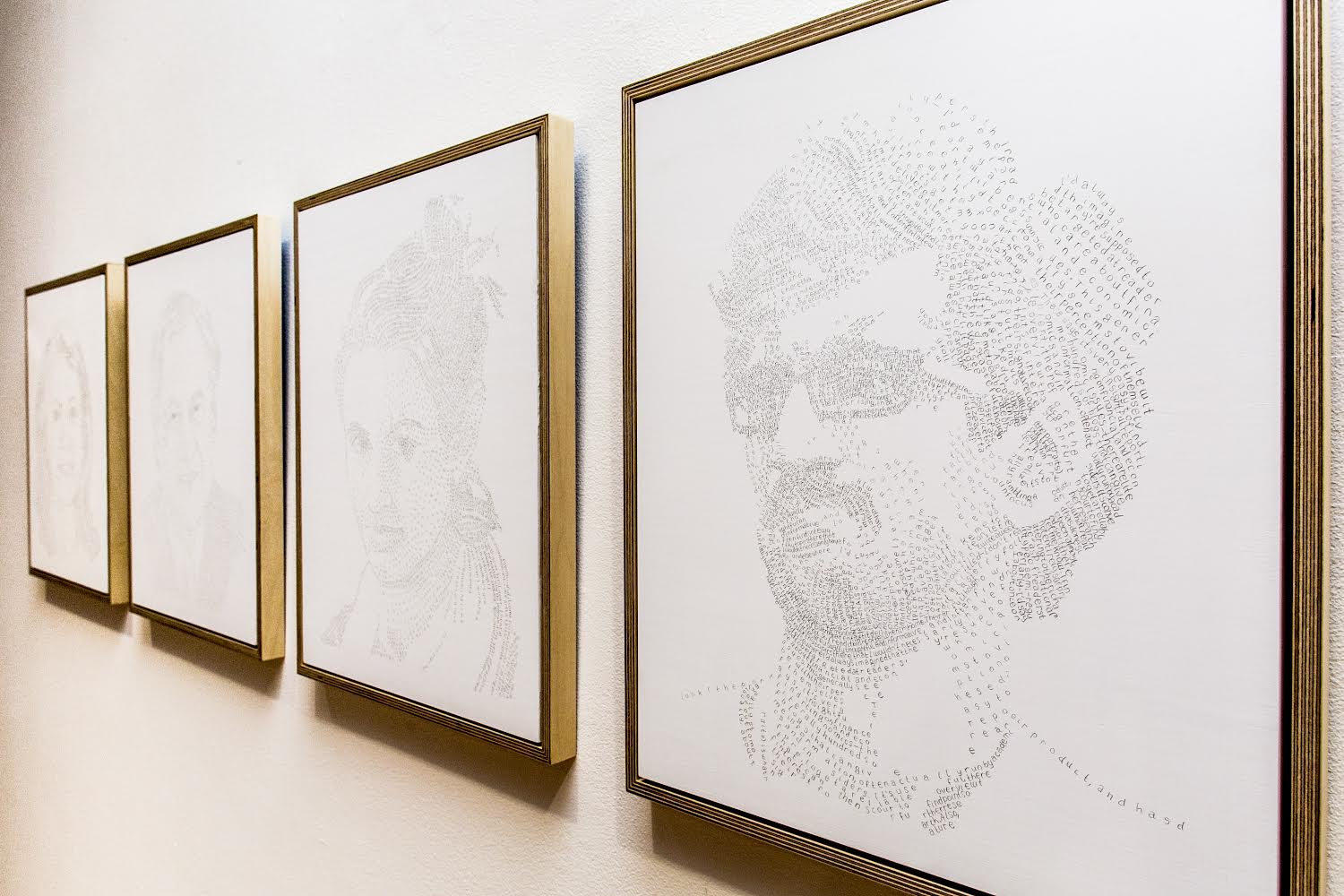 A portrait series by Michael Levin (M.F.A. '15) has been selected to go on permanent display in Dow Jones' corporate office in New York as a result of an initiative to create work that celebrates the rich history and future innovations of The Wall Street Journal (WSJ), which commemorated its 125th anniversary this July.
Eleven Pratt students from a range of art and design disciplines were chosen to participate in the initiative, which stems from a partnership between Pratt and WSJ parent company Dow Jones. The resulting art and design works were displayed in Pratt Celebrates 125 Years of The Wall Street Journal, a summer exhibition that was held at Pratt Manhattan Gallery.
Representatives from Pratt, WSJ, and Dow Jones, including Journal Executive Editor Almar Latour, gathered at the gallery in August to vote on their favorite artist/designer. Jurors considered concept, interpretation of provided themes, execution, and presentation in making their decision. Saana Hellsten (M.F.A. Communications Design '15) and Saul Schister (B.F.A. '14) were given special recognition as runners-up.
For his portrait series, Levin was inspired by four of his family members who are regular Wall Street Journal readers. He created intricate drawings in the style of WSJ's signature hedcut design after asking each sitter to write down their thoughts on WSJ's history. The hedcuts were constructed using their words in place of the traditional lines and dots. His work will be installed in Dow Jones' corporate office at the end of the Journal's anniversary celebrations.
Hellsten created a three-dimensional wooden portrait in hedcut style of one of the Journal's longest employed individuals, giving appreciation to those working behind-the-scenes at the WSJ. Schisler's work, a modern-day reworking of the fifteenth-century Gutenburg printing press, became a performance piece in the gallery as he printed a limited edition (125) of birthday cards in honor of the Journal's 125th anniversary.
Image: Portrait series by Michael Levin (M.F.A. '15), selected for display in Dow Jones' corporate office in New York (Photo by M. Alexander Weber)