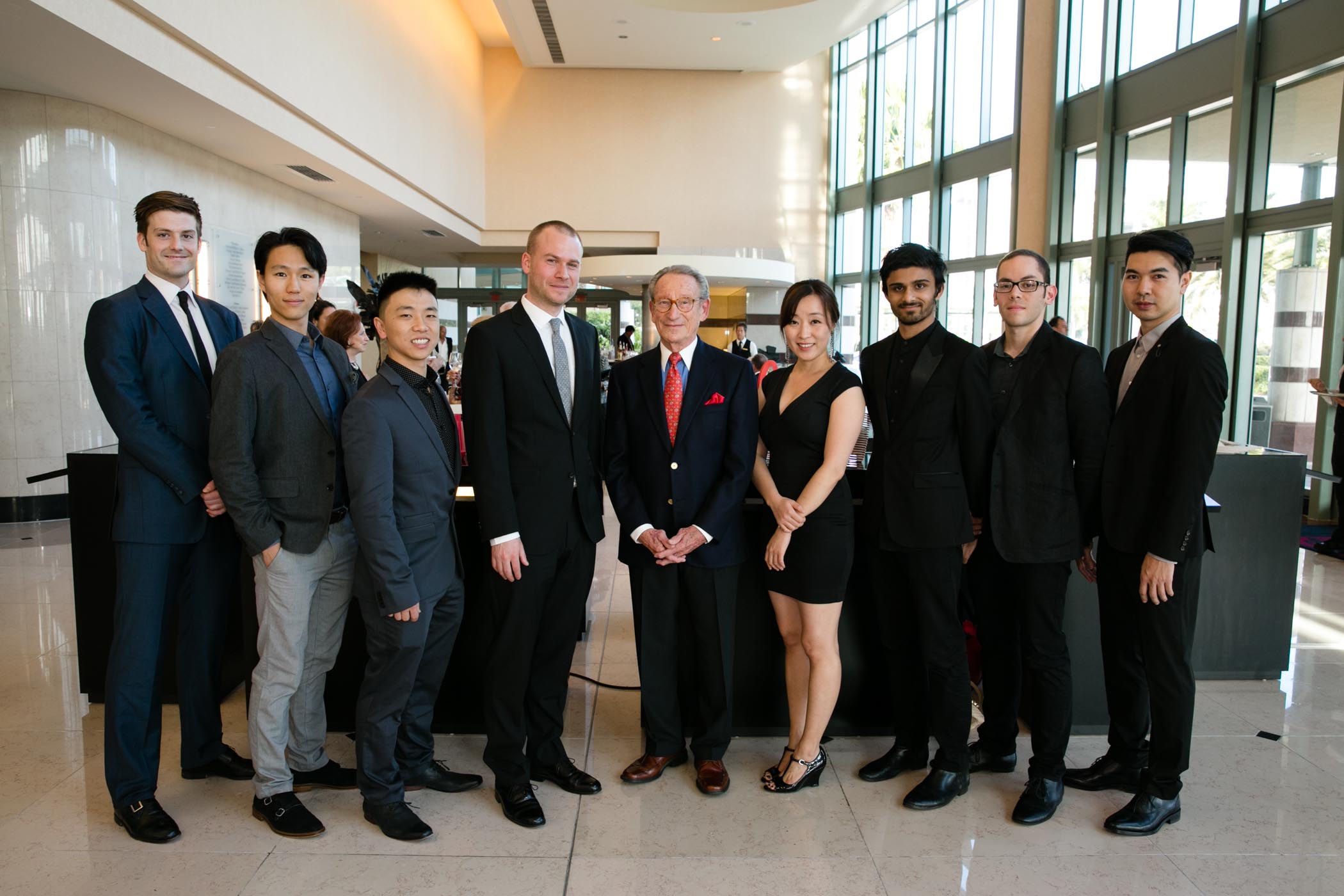 Robin Oglesbee-Venghaus (B.I.D. '15) has been named the winner of the Pratt Institute and Raymond F. Kravis Center for the Performing Arts Sculpture Competition. Presentations by eight student finalists were made to a distinguished panel of judges on the morning of April 7, and the winners were announced at a dinner event that evening at the Kravis Center in West Palm Beach, Florida.
Pratt and the Raymond F. Kravis Center for the Performing Arts partnered for a competition beginning in fall 2014 in which eight select Pratt students were invited to design a site-specific donor recognition sculpture for the Center's West Palm Beach campus. The partnership and creative vision behind the Pratt and Kravis Sculpture Competition were conceived by Pratt Institute Trustee/Alumnus and Kravis Center Founder Member Bruce M. Newman.
Oglesbee-Venghaus' project, The Embrace, was chosen for his design that depicts the way individual trees compose a forest, a metaphor for individual donors coming together to support the performing arts through the Center's Helen K. Persson Society.
"While to some it may simply serve as a beautiful place to sit, this sculpture has a deeper meaning," Oglesbee-Venghaus said. "It represents the community of individual donors who are embracing, and—through their generous donations—uplifting the arts. Each donor's name is carved in timeless white Corian, honoring their support and inspiring the next generation of Helen K. Persson Society members."
The competition entries were judged by a panel of design, arts, and elected leaders in the Greater Palm Beach community. Guided by Associate Industrial Design Professor Robert Langhorn, Oglesbee-Venghaus and the other Pratt students were challenged to find unique ways to honor donors to the Center's Helen K. Persson Society. The competitors also were instructed to incorporate lighting and seating elements into their designs.
"I was impressed with the quality and sophistication of the designs, and am proud of all of our finalists for their excellent work and dedication to this project," said Newman.
Second prize winner Pachara Kangchirdsri (M.I.D. '15) created Jeté, a sculpture whose title and structure reference the ballet term meaning "to leap." His design integrated data capturing the physical movement involved in ballet performances. Third place went to Jesse Loosbrock (M.I.D. '16), who created Halo, inspired by the work of artists Isamu Noguchi and James Turrell. Loosbrock's design was created to work harmoniously within its environment. Through the use of LED displays, Loosbrock integrated subtle interactive elements to create a more immersive space.
Receiving honorable mention were Jonathan Cortes (B.Arch. '16), Sukyung Lee (M.I.D. '15), Keshav Ramaswami (B.Arch. '16), Yangyang Wang (M.I.D. '15), and Kevin Yoo (B.I.D. '15). The winners will receive cash awards for their designs.
"At the Kravis Center, we recognize the importance of mentoring and cultivating the next generation of artists from all disciplines, whether sculpture, architecture, or the visual and performing arts," said Kravis Center CEO Judith A. Mitchell. "Partnering with Pratt Institute for the sculpture competition underscores our commitment to supporting the world of art beyond live performance, and showcases our mission to provide arts education to our community."
To read an article about the competition in the Palm Beach Daily News, click here.
Image (L-R): Jesse Loosbrock (M.I.D. '16), Kevin Yoo (B.I.D. '15), Yangyang Wang (M.I.D. '15), Robin Oglesbee-Venghaus (B.I.D. '15), Pratt Institute Pratt Institute Trustee/Alumnus Bruce M. Newman, Sukyung Lee (M.I.D. '15), Keshav Ramaswami (B.Arch. '16), Jonathan Cortes (B.Arch. '16), and Pachara Kangchirdsri (M.I.D. '15) (photo: CAPEHART)