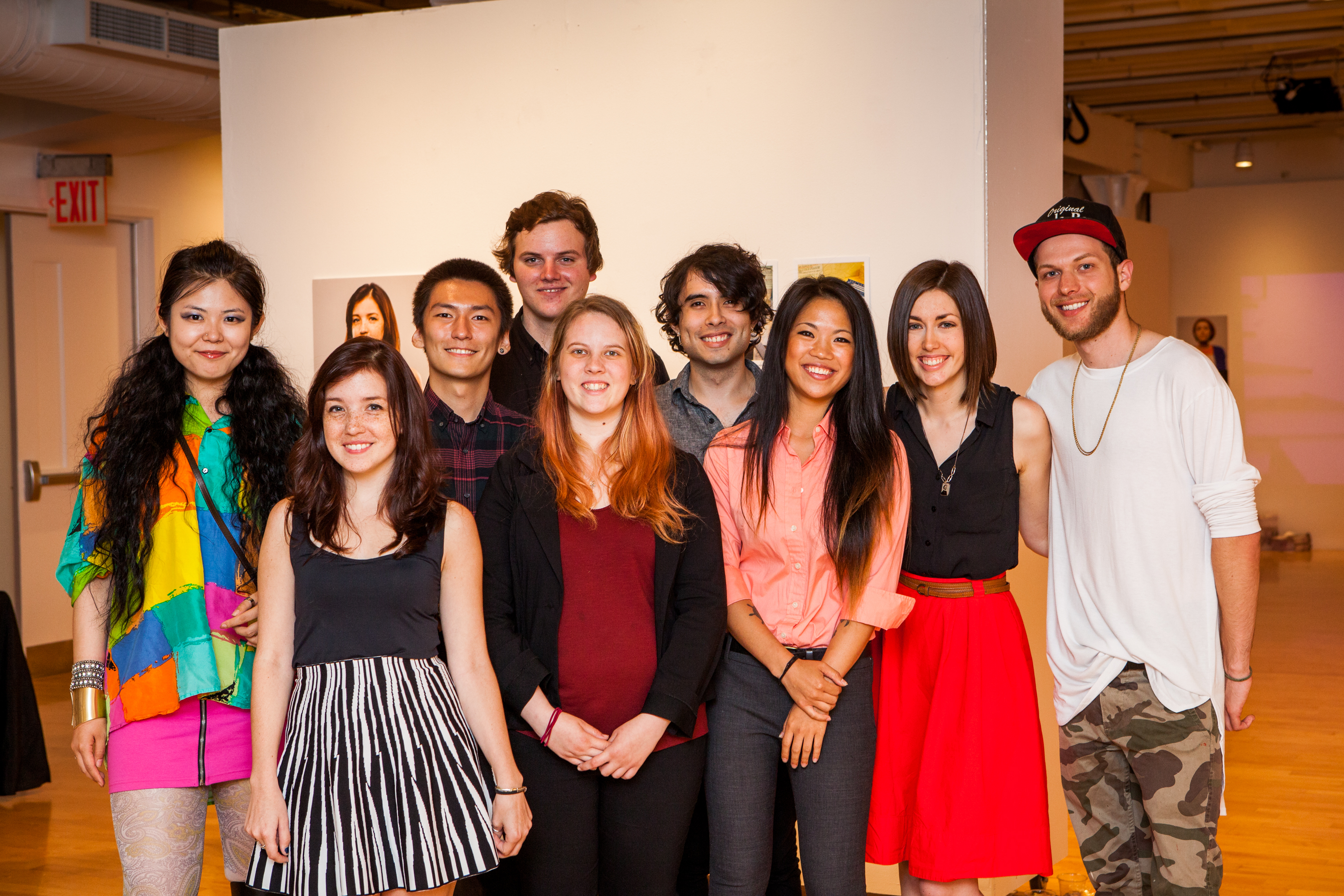 As part of an ongoing collaboration between Pratt Institute and Hennessy V.S, the world's top cognac brand, nine Pratt students from a variety of disciplines were challenged to create works of art influenced by Hennessy's mantra, "Never stop. Never settle." Pratt Visiting Assistant Professor Goil Amornvivat led the students through to the completion of their projects, and the student works were judged by a panel of industry experts during the last week of June. Eduardo Palma (M.F.A. Communications Design '15) of Bogotá, Colombia, was the first-place finisher for a bilingual mural he created that represented the dichotomy of rich and poor societies. Eden Daniell (B.F.A. Fine Art Jewelry '14) of Norwalk, Connecticut, finished in second while Lillian Ling (M.F.A. Communications Design '15) of Columbia, Maryland, took third place.
The three artists will have their work displayed during a private two-day salon series in Los Angeles at Ralph Pucci International, where the Limited Edition Hennessy bottle designed by artist Shepard Fairey will be revealed and a roundtable panel featuring industry leaders will discuss the future of art and the role of collaboration between artists, brands, and institutions on July 10 and 11 respectively. Questions for the panelists, who include Fairey, Pratt alumnus Derrick Adams, and artist Futura, can be submitted via social media to @PrattInstitute using the hashtag #PrattxHennessy.
"The student work is outstanding and shows an incredible depth of creativity," said Ludovic Leroy, director of corporate relations at Pratt. "Partnering with a global brand like Hennessy enriches the educational experience for Pratt students by providing them an opportunity to demonstrate their expertise in a real-world environment."
Students expressed their "Wild Rabbit"—the Hennessy brand icon that symbolizes a constant pursuit of one's potential—in a variety of ways. Palma's "Wild Rabbit" is creating work that impacts culture through language. His project consists of 120 postcards that combine to form a large mural with the message Es Mejor Ser Rich Que Poor (translation: "It's Better to be Rich than Poor"). He invites viewers to remove the postcards, revealing a second mural underneath which featured the words Plata or Plomo (translation: "Money or Lead") and a portrait of Colombian drug dealer Pablo Escobar with American business magnate Donald Trump.
Daniell's passion is challenging viewers to discover the unexpected. She created a silver ring with curved panels that represents wings and opens to reveal a tiny drawing of woodlands.
Ling relishes instigating cultural critique through design. She etched Japanese symbols into three tablets—one made of marble, one of wood and one of aluminum to represent the common children's game "Rock-paper-scissors."
"Our partnership with Pratt Institute continues to produce a level of work that exceeds our expectations and highlights the depth of talent and diversity at the school," said Rodney Williams, Senior Vice President, Marketing, with Hennessy. "Hennessy is proud to be able to showcase the abilities of such talented students and provide a global platform where they can express their ideas and creativity."
The students representing six disciplines—Communications Design, Digital Arts, Fine Art Jewelry, Illustration, Interior Design, and Photography—were handpicked by department chairs and administrators to participate in the challenge based on their portfolios and depth of work. Pratt officials sought students from a range of backgrounds and specialties who had compelling work that illustrated the potential for future artistic exploration and development. A distinguished panel of judges evaluated the pieces based on presentation, concept, alignment with Hennessy's mantra, and execution. The panel included last year's winner Andre De Castro, artist Futura, Hennessy Senior Vice President, Marketing, Rodney Williams, NYC & Company Chief Creative Officer William Wong, journalist Jeffrey Podolsky, Ralph Pucci International Creative Director Ken Smart, and Cloud Red partner and designer Allen Yee.
Image: Participating students, L-R: Jiajia Jin, M.F.A. Digital Imaging '15; Eden Daniell, B.F.A. Jewelry '14; Shuoyuan Bai, B.F.A. Jewelry '14; Robert Wilson, M.F.A. Communications Design '14; Sharon Holck, B.F.A. Photography '15; Eduardo Palma, M.F.A. Communications Design '15; Lillian Ling, M.F.A. Communications Design '15; Kristen Myers, M.F.A. Communications Design '14; Jared Weitzman, B.F.A. Digital Arts '15 (Credit: Peter Tannenbaum)