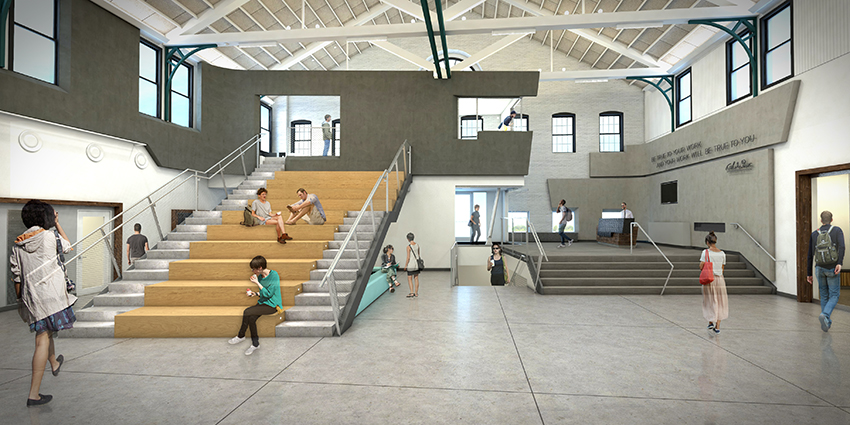 Pratt students will soon have a newly redesigned space at the Institute for building community and holding events. The Student Union on the Brooklyn campus is undergoing renovations to enhance the facility and improve the environment for student club meetings and community gatherings, as well as provide needed office space. Pratt alumnus Juan C. Matiz (B.Arch. '94), founder of Matiz Architecture & Design, is serving as the principal architect on the project. Construction began in early March and is scheduled for completion in August 2016.
To ensure the new Student Union adequately meets the diverse needs of the Pratt student body, the Student Government Association (SGA) held a design charrette in 2013, where 29 students from advertising, architecture, digital arts, graphic design, illustration, interior design, and urban environmental systems management developed ideas for the future renovation. The architect reviewed the ideas generated by the charrette and various elements will be incorporated in the final design.
"The newly renovated Student Union will be a beautiful, welcoming environment where students can gather and share ideas, and where a sense of community can thrive," said Helen Matusow-Ayres, Pratt's vice president for student affairs. "Incorporating their ideas into the final design gave students the opportunity to help make a space that is their own at the center of the Brooklyn campus," she added.
The current Student Union building is located in a one-and-a-half story brick building designed by architect William Tubby. One of Pratt Institute's three original structures, it was constructed to be a gymnasium, but began serving as a student union in 1982. The new facility will cater to the current and future needs of students, as well as provide an event space and gallery for their use.