Mentorship can offer guidance, connections, and encouragement for students to go forward with their ambitions and visions for the future. Across Pratt Institute, students are taking leadership roles in creating and developing mentoring programs that support their needs, whether it's networking with professionals in their fields or fellow students who can share their insights on having a successful academic experience. Their hands-on involvement means these programs reflect their input and schedules, where online conversations can be complemented by in-person gatherings and the format is shaped by their interests.
For Students, By Students
Some of the newest mentoring programs were developed during a time of remote learning when there was an added need to find new ways to connect. In the Industrial Design department, do_connect was launched in spring 2021 and is managed by students in collaboration with the Pratt Industrial Designers Society of America (IDSA) Student Chapter. It connects undergraduate and graduate students with a platform for dialogue and relationship building across class years, expertise, and interests. Using virtual tools such as Zoom, Milanote, and Discord, do_connect allows mentors and mentees to communicate informally, much like a conversation would serendipitously happen in a studio.
"do_connect is a forum 'for students, by students' to develop a collaborative working environment across time zones and digital boundaries," said Varnika Kundu, MID '22, who led a team of industrial design students in creating do_connect. The program initially filled a gap in communication during virtual learning, responding to the kind of mentorship students said they needed.

Karen J. Stone, MID '94 and adjunct associate professor-CCE of industrial design, is the director of design at Knoll, Inc. where she regularly works with Pratt interns. For do_connect, she provides guidance as the Pratt IDSA Student Chapter faculty advisor. "While teaching virtually, I felt it was important for students to connect with each other, with those in other parts of the world as well as graduate with undergraduate students and vice versa," Stone said, adding that being able to exchange ideas in this fluid way is an essential part of learning and vital to the design process.
Following the launch of do_connect in a virtual space, they're planning on enriching it with in-person events while continuing to facilitate online conversations. "I feel it is essential for students to have the experience of sharing with others," Stone said. "It is a terrific lesson for any age." The do_connect leaders are also looking at how to extend the program beyond Pratt, such as in outreach to high school students.
Connection in a Time of Disconnection
Mentor+ in the Graduate Communications Design Department also began as a way to connect students who were feeling disconnected, specifically those who were graduating in an uncertain time. "I wanted to provide something supplemental or transitional between graduation and professional practice where we could help alleviate any post-graduation anxiety about opportunities during a pandemic," said David Burke, assistant chair of Graduate Communications Design and visiting associate professor.
He'd observed that one of the biggest challenges for graduating students was identifying an area where they could excel and then gaining access to it. "Finding someone in the desired field or a particular role, who has gone through a similar experience, and can listen, reflect, guide, and provide constructive feedback, is invaluable," Burke said.
This summer's inaugural Mentor+ paired 30 graduating students with 30 recent alumni around the world. The program focused on "reverse mentoring," where there was a mutual exchange and dialogue. Alumni who graduated in the past three to five years shared their experiences with interviewing, networking, and starting their careers with the graduating students who were entering the professional sphere at a similar time. The prompts and activities that Mentor+ provided ranged from mini portfolio reviews to illustrating symbols with personal meanings so the pairs could get to know each other.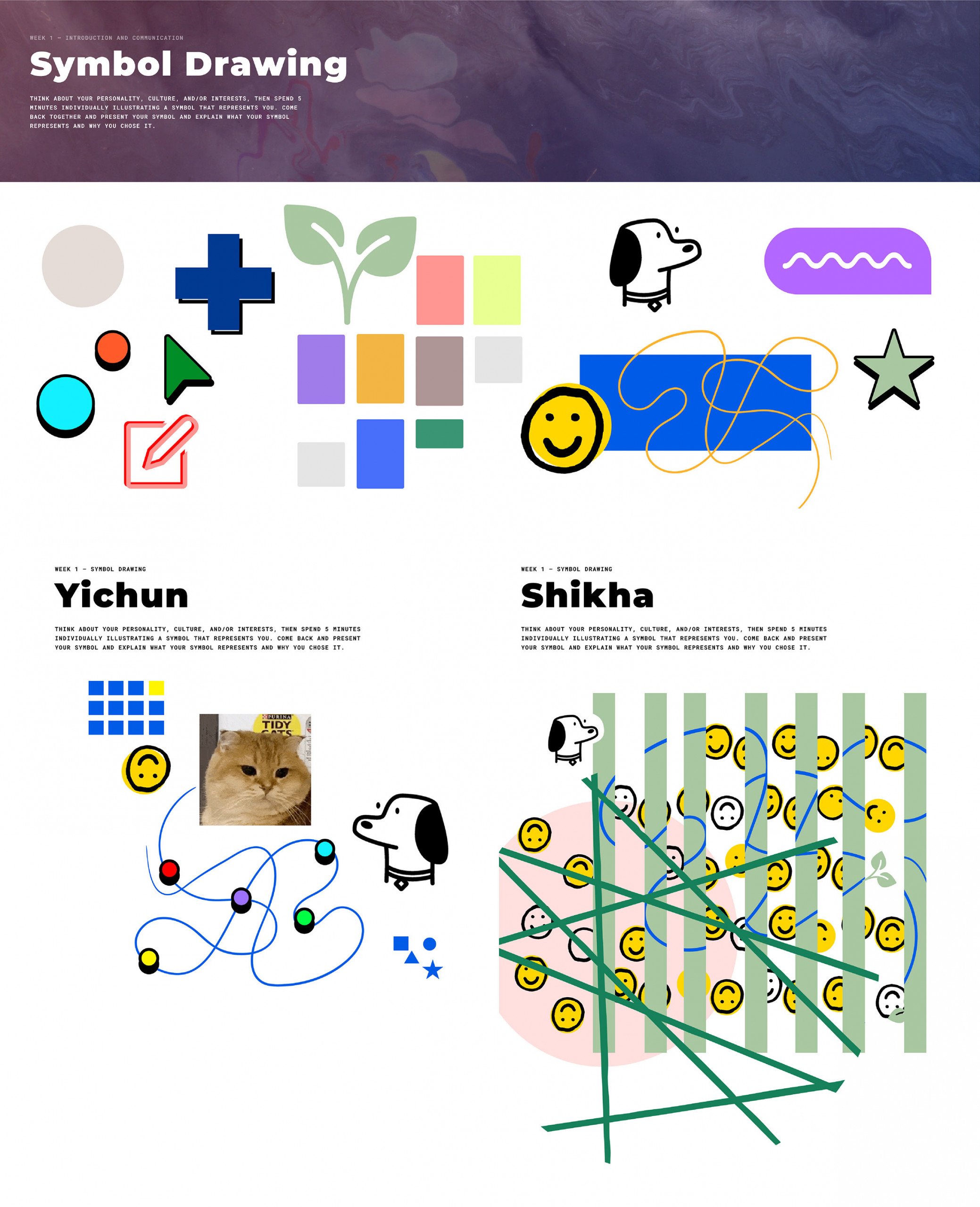 "We structured it so that the students could really take the reins on the meetings, getting what they specifically wanted from their mentor relationship," said Hali Pollard, MFA Communications Design '22, who spearheaded the development of Mentor+. "I'm a communications design graduate student, so I was considering the things that I, myself, desire from a mentor relationship, and the questions and concerns that I have for entering the workforce after graduation."
Cultivating a Culture of Care
Now the Mentor+ leaders are looking to expand the program to first-year students. In Film/Video, the Peer Mentorship Program is likewise forging relationships that bridge courses and class years.
"The film industry is built on personal connections and mentorship so this is great preparation for life after Pratt," said Kara Hearn, chair of Film/Video. "We heard from students that they wanted more opportunities to meet across grade levels and more chances to build on set work experience. Juniors and seniors often need a crew for their work and first years and sophomores benefit from the experience and from having a student they can reach out to with questions. The hope is that it leaves everyone feeling more supported and engaged in our community and that it might connect folks who would otherwise never meet."
The Peer Mentorship Program was created two years ago as part of Film/Video's greater efforts to instill a culture of care in the department. Ashley Alvarez, MPS Arts and Cultural Management '20; MS Urban Placemaking and Management '22, is the assistant to the Film/Video chair and has been coordinating the program.
"What interested me in the program was based on my experience in my undergraduate studies," Alvarez said. "I was part of a department and extracurriculars that were about forming relationships and making students feel supported in and out of the classroom. This made my entire experience. I thought that the Peer Mentorship Program could offer that for the busy Film/Video students so they are able to form connections and build a supportive community."
As filmmaking is a highly collaborative field, cultivating those relationships early on in a welcoming rather than competitive environment was at the program's core. Madelyn Cardarelli, BFA Film '22, has helped organize the program and got students involved by asking them what they wanted out of mentorship.
"It allowed students to meet people who were more experienced and had been at Pratt longer so that they could get their questions answered by their peers," Cardarelli said, noting that the program offered new pathways for students to work with each other on their films. "I was especially proud when my junior thesis set involved students from all four years. Not only was I able to do that and have an incredible vibe on set, but creating this space allowed for more students to meet and work together outside of my own project."
Community Across Class Years
The Buddies Program in the School of Architecture was similarly launched to pair incoming undergraduate students with students in upper years. Initiated in fall 2020 by Ane Gonzalez Lara, assistant professor of undergraduate architecture, it is being led by the Pratt chapter of the American Institute of Architecture Students (AIAS).
"If it wasn't for all the advice and support of mentors, I don't think I would be where I am professionally," Gonzalez Lara said. "Starting the Buddies Program had different goals: to establish student connections across years, foster a greater sense of belonging in the student body, and empower students to see themselves as mentors to others. The program pairs every incoming student to a mentor in upper levels and it has only been running for a year, but I can't wait to see the great network of mentors and mentees that will grow after its next iterations."
Celic Ruiz, BArch '23, who participated in the Buddies Program, appreciated how having a group chat for casual conversations and listening to each other's experiences enabled conversations that may not have happened otherwise. "It's important to have student-led mentorship programs for architecture students because regardless of the type of experience a first-year student is coming into the architecture program with, it is difficult for everyone," Ruiz said. "Having a mentor who has been through the same situation is comforting to know."
Alongside these initiatives, the Center for Career and Professional Development (CCPD) is researching the needs of mentoring programs at Pratt to supply resources and share information across departments. Recent CCPD initiatives have also bolstered networking opportunities for students, such as a weekly Career Friday which is continuing this fall where members of the Pratt community and other professionals share their expertise, and the Talk Now series where graduating seniors got to hear what was happening in their industries from employers. As these and other programs at Pratt develop and evolve, they give students the space to ask for the support they need and connect with their peers so they can succeed together both in their studies and in their careers.