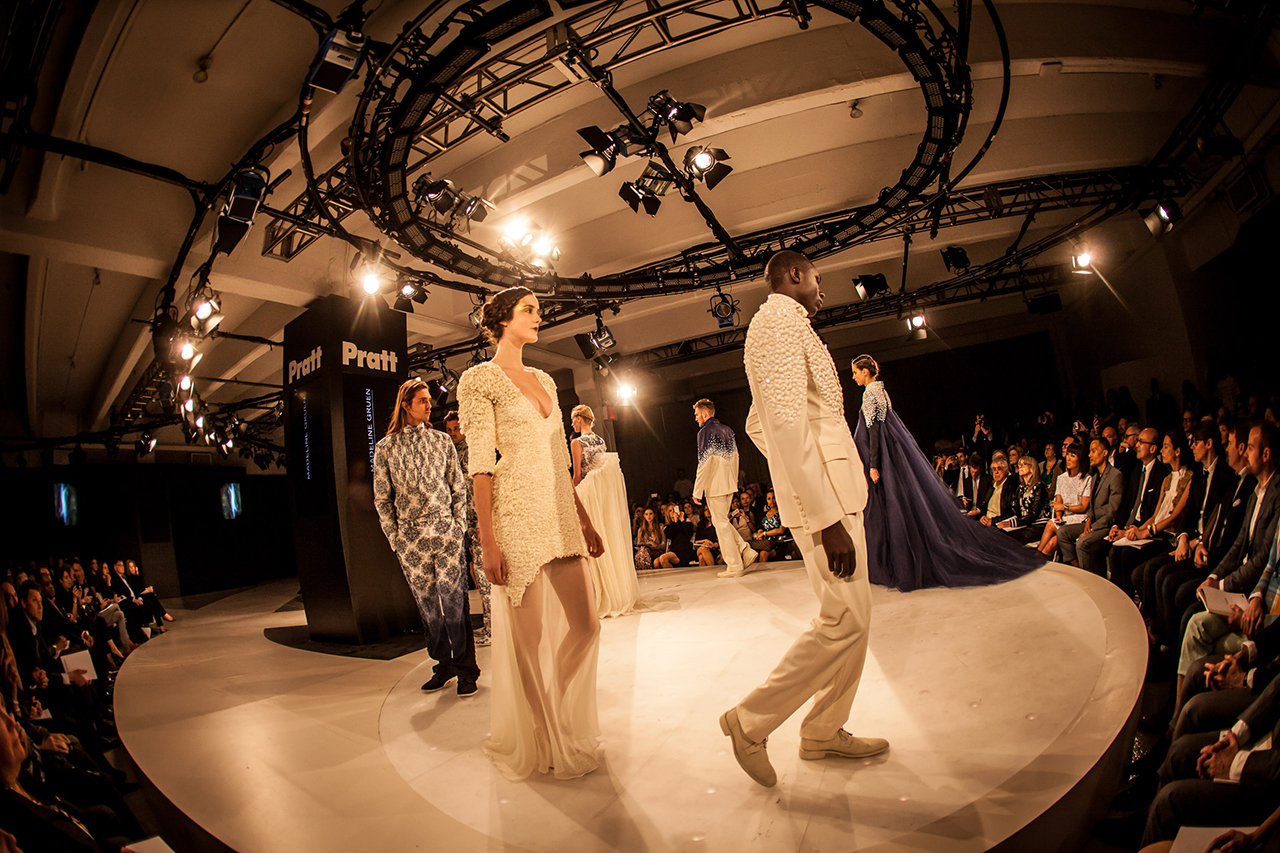 On May 1, the 2014 Pratt Institute Fashion Show + Cocktail Benefit will spotlight inventive student fashion designs in its 115th annual ticketed runway show attended by fashion industry leaders, critics, and luminaries. This year's event will honor fashion designers Stephen Burrows and Byron Lars, and will be followed by a cocktail benefit with the honorees. Burrows will receive the Pratt Institute Fashion Lifetime Achievement Award and Lars will receive the Pratt Institute Fashion Visionary Award at this year's show titled "Under Construction."
Pratt Institute is recognizing Burrows and Lars for their outstanding work in design, with Burrows as a preeminent black designer of the 1970s and 1980s and Lars leading a growing and influential group of contemporary black designers. Both Burrows and Lars are featured in Pratt's Black Dress: Ten Contemporary Fashion Designers exhibition, an unprecedented group show that celebrates the creativity and entrepreneurship of black designers (Pratt Manhattan Gallery, through 4/26).
The Pratt Fashion Show will feature exemplary work by graduating seniors from the Fashion Department, as pre-selected by a panel of industry experts and fashion press. The senior collections have been reviewed, critiqued, and refined throughout the school year and, of the nearly 60 students in the graduating class, only top works will be selected to present at the Pratt Fashion Show. Students have been challenged to rethink the boundaries of fashion through innovative ideas and techniques under the leadership of Fashion Department Chair Jennifer Minniti, who joined Pratt in 2011. "Under Construction" will highlight each student's individual approach to design through newly conceived fabrics, manipulated textiles, bonded materials, and other alternative methods of construction.
Held annually, the Pratt Fashion Show attracts preeminent members of the fashion industry and raises essential scholarship funds for Pratt's Department of Fashion.
Cotton Incorporated is the lead sponsor for the Pratt Fashion Show + Cocktail Benefit. Funding was awarded in part through a competitive grant presented to Pratt Institute by the Importer Support Program of the Cotton Board and managed by Cotton Incorporated. Santander Universities is the platinum sponsor for the Pratt Fashion Show + Cocktail Benefit. Santander Universities is a philanthropic arm of the Santander Group that is focused on advancing the needs of society as a whole through higher education.
Please purchase your tickets now at www.pratt.edu/fashionshow as last year's event sold out and tickets are limited. Email fashionshow@pratt.edu with any questions.
6 PM Award Presentation + Fashion Show
Center548, 548 West 22nd Street, Manhattan
7:30 PM Cocktail Benefit
The High Line Hotel, 180 10th Avenue, Manhattan
Text: Amy Aronoff, Marion Hammon
Photo: Josh Wong
Caption: Still from last year's Fashion Show + Cocktail benefit