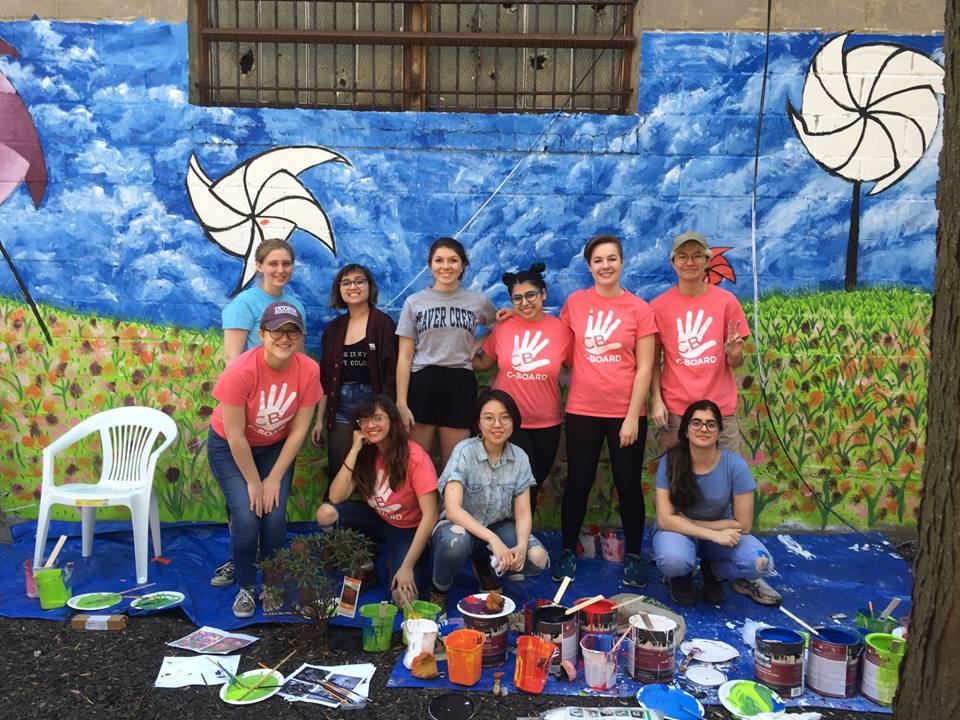 During the week of March 11, a number of Pratt students are using spring break to be immersed in intensive coursework abroad, and to volunteer in service of more local needs. Highlighted below are a few of these programs, which broaden the Pratt experience through collaboration with international students, study with global leaders in their fields, and encounters with new perspectives on contemporary issues. Keep an eye on Pratt's social media for on-the-ground updates from participants.
Super 8 Filmmaking (Dominican Republic): Super 8 emerged as a home movie format in the 1960s and '70s, but by the 1980s it was adopted as a medium for art and remains a popular format in contemporary filmmaking. In a spring break workshop in the Dominican Republic, Pratt film/video students will explore the possibilities of the medium, producing their own shorts with students in the Altos de Chavón School of Design's film program. Led by Jorge Oliver, chair of the Film/Video Department, and Cuban filmmaker Marcel Beltrán, the workshop will cover the basics of Super 8 filmmaking at the same time students learn about the culture of the Caribbean nation and the experience of working in a new location. Following their return to Brooklyn, the student films will be showcased on campus.
Architecture and Urban Densification (Hong Kong; Santiago, Chile; and San Francisco Bay Area): Graduate Architecture and Urban Design students are traveling to Hong Kong, Santiago, Chile, and the Bay Area in California as part of the Studio of Experiments course. These students are comparing issues of densification and its implications for housing and land use across two major cities and one exurban (or commuter town) area: Hong Kong, Santiago, and Long Island. In each of these trips, there will be opportunities to meet government officials and interact with industry leaders and faculty and students at local institutions. While students going to Hong Kong and Santiago are studying sites in both cities, students making proposals for the exurban areas of Long Island are going to the Bay Area to meet with Silicon Valley companies that are considering alternative forms of land use for single-family detached dwellings. Since the Studio of Experiments is conceived as a series of design experiments, these excursions are linked to the students' ongoing consideration of what density means in architectural design and various types of cities.
Alternative Spring Break Service Trip (Washington, DC): Each year, Pratt's student-led Community Engagement Board (CBoard) organizes an "Alternative Spring Break." The opportunity connects students to social issues through volunteering projects, and in turn offers the skills to bring tools of action back to their home communities. Past Alternative Spring Breaks have focused on gentrification, the environment, and poverty. This year, students are going to Washington, DC, to dedicate their spring break vacation to local causes. Their visit will include workshops on combating poverty and homelessness with the Steinbruck Center, which focuses on these issues in the context of gentrification, as well as volunteering like sorting home goods at A Wider Circle and supporting a pop-up market for elementary school students and their families.
Preservation of Culture and Heritage, Reactivation of Public Spaces, and Exchange of Resilience Strategies (Spain, Cuba, and Puerto Rico): Historic preservation students in the Graduate Center for Planning and the Environment (GCPE) are traveling in the north of Spain to examine how its post-industrial cities have been shaped by heritage and urban planning. These locations include Bilbao and San Sebastián, where revitalization is booming, and areas that have long been culturally distinct from the greater country, are finding a place in the global market through their architecture and heritage. Meanwhile, GCPE planning students are heading to Havana, Cuba, as part of a studio class. Over the 11-day trip, they will work with their counterparts at the local architecture school, concentrating on concepts and designs for vacant lots in the neighborhood of Los Sitios. Finally, a group of GCPE students are going to Puerto Rico for an information exchange examining case studies of resilience to and recovery from climate change events, with a focus on alternative infrastructure design, financing, and management. Their investigations locally in New York and in Puerto Rico focus on using design and planning to promote urban systems that can rebound from disaster and support socially, economically, and environmentally just transitions in an ecologically disturbed future.
Industrial Design in Public Places (Colombia): Industrial design students are flying to Colombia to work with students in the Design and Product Engineering School of the Eafit University in Medellín. Their collaborative projects will explore street interventions in local low-income communities, culminating in a series of objects built to facilitate existing needs in these areas. This international experience expands on coursework led by tenured Professor Ignacio Urbina Polo that involves remote communication with the Colombian students, and explores the role of design in public places, where the installation of street furniture or other accessible products can enhance urban spaces.
Creative Enterprise Leadership and Ikigai (Japan): Through the Catalyst + Unsettled Leader Learning Journey, part of the School of Art's graduate programs in creative enterprise leadership in Arts and Cultural Management and Design Management, students and alumni are traveling to Tokyo. Organized in partnership with Osaka Institute of Technology, the experience is framed around the Japanese concept of Ikigai, the art of finding purpose. In Japan, participants will learn about emerging affective economies, like artificial intelligence, robotics, digital design, and virtual reality. By speaking with leaders in these industries, they'll discover how creativity and strategy have made Tokyo a contemporary capital for cutting-edge culture. The trip is part of a two-year program aimed at building cultural and creative leadership through engaging with the unfamiliar, exploration, and collaboration.
Creative Writing Residency (Vermont): The Marble House Project is a unique artist residency program that involves creators from across disciplines living together at a Dorset, Vermont, farm and participating in its organic food production. MFA in Writing students in their final semester at Pratt are spending 10 days in this collaborative complex, where they'll have access to its dedicated writing spaces and studios in a location that provides a respite and distraction-free time to work on their final theses.
Image: C-Board Service Saturday, spring 2018