In the shift to hybrid learning and its virtual platforms, some members of the Pratt Institute community have been using a slower-paced way to connect: the mail. From trading handcrafted mail art to receiving science kits that allow for shared experimentation from afar, these tactile interactions have contributed to experiences of collaboration and hands-on learning.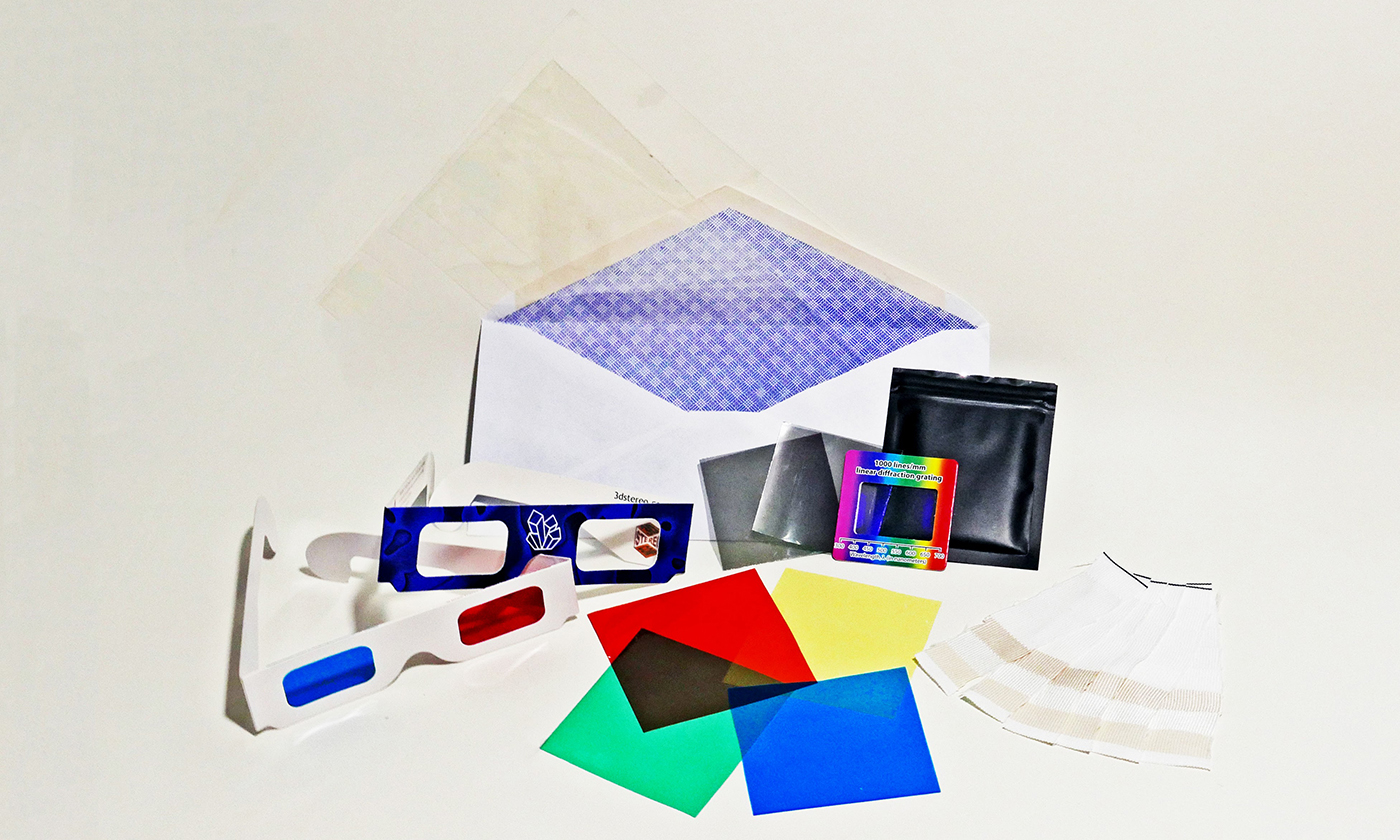 Mail learning kits from Pratt's Math and Science Department (courtesy Cindie Kehlet and Mary Lempres)
In the shift to hybrid learning and its virtual platforms, some members of the Pratt Institute community have been using a slower-paced way to connect: the mail. From trading handcrafted mail art to receiving science kits that allow for shared experimentation from afar, these tactile interactions have contributed to experiences of collaboration and hands-on learning.
Last summer, Professor of Math and Science Cindie Kehlet spearheaded the creation of the Math and Science Department Learning Kits that have been mailed by Department Technician Mary Lempres to students in the fall and spring sessions of courses that are usually lab-based. These have included classes like Properties and Degradation of Ceramics Metals and Glass led by Sarah Nunberg, visiting assistant professor of math and science. Kits for Nunberg's class have the materials to set up mini-aging chambers to study the corrosion of various types of metals in solutions of different pH. "These relate to pollution, environmental conditions, metal reactivity, crystalline structures, and characterizing metals," Nunberg said.
These kits provide what the students need for a full semester of learning concentrated on the intersections between art and science, with those for Kehlet's Nature of Color course focused on explorations of light and color. The activities facilitated by the kits include employing household items to observe the pH of natural dyes, creating cyanotype prints made with light exposure, and assembling polages with polarizing filters and household plastics like acetate and tape. Each project clearly visualizes a complex scientific topic in an accessible way, with the kits giving each student the same materials to work with no matter where they are.


Creating polages, observing pH of natural dyes, and printing cyanotypes with the Math & Science Department Learning Kits
"By approaching cross-disciplinary learning with an emphasis on play, collaborative learning, and experimentation, the students were able to expand beyond classroom learning and experiment with lab activities at their own pace and with a hands-on approach similar to their studio courses," Kehlet said.
After she explains the lab activities to the students as a group and they conduct them individually offline, they come together in their class meetings to share what they learned, found inspiring, and the challenges they met. These discussions are complemented by their research into scientific methodologies and thought, with the students encouraged to bring what they discovered about color into their studio practices.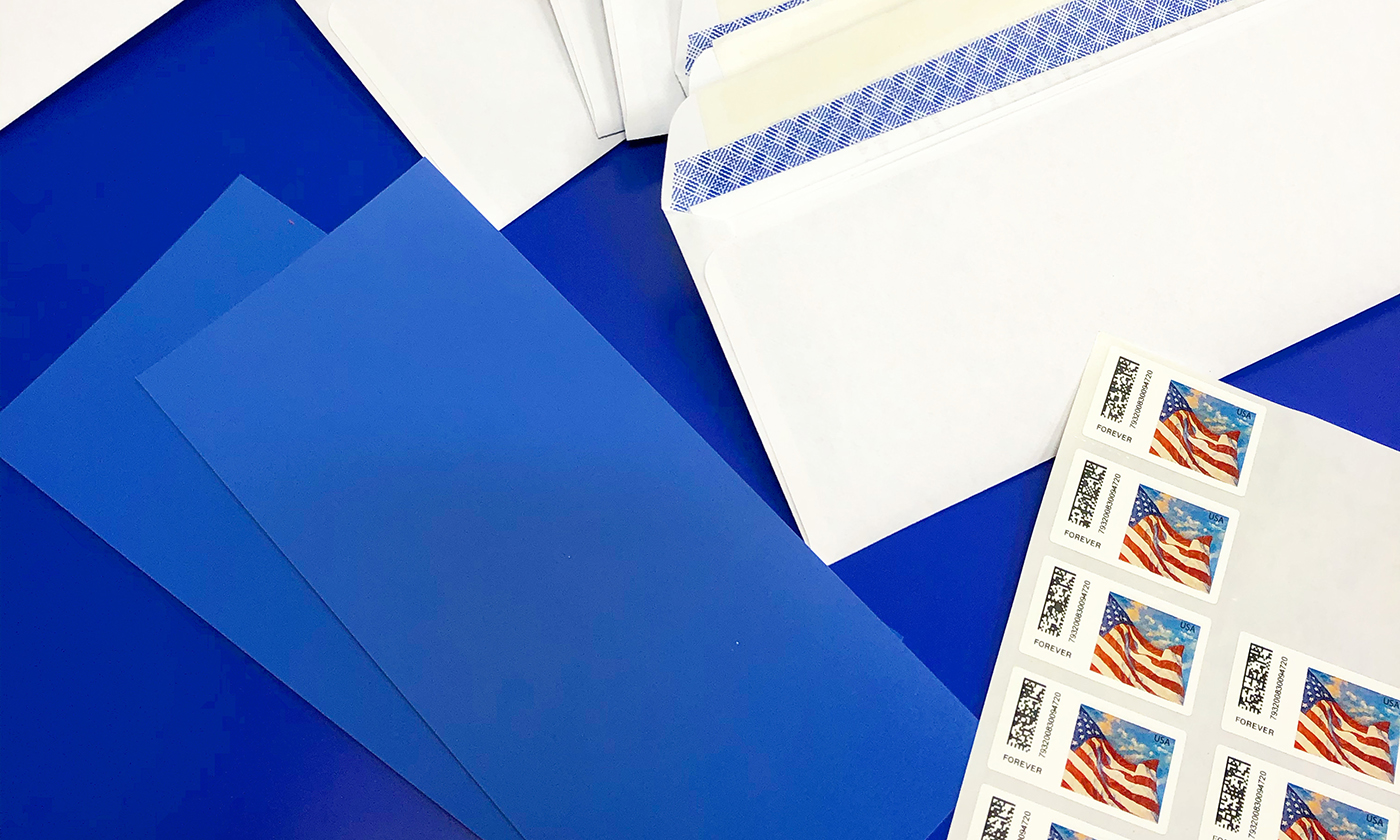 Mailing photographic color swatches of blue (courtesy Julie Pochron)
Julie Pochron, adjunct assistant professor-CCE of photography, is also using the mail to offer a hands-on encounter with color, focusing on its nuances and the ideas it provokes. For her year-long Junior Research class, she has been mailing her students photographic color swatches that she makes in her darkroom. In the fall, the focus was on the many shades of blue. Students read selections from Maggie Nelson's book Bluets (2009), which has a series of short lyrical writings on the color blue, and alongside they received swatches of varying blues. When they got their envelope with the latest hue, they responded to it through images and text on a collaborative blog where they also shared research, ideas, and inspirations, as well as what they were working on outside of class.
"They loved the anticipation of mail, opening the envelopes, and the connections they made with each other over how differently they experienced their swatches and Nelson's writings," Pochron said.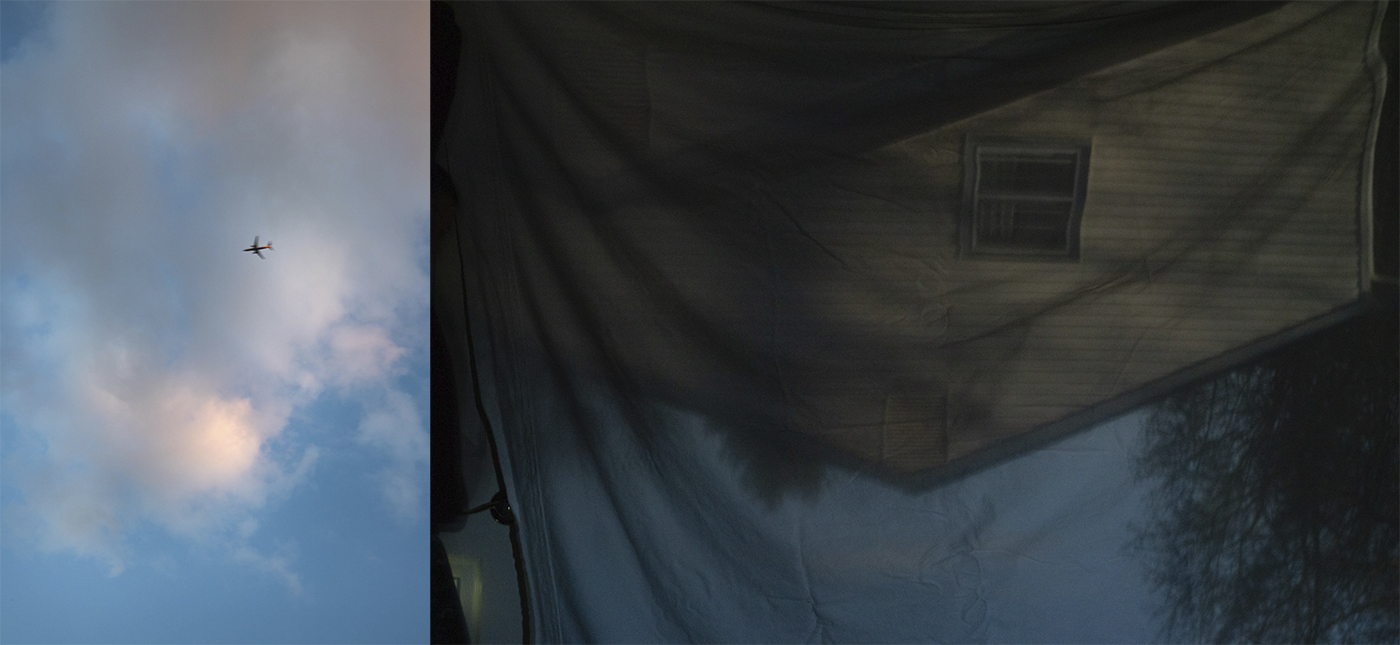 Responses to the color blue by photography students in Julie Pochron's class. From L to R: Caroline Cramer's photograph of the sky from a roof and Leah Blackin's camera obscura of a childhood room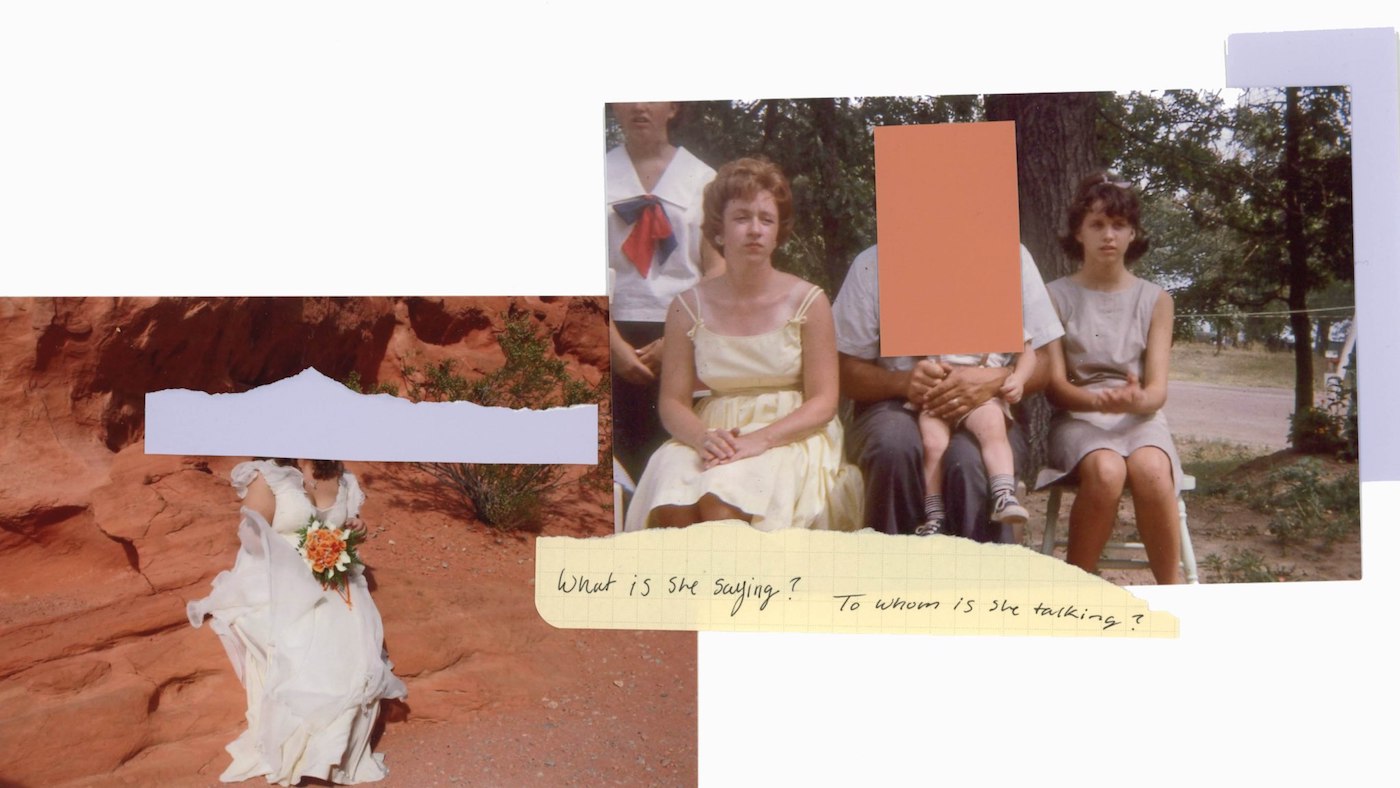 Photography student Sydney Ellison's use of February 2021 mailed color swatches in a collage
In the spring semester, they've switched to readings by a variety of authors that complement a rainbow of color swatches. The students sometimes make images inspired by the swatches or incorporate them into their photographs, using the color samples to broaden their perspective on the world around them. Pochron has started mailing swatches with no readings and instead asks the students to write about the colors they receive and then mail them on to another student, creating a physical correspondence of color alongside their virtual gatherings.
"When going through the blog posts for this assignment, I can see all the students experiencing the color and writing and really reflecting on them and getting out emotions during this time of isolation," said Jacob Grumulaitis, BFA Photography '23. "I'm not sure why these color swatches can bring out so much, but at a time where I do not often get to see people face-to-face, I have been able to be in this class and feel closer to my fellow students and professor than I probably ever have before."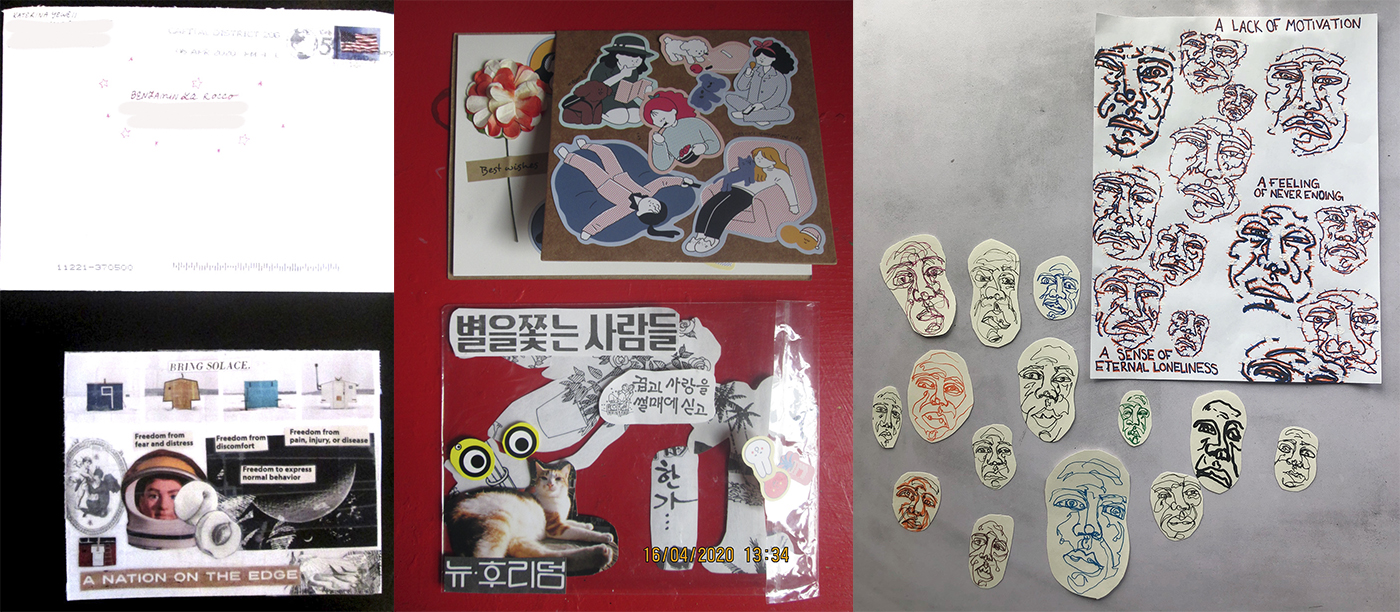 Mail art by Kati Yewell, Hyesoo Park, and Sydney Williams for the Drawing VI class led by Benjamin La Rocco
Students in the spring 2020 Drawing VI thesis class also used the mail for a creative correspondence project. Each student mailed an artwork to Adjunct Assistant Professor of Fine Arts Benjamin La Rocco who then responded, often involving elements from the original piece to generate a visual conversation. The mail art was a way to connect during a disrupted semester and make work in a collaborative way that echoed their studio practices.
"Mail art is meant for connecting at a distance," La Rocco said. "When quarantine first hit, we were all pretty desperate, students and teachers alike, to find ways of continuing what should have been the personal contact we would have naturally had around the studio. Mail art provides an opportunity to experience the product of the creative process first-hand in an informal way. That informal part is key because it mimics the easy, informal interactions that happen around the studio."
He added that he was impressed with the energy that the students put into their mail art to bridge their sudden separation and that they were able to engage with first seeing objects and images remotely and then handle them when they arrived in their mailboxes.
"The mail art project was an unexpected opportunity for fellowship," said Katerina Yewell, BFA Drawing '20. "The clever approaches and the nuances of expression gifted stability amid a frightful pandemic. Without rigid instructions, mail art established a constructive method of crafting personal worries into a cathartic object of resilience."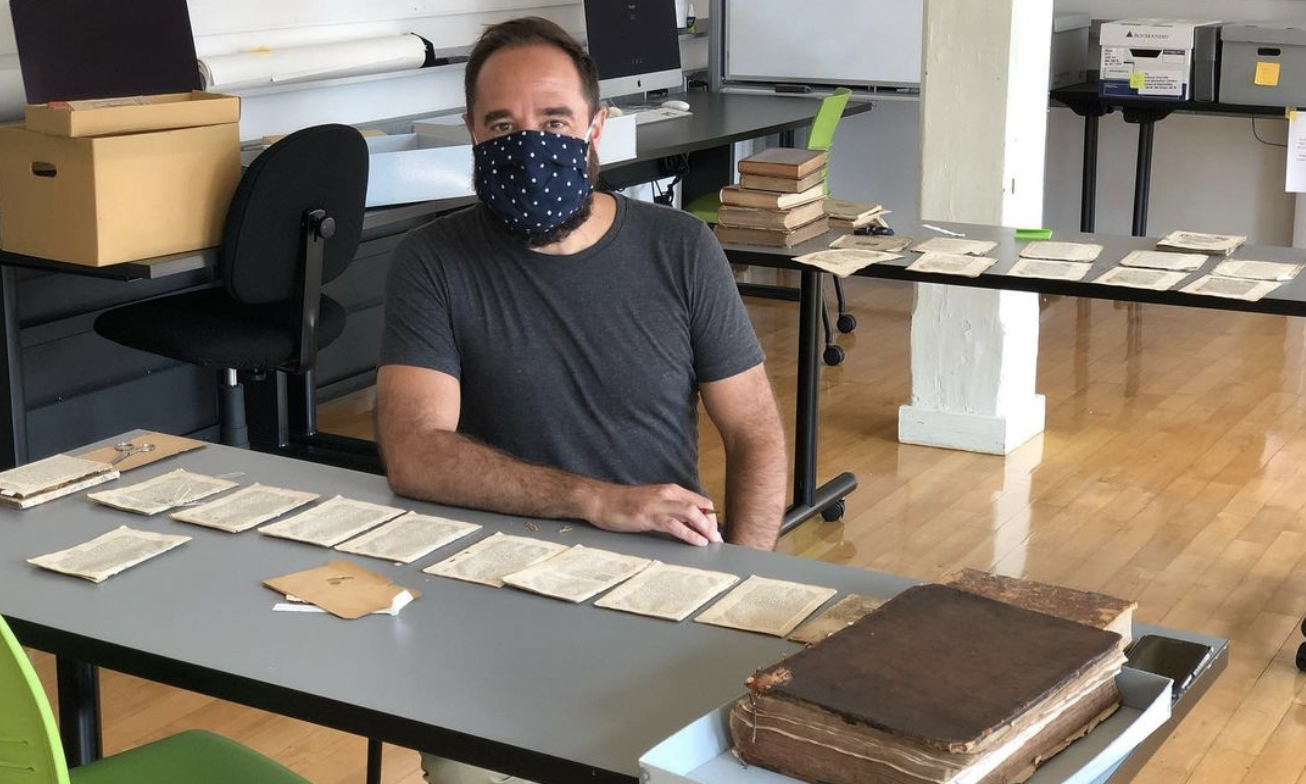 Adjunct Associate Professor Kyle Triplett creating the mailings for the Rare Books & Special Collections course
Having that connection to an object through touch is similarly central to the mailing project that has been undertaken both in the fall and spring by Kyle Triplett, adjunct associate professor in the School of Information. Triplett is a rare book librarian in the New York Public Library's Manuscripts, Archives, and Rare Book Division and wanted to give his students the hands-on experience they would ordinarily have had visiting libraries, archives, and special collections around New York City. Using the rare book collection of the School of Information, he created packets of samples of paper and printing.
"Part of my class is teaching them how to handle these books, but it's also about the history of the book, and interacting with them and getting that tactile sense of books is important," Triplett said. With permission from the School of Information dean, he removed the stitching from a few 16th- and 17th-century books so each student received samples with diverse printings, languages, paper, and type design. The deconstruction gives them insights into the details embedded in the pages such as watermarks and guides for a binder assembling the book.
"In my class, we essentially reverse-engineer books from this era, showing how they're structurally built," he said. "If you were to purchase the book in 1547, for example, you would have it in folded sheets. Taking them apart with this in mind shows the integrity of what we call the gathering—the thick folded sheets that are sewn together to make these old books. So you can easily sew them back together to make a complete book." Once they receive their individual components, the students can bring them together visually in their virtual discussions and talk together about the feel of the paper, the ink used, the type, and other sensory attributes. They're able to spend more time with the materials than in previous semesters as they have them in their homes before they are sent back to Triplett.
"It was a joy to live with and study these artifacts at length, which is something that likely would not have been possible in an in-person environment," said Jessica Salinas, MLIS '21. "Triplett's class was such a pleasure and for this and so many other reasons, taking this course really changed my mind about the limits of remote learning."
Along with these mailing initiatives aimed at learning in new contexts, there are opportunities with snail mail to foster professional relationships in a more personal way. Linda Celentano, adjunct associate professor of industrial design, has encouraged students to use letter writing as a way of introducing themselves for internships and freelance work.
"It's personal, receiving a handwritten note is like a breath of fresh air," Celentano said. "It dawned on me when a student asked me if I knew anyone that I could refer her to as she was looking for a career direction. I said of course, but write them a postal letter, perhaps even without a resume. You'll stand out by being a human being. In the midst of the virtual backlog of the application process, this old-fashioned way of communication might add a viable special touch."
Having these moments of checking the mail and finding something inspiring has overcome physical distance by joining students and faculty in creative exploration, whether reconsidering the blue of the sky or experiencing what it was like to print a book in the 17th century.