Public art has long been an essential source of creative expression outside of galleries and museums and even more so during the pandemic, as many of these spaces temporarily closed their doors. Even as they welcome visitors once again, public art remains as vital as ever for bringing people together, raising awareness for social justice issues, recognizing healthcare workers, and adding beauty to cities after a long year. Below are seven murals recently completed by Pratt Institute students, faculty, staff, and alumni who are turning walls into canvases to share these experiences with their communities through art.
Pop-Up Pool Party
Roosevelt Island / New York, New York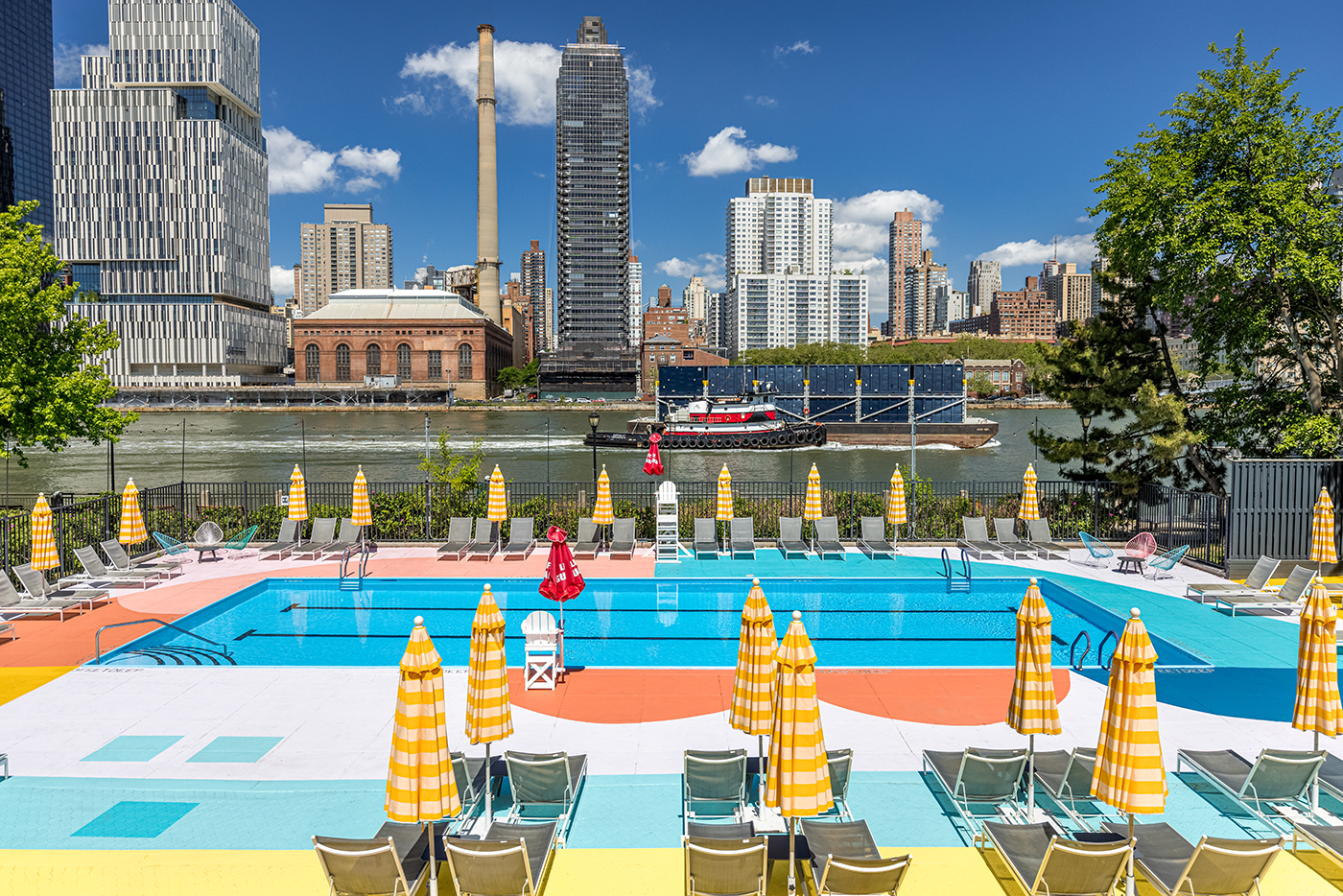 Residents of and visitors to Manhattan Park, a waterfront apartment complex on New York's Roosevelt Island, are in for a big treat this summer. Melissa Dadourian, BFA '91, turned the pool deck into the ''Pop-Up Pool Party" for the space's annual artistic transformation. It's a playground of color with geometric shapes in shades of blue, yellow, pink, and orange, all framing the Manhattan skyline. It's the first public mural for Dadourian, who often works in textile, sculpture, and installations.
The Black Lives Matter Mural Project
Manufacturers Village / East Orange, New Jersey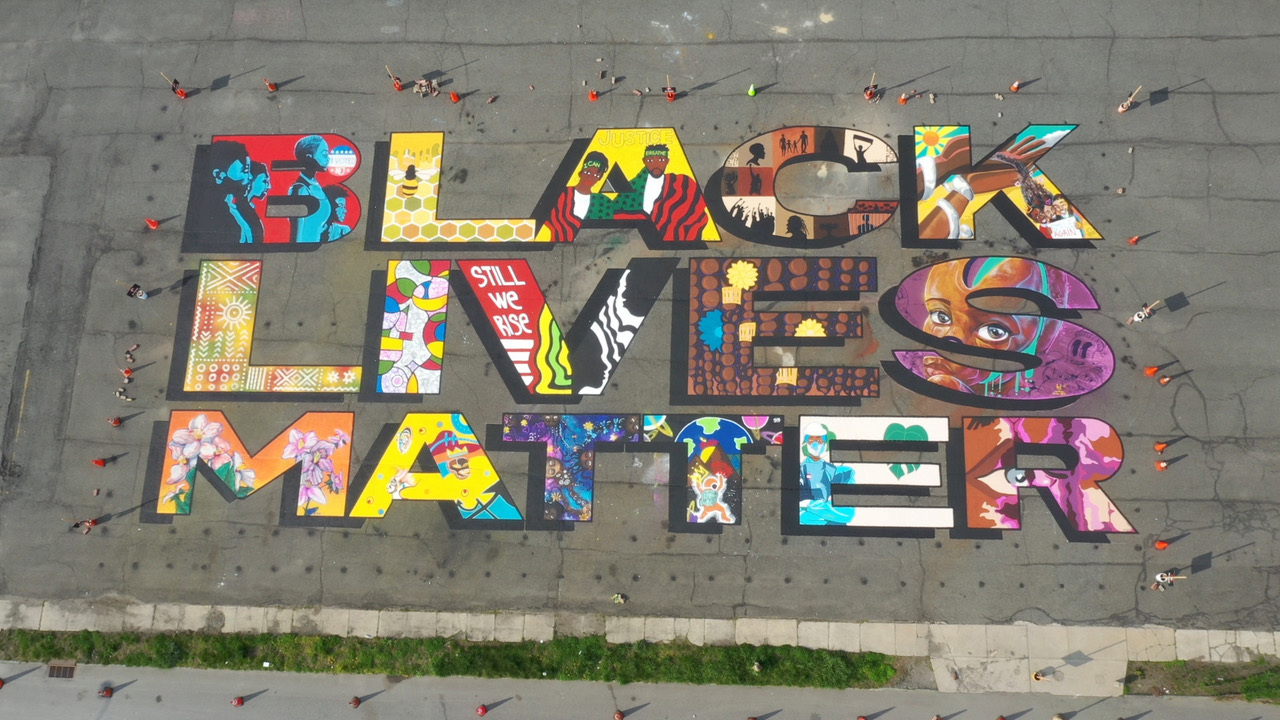 Mona Brody, adjunct associate professor-CCE of fine arts, as part of a steering committee of six artists, helped to develop a 9,000-square-foot "Black Lives Matter" mural painted by sixteen underrepresented artists from East Orange, New Jersey, at the historic Manufacturers Village parking lot. The initiative was conceived to designate the area as a place of creativity, community, and social awareness by showing how access, opportunity, and equity can be achieved when artists and creative entrepreneurs engage in community development.
The mural was organized by Manufacturers Village Artists in collaboration with Liquitex, the Arts Council of East Orange (ACEO), and Pink Dragon Artist Syndicate. The project team and artists were filmed during the planning, design, and production process for a documentary called It Takes a Village being produced by award-winning, New Jersey-based filmmaker Kiymora Smith of the Gold Standard Productions. It's planned to be screened this fall at the Montclair Art Museum.
A Cluster of Enigmas
650 Fulton Street / Brooklyn, New York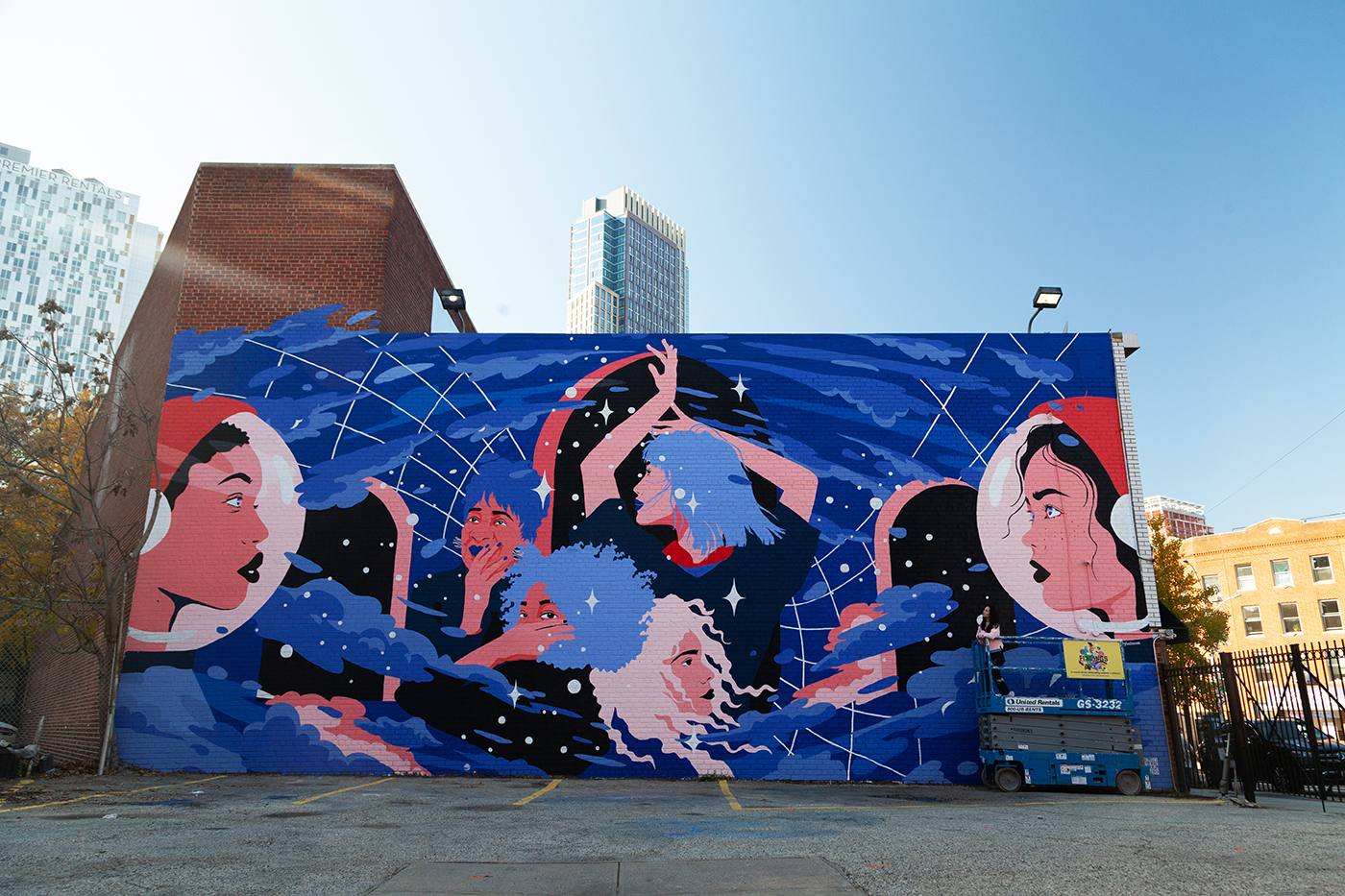 On a wall near the Brooklyn Academy of Music, a mural by Amanda Phingbodhipakkiya, MFA Communications Design '15, is based on the work of Dr. Jackie Faherty. An astrophysicist at the American Museum of Natural History, she studies brown dwarfs: substellar objects that are about as big as Jupiter, but too small to be labeled as stars. Phingbodhipakkiya's mural depicts visionary women of science—including Dr. Josephine English, a gynecologist who was the first Black woman to open a private practice—among the celestial bodies. The mural is part of Phingbodhipakkiya's Findings public art series which invites visitors to use a QR code in the mural to download an app that expands on the art through augmented reality (AR), with "A Cluster of Enigmas" accessing an animation on brown dwarfs and their relationships with stars and planets.
I-Spy
Children's Museum of Acadiana / Lafayette, Louisiana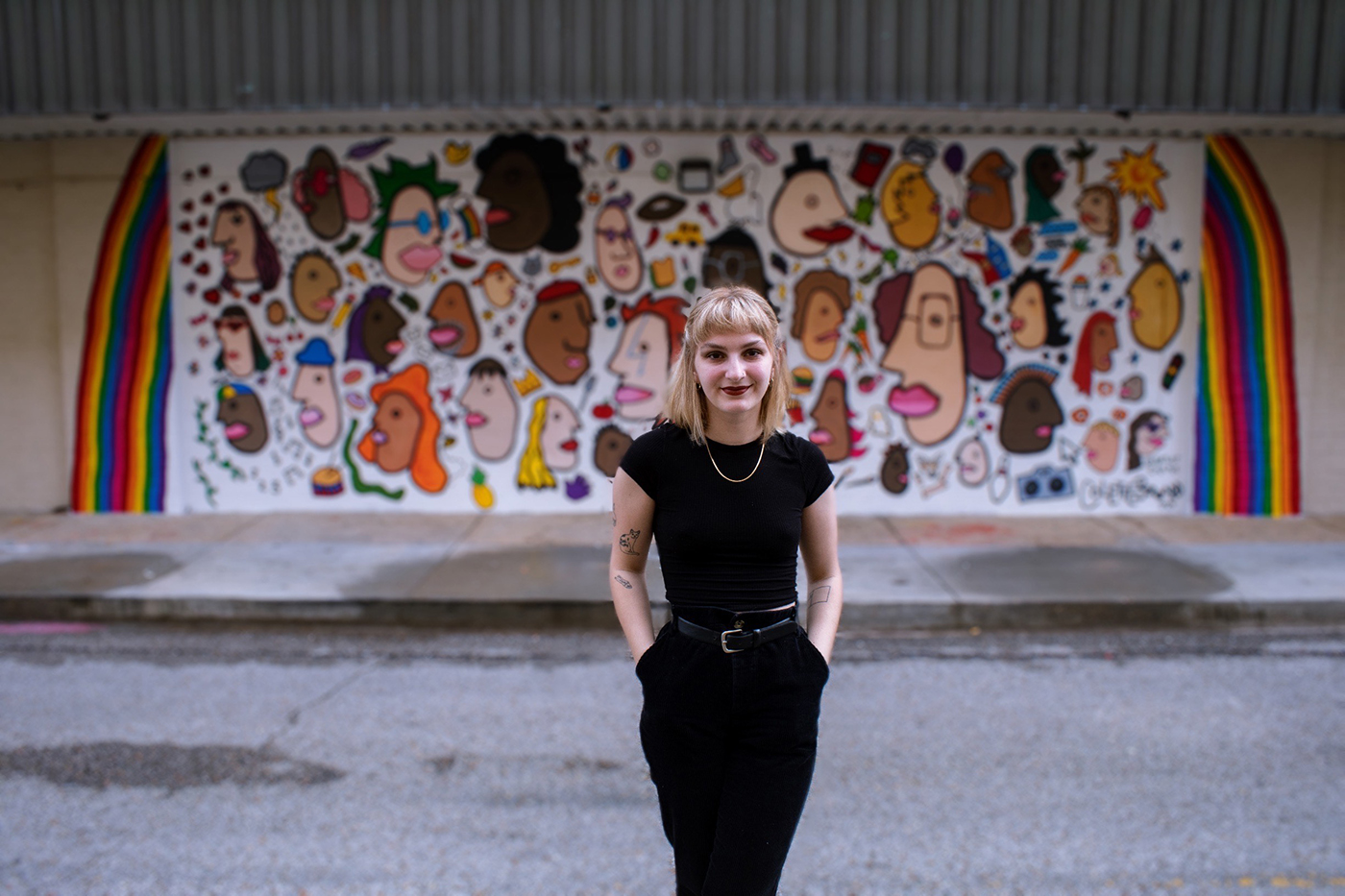 Visitors to the Children's Museum of Acadiana in downtown Lafayette, Louisiana, are now greeted with bright faces with an array of creative piercings and colorful hair along with playful details like a yellow taxi, music notes, pizza, and art supplies. They are part of a dynamic mural called "I-Spy" by Colette Bernard, BFA Sculpture and Integrated Practices '21. As she explained to Lafayette's The Daily Advertiser, the mural was inspired by the diverse faces she has seen across New York City while attending Pratt. Young visitors to the museum can pick up an "I-Spy" checklist to discover 84 items hidden in the art.
Through Healing, We Unite
Woodhull Hospital / Brooklyn, New York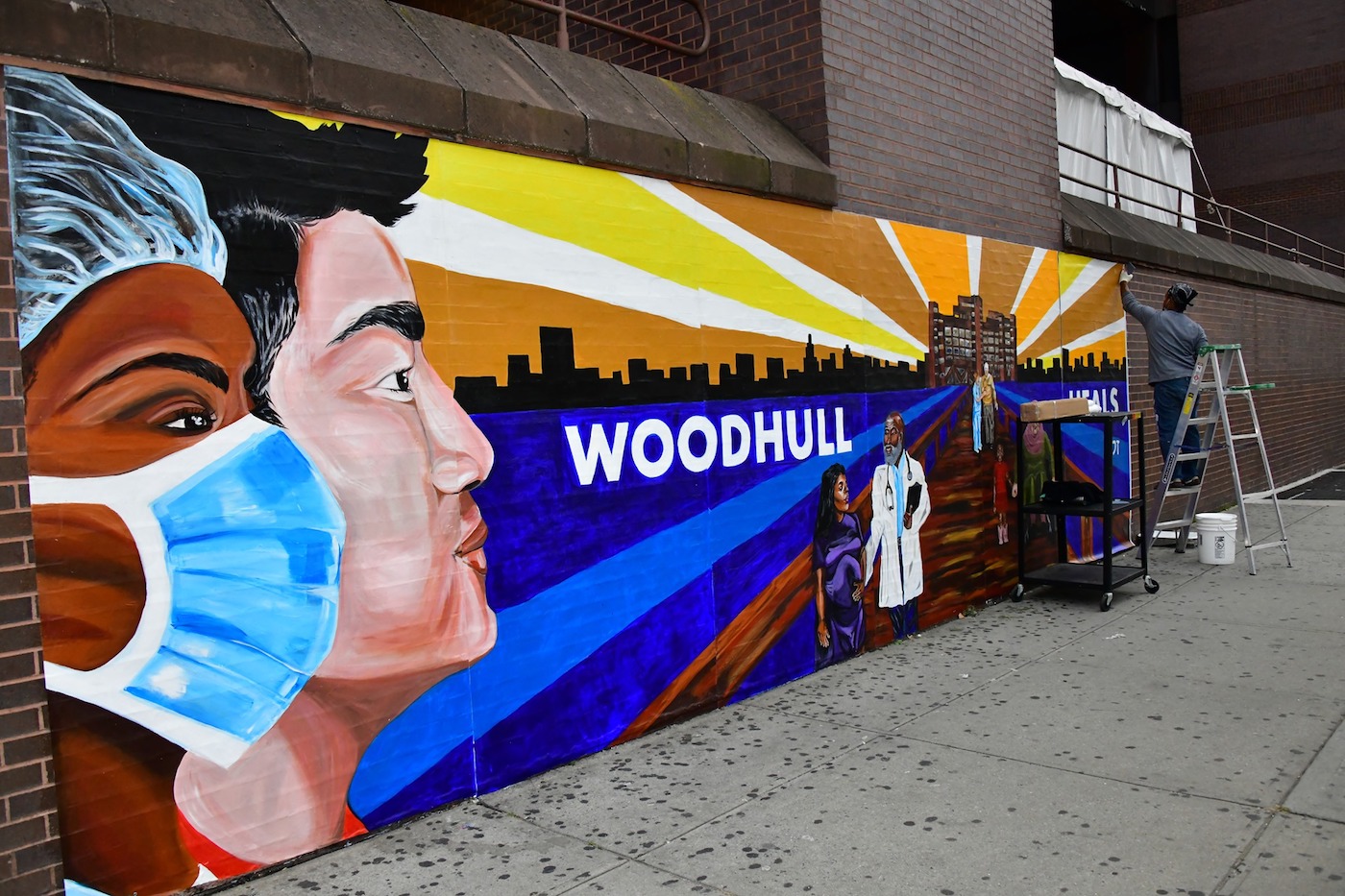 Admissions Counselor and Lecturer Imani Shanklin Roberts, BFA/MS Art and Design Education '14, developed the concept for this community mural at Woodhull Hospital in Bed-Stuy, Brooklyn, in October 2020. It was designed through a series of virtual community focus groups and painted with patients, staff, elected officials, and local residents with support from NYC Health + Hospitals/Woodhull and the Laurie M. Tisch Illumination Fund, which stated that it is the largest mural in a public hospital system since the 1930s Works Progress Administration. "Through Healing, We Unite" depicts and celebrates the hard work and sacrifices of doctors, nurses, and other frontline healthcare workers during the COVID-19 pandemic.
Not for Nutten
Governors Island Ferry Waiting Room / New York, New York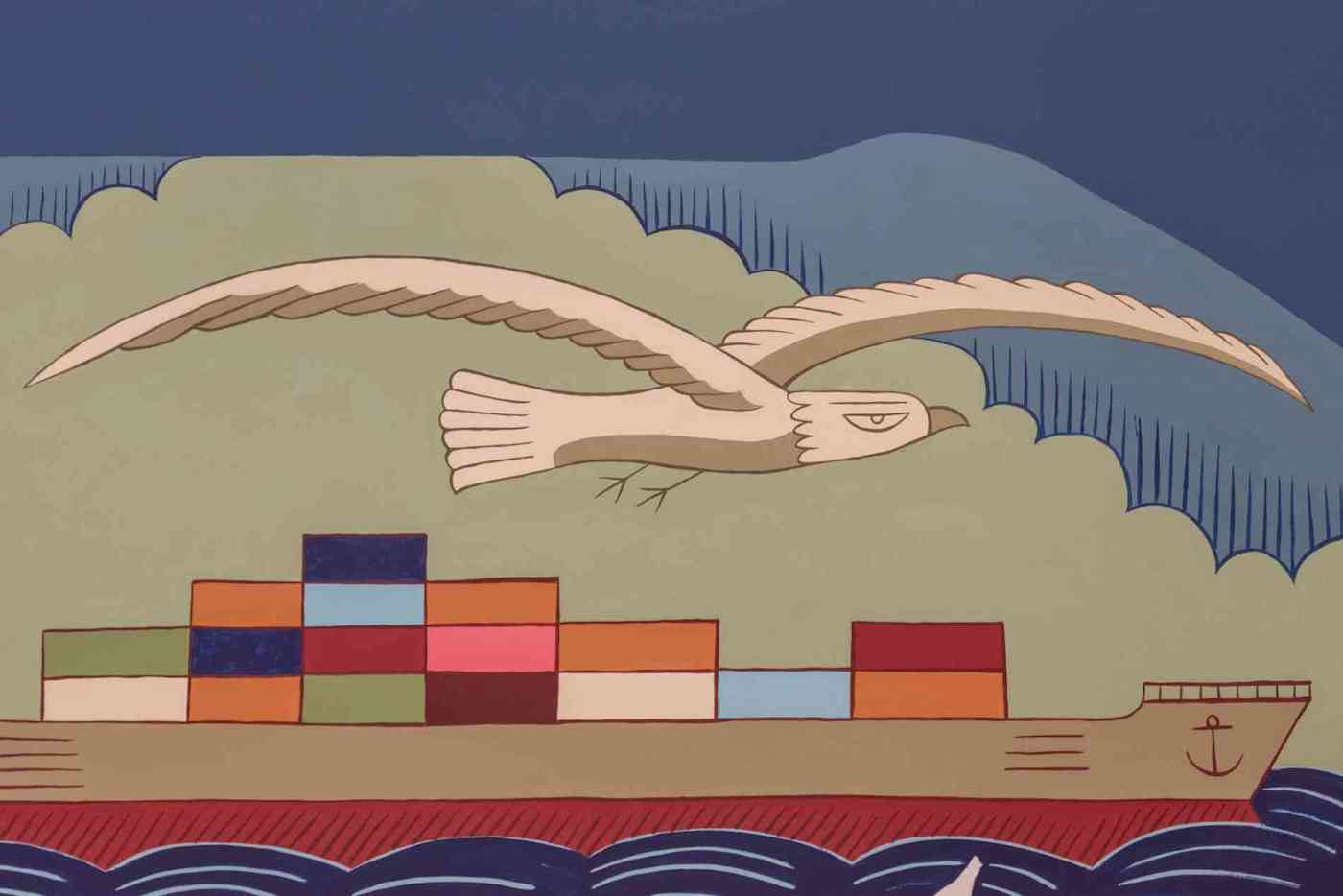 If you are riding the ferry from Manhattan to Governors Island this summer, stop inside the waiting room in the Battery Maritime Building. There, Duke Riley, MFA Sculpture '06, has painted the mural "Not for Nutten"that has scrimshaw-style scenes of things commonly seen in New York's waterways, like container ships and Governors Island's Coast Guard-era lighthouse. Each vignette is depicted like a ship in a bottle, except with Riley using the shapes of plastic bottles often discarded in modern waterways.
Valley of Dreams and Galaxy of Hope
13647 Arnold Drive / Glen Ellen, California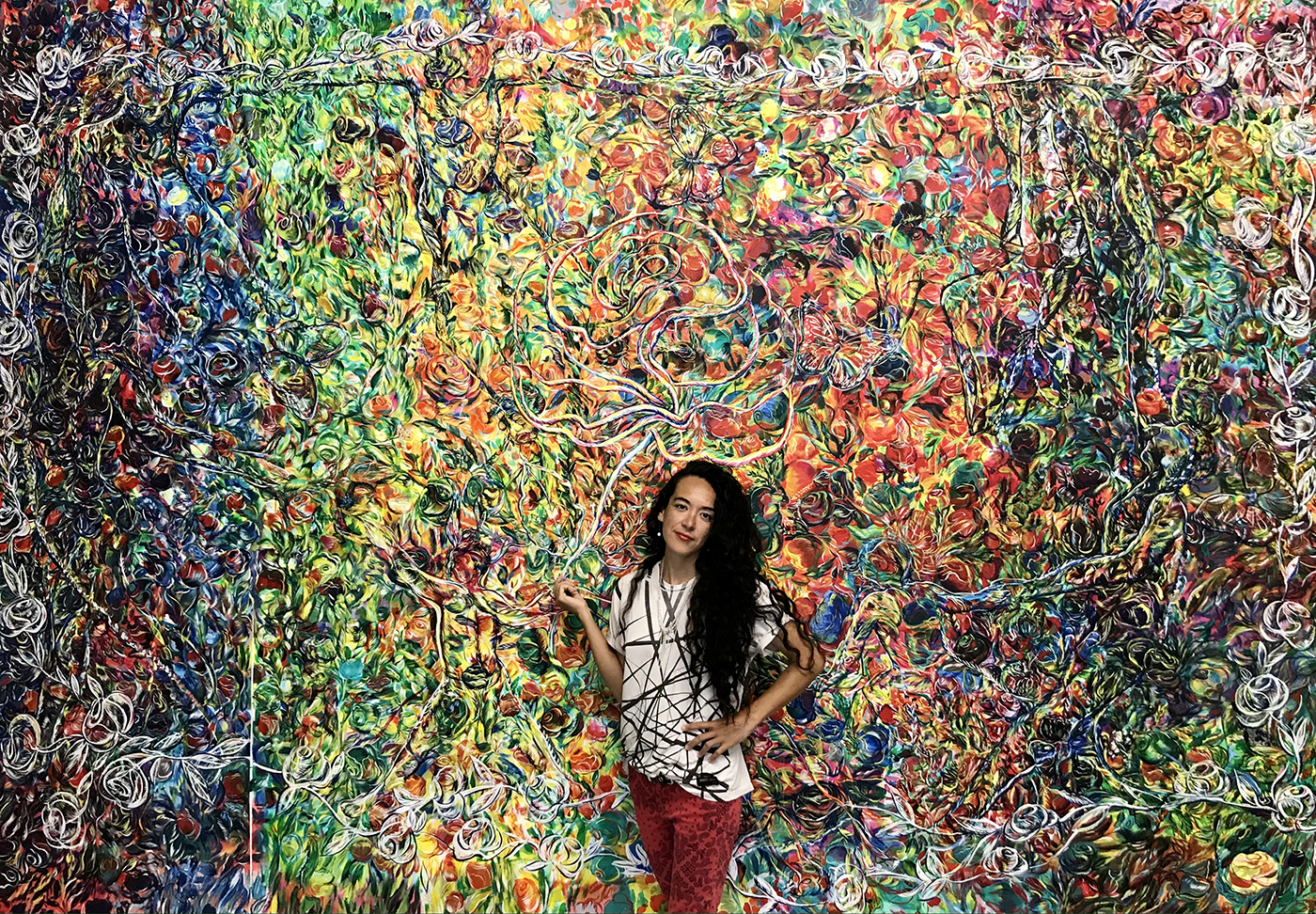 Glen Ellen, California, is a little brighter with the unveiling of two new murals, "Valley of Dreams" and "Galaxy of Hope," by Maria de Los Angeles, BFA Painting '13 and visiting instructor in foundation, associate degrees, and continuing and professional studies. Curated by the Sonoma Valley Museum of Art, the murals adorn a new mixed-use development that includes affordable housing, retail space, and a restaurant. Both murals are filled with vivid colors celebrating the history and culture of Glen Ellen, including representing well-known residents like author Jack London and Mary Ellen Pleasant, a 19th-century abolitionist. De Los Angeles previously created a mural on the first-floor windows of the Pratt Manhattan campus.