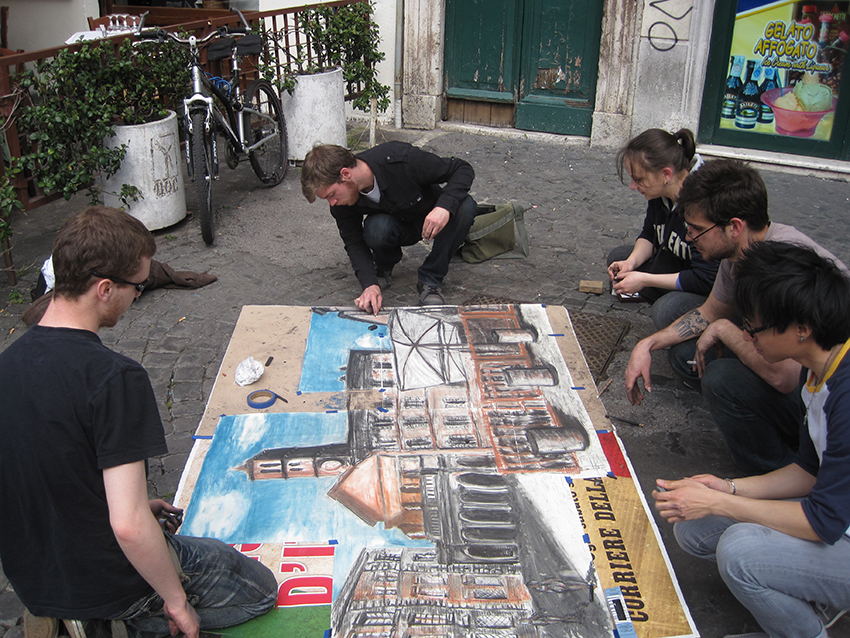 Pratt Institute's School of Architecture will celebrate the Undergraduate Architecture Rome Program's 40th anniversary with a special five-day event in Rome in April 2017. The program was established in 1978 to provide architecture students with the opportunity to explore Italian architecture and culture in Rome, and has since grown to become one of the longest running foreign studies programs in Italy.
All Pratt Rome Program alumni, faculty, friends, and family have been invited to attend the anniversary celebration from April 10-14 in Rome. The festive event will include tours, get-togethers, "classes," dinners, and a special anniversary reception. Richard Piccolo, Jeffery Blanchard, Jan Gedayne, Lorenzo Pignatti, Emanuela Ricciardi, Frederick Biehle, and Larry Zeroth will be offering special "classes" in sketching, urban studies, and history so that one's original experience might be lived again.
The program continues as it began, emphasizing drawing as a critical tool for analyzing and speculating on the urban environment and offering young architects the challenge of intervening with a contemporary project within a unique historical context. This year's three studios of students will be in session and the sharing of past experience is anticipated.
The Pratt Rome Program was founded largely due to the insight of the late Christopher Wadsworth, who taught for many years at the School of Architecture. Today, the program's success continues under its current director, Richard Piccolo. As the coordinator, Frederick Biehle says to potential incoming students, "The lesson of Rome is one that goes beyond its architectural and historical heritage. Its difference presents an environment—a culture, language and landscape, that generates particular responses—toward people, toward the value of physical experience, and toward an appreciation of urban place."
The celebration will allow program alumni to reunite with classmates and revisit what for many was a central experience of their undergraduate career.
Past Pratt Rome Program participants interested in attending the 40th anniversary celebration can learn more about the program and find registration information on the Pratt in Rome 40th Anniversary web page.