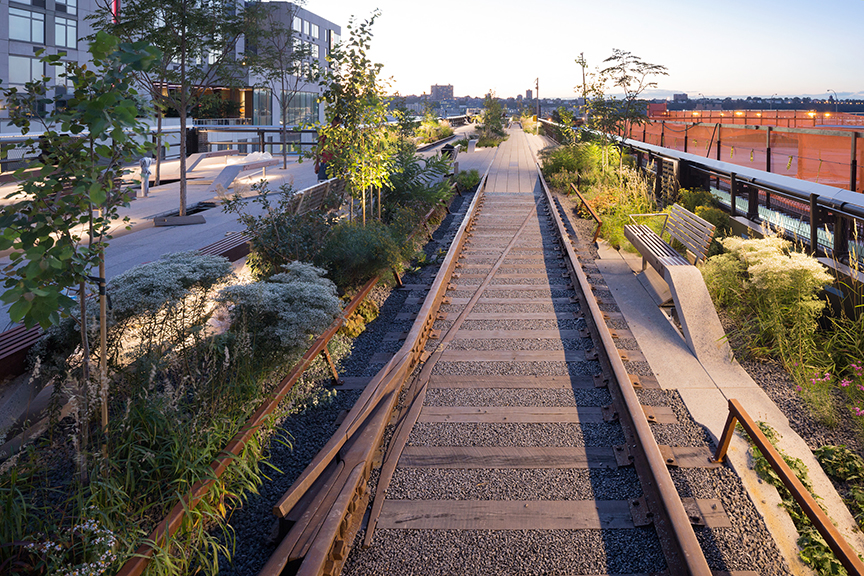 Signe Nielsen, professor of landscape architecture, urban design, and environmental planning in Pratt's School of Architecture, played a vital role in leading the third phase of New York City's High Line park to completion. As President of the New York City Public Design Commission (PDC), the commission responsible for overseeing design aspects of public projects, and as an award-winning landscape architect, Nielsen has played an integral role in shaping the acclaimed park's landscape design.
Heralded by The New York Times (Anne Raver, September 3, 2014) as a wild, untouched respite from "the old tamed High Line," the third and final section of the popular High Line park—called the High Line at the Rail Yards—opened to the public on Sunday, September 21. Park-goers now have the ability to walk the full length of the elevated railway platform on which the High Line is built, spanning 22 city blocks with expansive views of New York City and the Hudson River.
A commissioner for PDC since 2003, Nielsen has contributed to the design of the High Line since the project's inception, providing guidance on landscape elements of the project. The most recent phase posed a number of unique constraints and complications stemming from the site's industrial past and future development. Consequently, Nielsen says, the experience of the third phase "will be one of walking along a 'wild' landscape that, because of its eastern and then northern alignment, will offer views of the urban and river contexts from three unique vantage points."
A professor at Pratt for 34 years, Nielsen feels that innovative projects like the High Line and a spate of other non-traditional public spaces are currently helping to boost students' interest in her field, saying: "I find that students today are genuinely interested and deeply engaged in landscape architecture." Nielsen often returns to her own past projects to engage her students, using them as a means to explain topics such as post-industrial remediation and community engagement.
Image: Detail shot of one of the three Rail Track Walks at the High Line at the Rail Yards, featuring a rail "frog" or moment where the rails change directions (credit: © Iwan Baan, 2014)