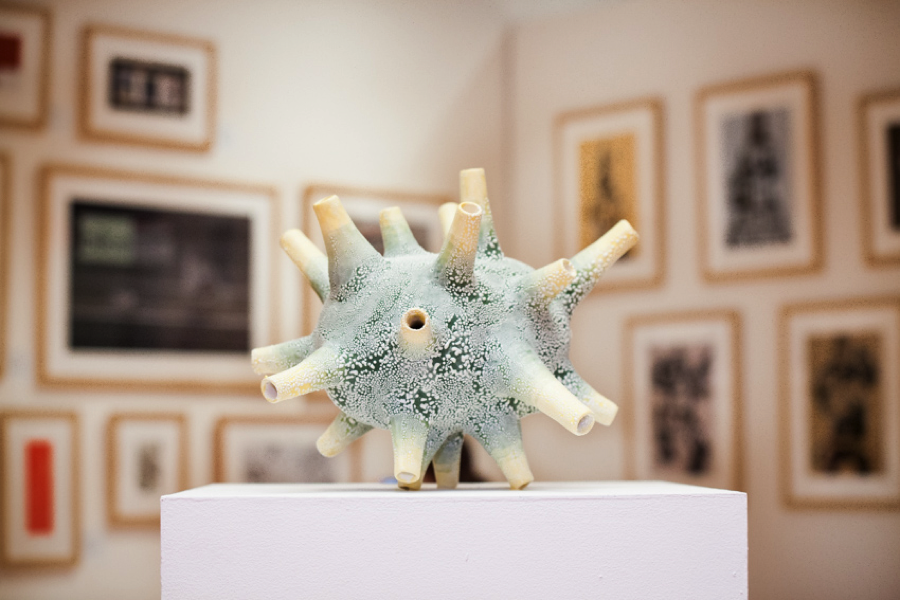 Pratt Manhattan Gallery recently featured an exhibition of work by students in grades seven through 12 who won national awards from the Scholastic Art & Writing program. The exhibition, titled Art.Write.Now. 2015 National Exhibition, was on view from June 5–14 and included a day of celebration that featured an educators' breakfast attended by President Thomas F. Schutte and Aileen Wilson, professor and director of the Center for Art, Design, and Community Engagement K-12.
Schutte thanked teachers for their tremendous commitment to the promising young artists, noting the essential role Pratt plays in advancing their talents by supporting the presentation of their work. "These awards are a testament to the commitment made to support arts education and help young students foster their own creativity," said Schutte. "It is fitting for us to help recognize these students, as many of them go on to attend institutions like Pratt, which hosts some of the nation's leading programs in art, design, and creative writing."
Wilson spoke about the commitment Pratt shares with Scholastic to foster an interest in art and design at an early age through the work of the Center. "The Center relies on art teachers to identify motivated young people for our programs," said Wilson. "To partner with us is to be an advocate for increased access to studio-based instruction in public schools," said Wilson.
Other events throughout the day at Pratt Manhattan Gallery included an Albers Color Workshop for students by Pratt School of Art Professor Wilfredo Ortega, a performance by youth theatre group The Possibility Project, and a reading and open mic that featured student poets.
Image: Work on display at the Art.Write.Now. 2015 National Exhibition