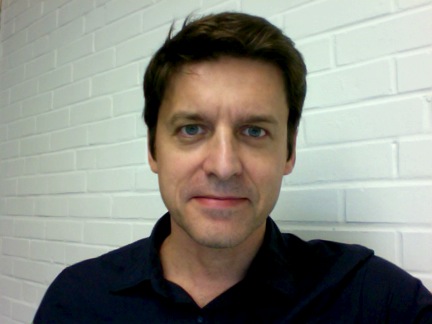 Santiago Piedrafita, a designer, scholar, and educator, has been named chair of the Graduate Communications Design Department. Piedrafita, who received a M.S. in Communications Design from Pratt in 1994, is currently an associate professor and former chair of the Department of Graphic Design and Industrial Design at the College of Design, North Carolina State University. Previously, Piedrafita chaired the Design Department at MCAD, Minneapolis College of Art and Design.
"I am a proud Pratt alumnus," says Piedrafita, "I have been repeatedly impressed with how the institution and department have continued to grow and evolve—in footprint, definition, and vision. I am very excited to return to Pratt in what is once again a wonderfully transformative time for the Institute and department alike."
Piedrafita's pedagogical philosophy aims to prepare graduates for a world of accelerating technological change, growing participation from audiences and users in the design process, and a high demand for designers with interdisciplinary skills and knowledge. As a designer, Piedrafita worked for renowned studios such as J. Abbott Miller's Design/Writing/Research (then transitioning to join Pentagram) and Chermayeff & Geismar Inc. (now Chermayeff & Geismar & Haviv), as well as in the design departments of prestigious cultural institutions, such as the Museum of Modern Art in New York (MoMA) and the Walker Art Center in Minneapolis. From 2002 to 2012, he and collaborator Deborah Littlejohn ran the studio TWO, which created identity and editorial design projects for design, architecture, and art-related cultural institutions.
"Santiago Piedrafita's 20 plus years of diverse professional and academic experience will benefit Pratt students and faculty immensely," says Jeff Bellantoni, current chair of the Graduate Communications Design Department, who will be leaving Pratt Institute this summer. "His vision for the future of design education aligns with the innovative changes the department has made these past several years. He is a perfect fit for the department."
Piedrafita received his B.I.D. from ESDI/UERJ Universidade Estadual do Rio de Janeiro, Brazil. He was born in Uruguay, raised in Brazil, and is a citizen of the United States, where he has studied and worked for the past 23 years. He is trilingual, proficient in Spanish, Portuguese, and English.